TeamBoard interactive panels now include AirServer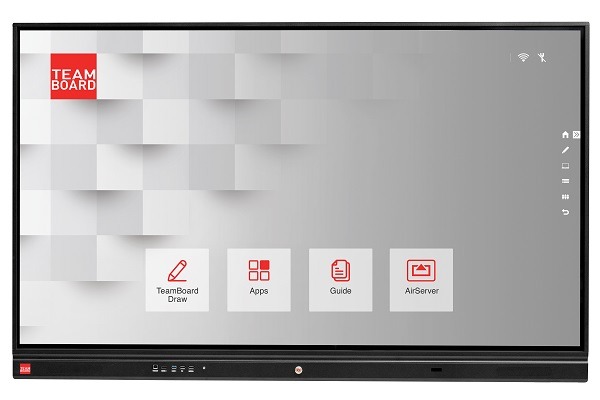 TeamBoard, distributed by Canohm in Australia, has added AirServer™ software to its range of interactive panels. AirServer™ enables screen mirroring through Apple AirPlay, Google Cast and Miracast without installing any third-party software or apps.
Ideal for education and corporate environments, TeamBoard now includes wireless sharing with no ongoing subscription. New users simply scan the QR code that's displayed on the screen to connect them to the panel so they can share their content.
With AirServer™, any user who scans the code can access the TeamBoard Draw™ solution or highlight over presentations and pictures with wireless casting from multiple devices, directly to the panel.
AirServer™ further adds to the plug-and-play aspect of the TeamBoard, it's the one solution needed for the modern presentation space.
"Now that TeamBoard includes AirServer mirroring software combined with its class-leading hardware and product range, it makes TeamBoard the perfect interactive solution for almost any application," TeamBoard product manager Cameron MacKertich says.
TeamBoard operates via a 20-point touch screen which also includes multiple HDMI inputs (and outputs), USB and an OPS slot. It also boasts inbuild front-facing speakers for a complete integrated solution.
As Sounds Around manager Nick Durston explains: "We've found the quality of the TeamBoard panels to be by far the best we've ever used. The quick access icons on the home screen are a favourite with our clients in-particular the AirServer app, they can easily share content from their own devices securely and instantly.
"Just scan the QR code and away they go. It makes for seriously easy mirroring from any device at the touch of a button. Canohm's customer service is second to none and they are always available, and nothing is ever a problem."
The TeamBoard is The TeamBoard is available in four sizes; 65", 75", 86" and 98" all equipped with an LED-backlit and resolution up to 4K@60Hz (3840 x 2160). There are ample I/O ports that would suit any AV environment, making the TeamBoard a must-have companion for education, government and the corporate sector.
"Talk about an awesome free value add. I was already loving the TeamBoard as it was. But now with AirSever bundled in as well as a free bonus, the integrated potential of this product is greatly expanded," Macktronix manager Gareth Mack says.
"If I was to try and add in a product with Air Serves features, I'd be potentially spending an additional $500 to 1,000 on hardware, and another couple hundred on software. On top of this cost saving of mine & my customers money, the Air Servers integrated simplicity is such a huge value."
Operating off of Optical Slim IR Technology, it's the slimmest IR screen on the market and is powered by Android 8.0. It comes with several pre-installed interactive apps that are designed to increase productivity and engagement, and it works with Windows, OSC and Linux operating systems.
The TeamBoard comes with a five-year warranty in Australia and ships with the included wall-mount bracket. Additionally, it's an easy ordering process and comes with the famous Canohm service when purchasing any TeamBoard product