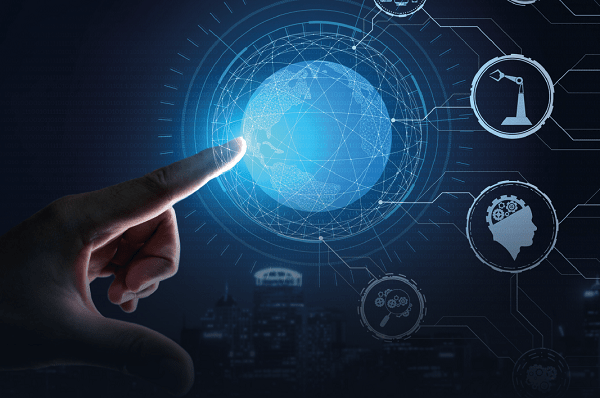 As we look to an increasingly digitised and connected future, John O'Brien explores how the fourth industrial revolution is changing everything, including for integrators.
As if we aren't in a crazy enough world with a rampant plague running amok, we are simultaneously in the middle of a historical revolution.
Part technical, part physical and part biological, the 4th Industrial Revolution (4IR) is unfolding before our eyes, even if we are unaware of its existence.
So what is it and how does it affect you and the rest of the AV industry?
Some history and definitions
For starters, 4IR doesn't mean how many InfraRed bugs fi t into your controller but is a term first coined in 2016 by World Economic Forum head, Klaus Schwab. It is an expansive concept that can be distilled into the phrase "enhanced cognitive power augmenting human production."
Human society has witnessed several seismic changes over its long chronology.
The first major shift was the advent of farming. The next pivotal moment came with steam engines, urbanisation, and mechanisation. We know this as the 1st industrial revolution (1IR). 2IR ushered in electricity, oil-based power, and mass production. 3IR describes the emergence of computers and automated production.
4IR is all this and more – connection and confluence by and between technologies of physical, digital and biological domains.
And, like each transformation before, it is happening with ever increasing pace.
The major difference with the current metamorphosis is not just the speed of change but the blurring of boundaries between industries and technologies, between the personal and the public, between the virtual and the actual.
AI, VR, M2M, IoT are all recent advances with fun acronyms but they are only a small part of a broader merging of disciplines. Happening under our noses are simultaneous breakthroughs and progressions in many different areas – gene sequencing, nanotechnology, wearables, renewables, 3D printing, quantum computing, robotics, blockchains, bio-implants, autonomous vehicles – all feeding off and fusing with each other.
Disruptors and Innovators – The new robber barons
Alongside technological advancements, 4IR is assisting many systemic changes. Uber, AirBnB, Alibaba, Netflix and many more recent upstarts have outplayed a raft of once entrenched monopolies … anyone remember Blockbuster or Kodak?
They cover different markets but share similarities in matching supply and demand in a more user-friendly way than previous incumbents. They offer consumers more diverse goods and allow both parties to interact and give feedback, thus promoting the trust that 3IR retail gained with storefronts.
Google (Alphabet), Facebook, Apple and Amazon each now have more net capital worth and arguably more influence than many sovereign states. Each span multiple commercial segments. Schwab calls this "the platform effect" where a concentration of a few but powerful platforms dominate their markets.
How did they get to that position? There are multiple factors but the overriding one is that digital businesses have marginal costs that tend towards zero. They can produce a lot of virtual product with very little human input. Another great enabler has been the power of the shiny screens that we all carry with us.
Smart phones are now near ubiquitous but have only existed for 12 years. They have fundamentally changed the way that many of us interact with the rest of world. Connected to our houses, our businesses and running our personal lives, these slabs of glass are a perfect portal for engagement between consumer and vendor.
Add in rapid advancements to smart cities, automated production and distribution, automation of tasks and services in our homes and workplaces and the world as we knew it less than half a generation ago suddenly seems antiquated.
Much of this rapid evolution, this convergence of techs and industries, is data driven. Computer processing power continues to go up while data storage costs reduce. AI and algorithms permit producers to watch and analyse trends in real time, allowing constant tweaks to efficiencies, profiling and targeting. It won't be far off when implants, bioprinting and nanotechnology add some very complex and far-reaching layers to the cake.
Somewhat lacking in Australia, a strong internet infrastructure is crucial to sending all this data around. The speed and low latency of 5G wireless might help in the major cities while rural businesses continue to struggle with sub-par pipelines.
Societal trends
Throughout history, technological advances are rarely evenly distributed.  Billions in the third world have not yet made it past the first industrial revolution. However, the rapid pace of change is seeing some groups leapfrog eras, straight into the 4IR explosion. Meanwhile, others still wallow in techno (and actual) poverty.
This penury is also being seen in the hollowing of the jobs pyramid – the lower and middle class of developed nations have experienced income stagnation while the executive class has seen massive wealth increases.
Whether we see the power of wealth even more concentrated, or a greater equality arise as a result of 4IR is yet to be seen. Better transnational communications between individuals (via social media and other channels) have promoted once taboo subjects to the forefront of public discourse. This includes some radical political actions being promoted.
Conversely, every sort of misinformation is finding similar outlets and promotion. Schwab points out that: "Hyper-connectivity does not naturally come together with greater tolerance or adaptability" – a pertinent insight in our increasingly polarised world. Online trolling and fake news are the ugly side of that.
The on-demand economy has been good for consumers and vendors but sketchy for workers. Gig-work, side hustles and off-shoring contribute to lesser pay and conditions for those left doing the grunt work of these new corporations.
Although recent border restrictions may slow some of the labour mobility trends – there may even be some re-shoring soon – the job market is a tougher challenge to navigate than ever before. Like the disruptive businesses above, personal success in this era requires flexibility and deftness.
Being able to continually learn, adapt and challenge our assumptions and approaches on a regular basis is an essential skill. Like business and government, workers also need to remain agile. Staying in the one job and one town for life is no longer an option.
Broader commercial trends (and some AV)
Whatever the driver (millennial influence, 4IR or more), the whole bricks and mortar retail model is changing. Schwab says: "Customer expectations are being redefined into experiences." Add a deep layer of data to mine behind every product or customer and the relationship can be deepened.
As individuals, we're already entwined with the software side of the products–as–a-service (SaaS) model (streaming music & video the most obvious examples). We have quickly become used to monthly subscriptions. Businesses are seeing that and moving towards taking up or offering hardware-as-a-service (HaaS).
Selling a service that offers a hardware package but adds recurring upgrades for perpetual income, turns CapEx into OpEx for business consumers, and a one-off sale into an ongoing stream for suppliers.
The physical items in HaaS are but one layer (perception). Here, devices do what they do then send data to other devices or services via a gateway of some sort. The real power comes when it hits the cloud and deep scrutiny can be applied to usage patterns, driving the maintenance and upgrade decisions with useable and actionable information.
This cloud is universal too. Traditional geographical boundaries for companies and their service delivery are no longer barriers to enterprise. Data analysis can occur wherever there is power to run a server and it happens in near real time.
What does this mean for AV integrators?
Convergence was the big buzz word in AV during the first part of this century, mainly in relation to the crossover between AV and IT. But it was still all about moving boxes – selling and installing product then invoicing and walking away, a legacy of 2IR and 3IR. As we transition through the 4IR, selling services starts to make more ongoing business sense than any one-off commodity sale. Engaging in long term relationships with a customer can reap long term rewards for both parties.
Connection of devices through the digital stack allows more detailed monitoring and proactive maintenance. Analytics in the cloud layer enable realistic appraisals of equipment usage, so neatly tailored hardware and software recommendations can be made to end users and upgraded as new options become available.
Further integration of previously disparate building systems heightens technical complexity but enables overall hardware and software choices to be a better fi t for all players. In a nutshell, it would be wise to employ the capability to service these systems – keep learning and get smart with the power of software analytics.
Use this ability and move toward providing HaaS and SaaS to your customers. With skilful analysis, you will better meet their expectations and create an ongoing revenue stream at the same time.
A major downside of this amalgamation is security: the more connections, the more potential breach points. Cybercrime and cyber warfare are rampant and it would not be wise to expose your clients to these nasties. Keep investing in IT smarts to ensure that your client's investments (and your reputation) are kept safe. At the very least, please change the default user and password names on any gizmo that you connect to the outside world.
Remember, "An entity with root access is almost omnipotent." Again, Schwab.
It's for real
The 4th Industrial Revolution not a utopian pipe dream somewhere in the future – it's happening right now. It's rapidly evolving and affects how we live and do business.
In many areas, the pandemic upheaval has hastened the pace of change, particularly in relation to distributed teams and remote working (for those that can) and immediate retraining or unemployment (for those who can't). Many other impacts of 4IR are still yet to come.
However things pan out, it's time to get used to continuous adaption or get left behind.
ADVERTISEMENT

ADVERTISEMENT
ADVERTISEMENT

ADVERTISEMENT