TDG Audio NFC-81 8" Non-Flange in-ceiling speaker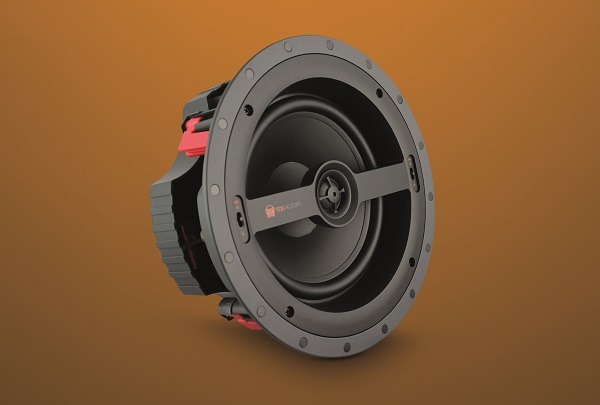 Lauded as an 'up-and-comer' at the 2013 CEDIA Expo, TDG Audio catches the eye of Simon Maisch, who is impressed by the rate of evolution in a relatively short space of time.
TDG Audio is certainly not shy when it comes stating their goal with the NFC series of architectural speakers: "to create the finest architectural speakers available".
Introduction
The DaVinci Group, the parent company of TDG Audio is relatively new compared to its peers, being founded in 2012 – however the company has over 35 years of experience in the architectural audio market within its team.
Vanguard Dynamics, another brand of The DaVinci Group, also produces a series of architectural speakers, alongside a vast range of home integration products such as multizone amplifiers, controllers and various smart home solutions.
A sharp focus and expertise within home and architectural audio installation and a passionate background in music lays ample groundwork for the development of beautiful-sounding, innovative speakers, so I was excited to see if the TDG Audio NFC-81 meets TDG's goal.
Build & Aesthetics
Should you wish to leave the drivers exposed, the TDG Audio NFC-81 is a striking, modern design, with a matte black and dark grey finish and exposed magnets surrounding the outer frame. Inversely, the snug, magnetic "Never Rust" grill provides a flange-less protective covering to the speaker. The neodymium magnets provide a strong, stress-free fit, with 16 of them located around the top outer rim of the basket. These are raised 0.5mm to eliminate any vibration between the speaker grill and flange.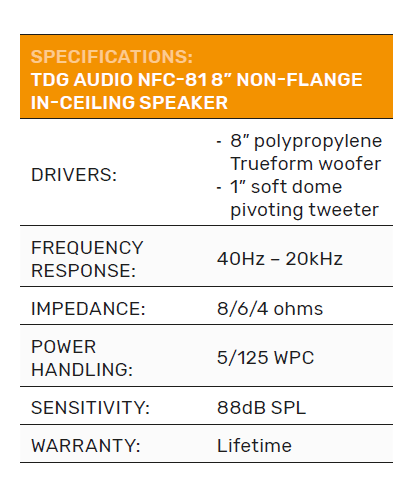 Naturally, I didn't paint my review product, but the surface of the grill is one that will take nicely to most paint, should you wish for them to be a different colour than white. Of course, you don't want to drench it in paint and fill in the grill perforations – so this is a job best done with a light spray.
There are four models in the NFC-8x series, each with a slightly different spec and driver material (including one that is IP66 rated). The NFC-81 features an 8" polypropylene 'Trueform' woofer, with a pivoting 1" soft dome pivoting tweeter that is mounted coaxially in front of the woofer. This is suspended by the EZ hold tweeter bridge, in front of, but not through the dust cap as with most other coaxial speakers. This provides a little more structural rigidity to the frame, which is useful if you wish to adjust the angle of the pivoting tweeter without punching your finger through the woofer cone. It also makes the speaker slightly less delicate to handle during installation.
On the front of the speaker there are two switches, allowing you to adjust the woofer and tweeter +/-3dB independently.
The frame of the loudspeaker and the rear crossover cover is made of ABS 747 polymer, which is both lightweight and strong – a good thing for anything above your head.
I've been told TDG go a step further with the frame construction here, limiting the amount of regrind that is used, which improves its strength and resonance.
The rear cover protects the large magnet, back plate and crossover network, which is constructed with good quality, hefty components – with an air core inductor and branded resistors and capacitor.
The rear cover is open at the sides, so you may want to use a ceiling enclosure to prevent dust or fibre from insulation from collecting behind the cone or in the basket if you're dealing with a messy ceiling.
Installation
My test rig consists of a pair of floor mounted open-baffle speaker enclosures setup as a stereo pair, and a Cambridge AXR100D amplifier (generously supplied by the distributor for the purposes of the review), supplying 100W at 8ohms per channel. Although the enclosures are open baffle, my testing room is very acoustically absorbent – it is in fact a repurposed audiology lab – so the impact of reflections from the rear of the loudspeaker is minimal.
The unit comes with a mounting hole template, and the speakers are incredibly easy to install, with four rotating dog legs allowing a quick, easy and secure installation. Be careful tightening the screws for the plastic dog legs; since there is a little give, it can be hard to feel when the clamps have tightened.
There is an extension on each dog leg, so you can install these in ceilings with a thickness of up to around 41mm.
The anti-corrosion speaker terminals are excellent quality and spring-loaded, so an installer could easily install these with one hand holding the speaker, and the other wrangling the terminal connection.
Listening
Leaving the bass and treble tilt switches flat, after running some pink noise to get a decent listening position, I ran through some music tests.
Initially I wanted to hear the clarity of the low end extension, so my first check was 'Blue Sunshine' from HTRK's 'Psychic 9-5 Club' album. I was immediately pulled into a focused, deep thumping bass, whilst transient detail remained incredibly focused and detailed. Low end can often be soft and out of focus in a lot of architectural speakers, so it is a very pleasant surprise that this is not the case here.
Bill Callahan's 'Roccoco Zephyr' is a go-to track of mine for bass balance and stereo imaging, and is somewhat of a 'softer' track whilst remaining direct and close. I was presented with a very nice, clear stereo image here, with the bass remaining thick, deep and present. The vocal – naturally a close, growly midrange tone with slight fricatives – was presented front and centre, with the depth of the voice coming through very clearly.
Turning these speakers up really lets them breathe. Sitting at a very quiet listening volume of around 40dB SPL (A-weighted) at the listening position (around two metres from the speakers) they are clear and clean… however diming up to around 80dB SPL (A-weighted) really lets them speak. At higher volumes, they remained tight and thick, even when listening to tracks with a challenging midrange.
There is a +/- 3dB tilt for both the woofer and the tweeter, so you are able to tailor the crossover balance to suit your space. I ended up having the bass tilt set to +3dB, particularly as the low end coming from these speakers is clear and impressive, and they are slightly bright when listening at a close distance.
The NFC-81 features a pivoting tweeter, however in practice I'm not too sure how useful this is. I was only able to steer this a tiny bit, around 10 degrees. If your placement is limited and you need to angle your speaker, I'd suggest the angled NFC-81A instead.
Measurement
My measurement rig consists of an Earthworks M30 microphone and Focusrite Scarlett 2i2 audio interface, using Rational Acoustics Smaart V8, and a Bruel & Kjaer 2239 SPL meter. Most measurements were determined with pink noise, measured at 96.6dB at measurement mic (80mm from cone).
Leaving the bass and treble tilt switches flat, the roll-off begins around 80Hz with a 6.6dB drop down to the octave below, at 40Hz. It remains remarkably flat up until around 640Hz, where there is a slight increase in the midrange peaking around 1.22kHz (3.24dB up), and then a dramatic drop to -6.91dB from 2.2kHz to around the crossover point at 3kHz.
This seems to be resolved around 4.64kHz, of which the tweeter is sitting around 2dB louder than the woofer, with some slight presence peaks at 5kHz (5dB up) and 9.2kHz (4.54dB up). This is perhaps why transient detail is nicely pronounced out of the box.
Apart from the dip around the crossover point, they measure quite well, particularly in regards to low end extension and flatness of the woofer.
The overall response is actually flatter with the treble switch at -3dB, with the woofer flat, however a perfectly flat loudspeaker is not always what you want.
TDG Audio gives us a figure of 88db SPL on the NFC-81, however I'm not sure if this is a peak measurement, or where this was measured from. I was able to get 95.3dB Leq at my measurement point, with some peaks around 118.4dB SPL.
I didn't want to turn it up any further for risk of distortion, however for an architectural loudspeaker this is a very respectable number.
Conclusion
Overall, the TDG Audio NFC-81 is a very impressive product, and in some ways undersold as an in-ceiling product. It wouldn't be my first choice, but I was even happy listening to these as a stereo pair of hi-fi speakers, as well as impressed with the high output I was able to achieve. These would suit home, as well restaurants or bar installation – and would be very equally suitable for in-wall or ceiling installations for an immersive home theatre experience.
It's worth noting that TDG and Synergy offer a lifetime warranty for any genuine faults, and The DaVinci Group was awarded the up-and-coming award at CEDIA 2013. They should certainly be proud of what they've created here in such a short time, and I'd be very happy to recommend these to anyone that needs to get their sound field up high.
ADVERTISEMENT

ADVERTISEMENT
ADVERTISEMENT

ADVERTISEMENT