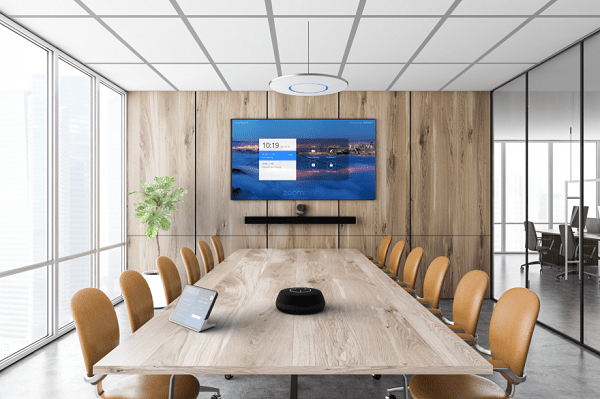 It's a brave new world for the hallowed office meeting, but how do you ensure that everyone – in and out of the room – has a positive experience? Anna Hayes found out more about the Shure Stem Ecosystem.
After a few years of patchwork, digital communications within office boardrooms are beginning to product successful results across the world.
Businesses are looking forward and making long-term investment in their AV systems – often these businesses want simplicity and an equitable communication experience for all their workers, whether they're in the same room or at their home kitchen bench 20 miles away.
On top of everything, businesses want these features at a price point that offers an enviable return-on-investment.
While online conferencing solutions can be both complicated and expensive, the audio experts at Shure have gone above and beyond to design a solution that ticks all of the boxes for the modern business seeking to embrace the new hybrid working world.
Jands Australia's marketing manager, Will Repanellis remarks: "Coming out of numerous lockdowns, working from home has become the new norm across Australia. More than 25% of the workforce continues to work remotely and businesses have been required to adapt to flexible hybrid workspaces."
Shure's Stem Ecosystem is an AV ecosystem designed to transform a meeting space and make video-conferencing more accessible for small-to-medium sized businesses. It offers a variety of devices, many of which can work on their own or in conjunction with the other pieces, offering a huge amount of versatility and options for building the perfect AV setup.
The six devices are the Stem Ceiling, Table, Wall, Speaker, Hub, and Control.
The Stem Ceiling is an innovative microphone array that can be mounted on the ceiling of a conference room. The Ceiling unit has 100 microphones and three array options, designed to suit a wide range of meeting spaces. It also features audio-fencing, a nifty function that can remove outside noise and unwanted distractions.
The Stem Table includes nine built-in beamforming microphones and an innovative downward-facing speaker that provides crystal clear audio. Designed for flat surfaces, it is a high-quality speakerphone that can turn any space into a professional conference room.The Stem Wall is a wall mount array speakerphone that uses 15 beamforming microphones, plus two full-range speakers and subwoofers empowering a meeting room's audio and creating 180 degrees of coverage. The Stem Wall can be mounted above or below a display and a webcam can be attached on top to create a quality AV combo.
The Stem Speaker is a networked loudspeaker that can be mounted on a wall, ceiling or tabletop, providing the ultimate level of flexibility and options for creating the best sound experience in a room. It boasts a powerful driver and also incorporates an LED light ring to advise users as to when the device is active and/or on mute.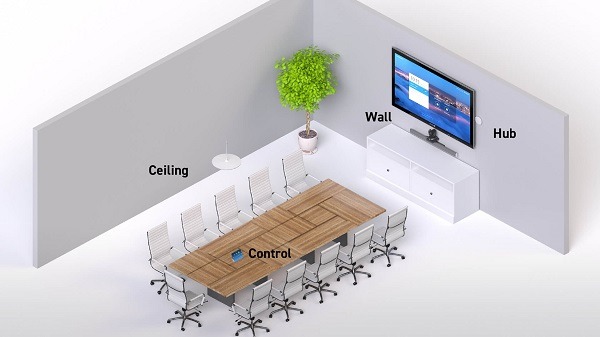 The Stem Hub is the communication centre for the entire Stem ecosystem, connecting multiple devices throughout a network and acting as the brains of the audio system in a room. It offers multiple connectivity options including USB Type-B, Dante, SIP and external analogue speakers. Capable of connecting up to 10 audio devices within one room, the hub adds scalability to the already flexible range of offerings.
Finally, the Stem Control is a touch controller unit that provides complete access to the Stem platform, along with full integration capacity with a number of popular video conferencing platforms, allowing for simple 'touch-to-join' meetings. Working via a single Ethernet connection, the Stem Control allows for the management of devices remotely and in person.
All solutions connect to the system via Power over Ethernet (PoE) making installation easier than ever – each Stem device is essentially plug-and-play. All you need is a VLAN connection, a PoE+ enabled network, and bandwidth of 2Mbps for each device.
"Stem has the means for scalability both within its own ecosystem and via its inclusion of Dante inputs and outputs on the Stem Hub. This gives the added benefit of bridging the Stem ecosystem with some of your other favourite Dante products," says Jacob Mumford, applications engineer and AV specialist for Jands Australia.
But it's not simply a case of plug it in and away you go – Shure recognises that no two conference rooms, huddle spaces, or meeting rooms are the same so the Stem Ecosystem also includes a number of software solutions to help demystify the process of setting up your meeting space.
Stem Room Design is a tool that helps you determine what devices will provide the best experience in your room, before you place that all important order.
The designer is a simple piece of software that lets you build your room virtually, providing dimensions and adding furniture etc. You can then drag and drop your proposed Stem devices into the locations you initially wished to install them, which lets you check the estimated coverage range for your room. The tool offers a simple visual depiction of the range of your prospective system and lets you save the design for future reference, letting you reconsider your product choice or product placement.
If you've already acquired the product and are wondering about configuration, the RoomAdapt tool is for you.
This tool allows each installed device to listen to the specific acoustic signature of your room and then adjusts the device settings to give you a tailored audio solution. With the press of a button, your room audio is adjusted within seconds – say goodbye to fiddly controls and hours spent tuning a room!
A third tool, designed for those who have placed products but who want to ensure maximum coverage is RoomCheck.
This tool listens to your voice, the noise in the room and then measures the reverberation that your room acoustics produce. From this, it generates a heat map of optimal, adequate and inadequate coverage letting the user see which areas of the room need a little more attention. Your heatmap can be saved for later use or to keep a record of the room coverage.
And finally, the Stem Remote Management tool helps you to keep track of all devices, whether there's one in a meeting room or hundreds. The software allows an IT manager to schedule updates across the entire network and provides insights and statistics about room usage, performance and more. Such statistics are key to helping business managers decide how to design their collaboration spaces.
Jonathan Lord is the technology manager at Azusa Pacific University and he remarks of the system: "The Stem Wall and Table have really blown away everyone who has used them. The price point is awesome and they were super easy to install, which was something really important for us."
So, as the hybrid workplace continues to grow and evolve, scalable solutions like the Shure Stem Ecosystem are evergreen. As plug-and-play devices they are versatile and compatible with all of the main video conferencing platforms, the Stem system is a future-proofed solution for small-to-medium sized businesses looking for a simple but powerful video conferencing system.
For more information, contact an AV specialist at Jands at: https://www.jands.com.au/shure-stem-ecosystem#jands
ADVERTISEMENT

ADVERTISEMENT
ADVERTISEMENT

ADVERTISEMENT