SurgeX introduces Squid and defines new power management category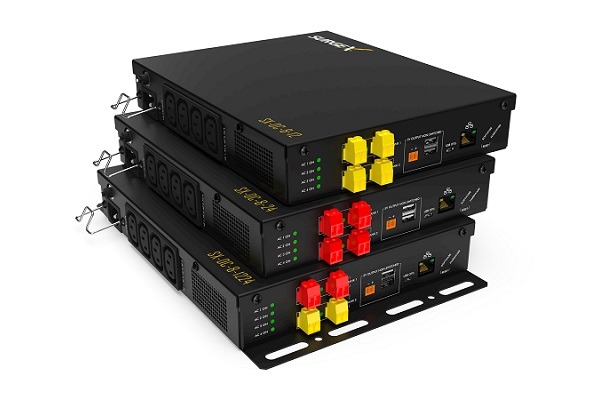 SurgeX, distributed by Amber Technology in Australia, has released its latest power management device at ISE, the Squid. It's a unique product that packs an array of power quality features into a single, compact chassis to fulfill the needs of the growing number of flex and huddle spaces.
Squid streamlines installation combining multiple features, including boxed networked control and analytics of AC and DC, front-end protection with SurgeX's patented multi-stage surge suppression technology.
Additionally, it features two 5V USB ports for charging and network troubleshooting, eight outputs: four of which are traditional controlled and monitored IEC receptacles and four are DC which lets integrators eliminate the need for wall warts or a two box solution.
On top of the suppression technology, SurgeX has monitoring and maintenance capabilities by using a relay-based system, the AC and DC ports can be controlled, the device can be monitored, and can be easily integrated into third party control systems.
Available in three models: 12V, 24V and a combination of the two, the Squid can power small spaces and keep them running smoothly.
Squid also offers SurgeX ELITE capabilities such as sequencing, scheduling, auto-ping, IP Control, monitoring and management, helping integrators reduce service calls through proactive management. It also features built-in diagnostic monitoring similar to the popular SurgeX envision, providing a single solution for management mitigation and control of the system's power.
"SurgeX equipment is the choice for integrators looking for a reliable power foundation to support their installations. Our conditioning, diagnostic, and surge suppression devices support a range of AV installations," SurgeX director of marketing Lauren Simmen says.
"As the market has changed and we see a growing number of smaller huddle and flex spaces being built, we saw the need to develop a product to ease the most common problems in this space. We created Squid as the single solution for both AC and DC in the same chassis with the added benefits of front-end protection, filtration, and SurgeX patented multi-stage surge suppression technology.
"Integrators can choose Squid to eliminate problematic wall warts and faulty power strips, streamline installations, reduce service calls, and to give them the confidence that their customers can meet quickly, easily, and without disruption from anywhere in the world."
Squid will be available in March 2020 and is on display at ISE 2020.