LIFX revolutionises its lighting experience with App 4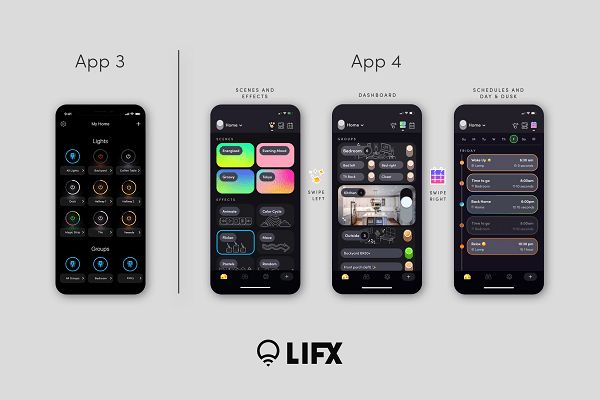 LIFX, providers of smart lighting solutions, has revolutionised its lighting control system and user experience by releasing the App 4. The new look puts efficiency, personality and design at the forefront of its design.
"​People invest in smart lights to make their homes look great, and at the right times.  We don't believe people should have to be a slave to their screens," LIFX director of design Rachel Wilson says.
"So the aim is to shift focus up from your phone, to your home."
Rachel elaborates on the human-centric design the team adopted with the app using customer surveys and social media.
"We worked to build out the plan that became App 4. We wanted to lay foundations that would be helpful, thoughtful and personal; something that could live up to the promise  of making homes smarter rather than just connected​," she says.
LIFX concluded on a design tailored for three common users:
"​The whole-home user​" – The ​Dashboard​ now contains groups, and those groups can  be controlled from the dashboard itself;
"​The scheduler​" – ​Scheduling​ and automation are users' number one reason for  investing in smart lights, so the new schedules page – with a calendar view – makes  creating and viewing your schedules easy; and
"​The on-demand user​" – This person likes one-touch flexibility, but for  pre-programmed actions. That's why the ​scenes & effects​ screen now exists, which  remembers your saved actions, and includes favourites, just like the dashboard.
"4.0 is just the start of the App 4 experience. We are starting with a comprehensive  aesthetic refresh, with new flows but familiar feature set. But with future releases" LIFX founder and chief technical officer Marc Alexander says.
"We will be adding more functionality that will unlock  some key pain points for smart home users".