SolidDrive releases the rear-install SD1-BR16-R drywall bracket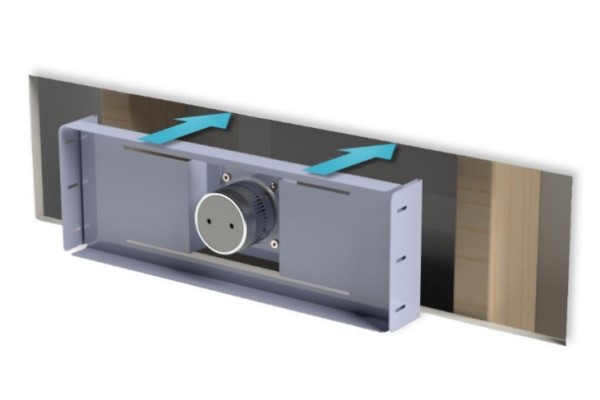 SolidDrive, distributed by MSE Audio, has released the SD1-BR16-R drywall bracket, a 20cm on-centre bracket assembly to simplify rear-side installations with drywall.
Crafted specifically for situations where access to the front side of the wall is limited, the SD1 drywall bracket offers a solution for installing SolidDrive products.
"The new bracket not only makes installation a breeze but it also optimises the SD1 placement and thus stabilises audio quality. The high-performance sound fills the space and appears to come from everywhere," SoundTube and MSE Audio vice president Ken Hecht says.
The patented balanced cantilever spring SD1 brackets are essential for seamless SolidDrive SD-1 installations behind drywall, ensuring that the mounting bracket eliminates stress on the glue bond by perfectly balancing the SD-1, thereby eliminating torque and applying just the right amount of pressure against the drywall.
Known for its versatility, it can be easily attached to drywall, tables and similar surface with each SD1 unit meticulously designed for delivering exceptional audio quality on one channel, with the option to enhance its performance through an optional equalisation module, specially optimised for drywall use.
The SolidDrive utilises patent-pending dual-voice coil technology in an aluminium enclosure to transfer acoustic energy to any substrate with very high-powered neodymium magnets and dual symmetrically opposed motors to convert audio signals into powerful vibrations. Those vibrations are transferred into solid surfaces through direct contact. High-quality, full-range sound is then radiated from the entire surface.
The symmetrically opposed neodymium magnets and specifically engineered mounting hardware result in hidden planar-source acoustics. The result is acoustical uniformity throughout the listening space.
SolidDrive offers models that are optimised for glass or wood in addition to drywall with MSK models used for sound masking by introducing a constant, unobtrusive noise that masks the distracting sounds and conversations. This can allow MSK to enhance privacy in an otherwise crowded work environment.
ADVERTISEMENT

ADVERTISEMENT
ADVERTISEMENT

ADVERTISEMENT