CEDIA unveils elected Board of Directors for 2024-26 term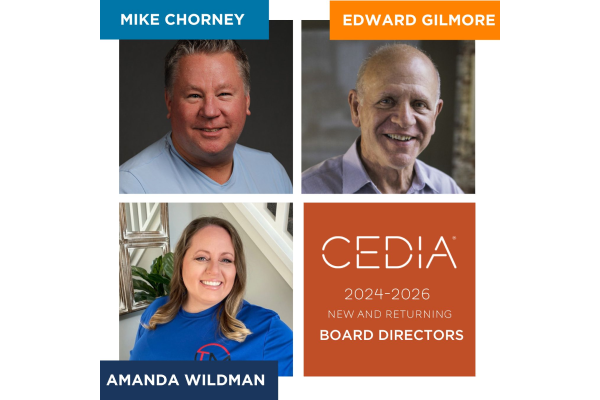 CEDIA has unveiled the elected Board of Directors for the 2024-26 term, introducing three dynamic integrator members. Mike Chorney and Edward Gilmore will join the Board, with Amanda Wildman returning for an additional term.
The slate was overwhelmingly approved (at 95%) by CEDIA members, a 30% increase in voting over the previous year.
"Amanda, Ed and Mike bring a myriad of home technology experience and more fresh perspectives to the board. Their remarkable credentials and forward-looking visions for the association's future stood out amidst a substantial pool of qualified nominees," CEDIA Board of Directors chairperson David Weinstein says.
"Many thanks to the Governance Committee, chaired by CEDIA's Vice Chairperson Jamie Briesemeister, for their months of outstanding work interviewing and selecting these new Directors."
As president of La Scala Integrated Media located in Vancouver, BC, Canada, Mike's passion for music has driven him from his humble beginnings in his garage start-up business which eventually evolved to founding and building out the largest retail service provider brands.
After working for national companies for over ten years, Chorney took an interest in the home automation side of the business and was the director of sales and marketing for Trends Electronics, which was most notable as the largest Sonance distributor. Mike believes that a career with passion and active participation is the best way to share in the art of technology.
As a professional classical musician, Ed began a parallel career as an audio consultant to a leading Architectural and Interior Design firm, which included designing, bidding out and overseeing projects. By 1991, having learned many of the intricacies of custom installation, Gilmore formed his own full-service company, Gilmore's Sound Advice, Inc. (GSA).
An active member of CEDIA, HTSA and HTA, a commitment to process, documentation, ongoing education and certification underscores GSA's commitment to providing clients with an informed assessment of the industry's best available options and practices.
Amanda is a dedicated innovator and co-owner of TruMedia, a renowned family-owned business that has been at the forefront of pioneering home automation and entertainment solutions for families across Michigan for over two decades. She, along with her team, has diligently built TruMedia's reputation into one of a trusted provider of home automation systems, home theatre solutions, and custom integrations.
Her impressive volunteer positions within CEDIA, including Chair of the Professional Development Advisory Council (PDAC), CEDIA's Certification Commission, CEDIA's Business Working Group and participation in Workforce Development, underscore her dedication to advancing the industry's skills and education.
For more information about the CEDIA Board of Directors and the election process, please visit the CEDIA website.
ADVERTISEMENT

ADVERTISEMENT
ADVERTISEMENT

ADVERTISEMENT