Review: Wintal MICRO2EVO multimedia player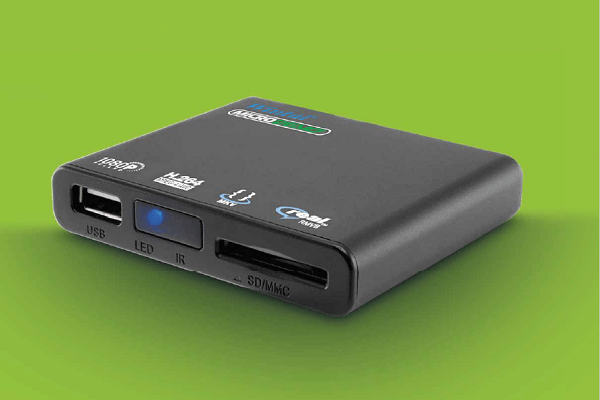 Forget residential installations, the Wintal MIRCO2EVO is actually at home in the commercial market. Stephen Dawson reports.
The Wintal MICRO2EVO multimedia player had me stumped for a while. Yes, obviously, it's a multimedia player. But who would use it? What was its purpose? Then I reread our correspondence with Radio Parts, the Australian distributor, and realised that I was thinking about it all wrong.
What it is
You see, I was thinking of this device as a consumer gizmo. A way for regular people to plug in their storage media for playback on a non-smart TV or monitor. But that seemed a strangely constrained function, given that there's no network support in the unit. The MICRO2EVO will read things plugged into its USB socket, or SD cards plugged into its SD card slot (this will apparently also work with MMC cards, if you still have one of that ancient format card laying around). It will output the content it reads from those sources via HDMI, component video, composite video or stereo analogue audio.
Okay, that sounds useful. Except that just about every home entertainment system already has multiple ways of performing those functions, whether you're plugging the device into a smart TV or into, say, a Blu-ray player.
At $89, the Wintal MICRO2EVO is remarkably inexpensive, but given that a reader of Connected, or a customer of a reader of Connected, would have its features in other equipment, why would they spend that money?
But that was my error. The Wintal MICRO2EVO is the replacement for the Wintal Micro2+ media player. Radio Parts says that the Wintal MICRO2EVO is 'based on our most popular media player. There are tens of thousands of Micro2+ media players around Australia. These are used in the majority of hotels, digital signage and as a failsafe for electronics, such as inside pokie machines.'
Ah, that explains a lot. The Wintal MICRO2EVO is an installation device for playing media in all manner of commercial installations. I don't know enough about how pokies work to see their function there. (Fact is, I barely know how to play pokies these days, since they no longer have a lever to pull.)
I'm sure readers can imagine many more scenarios where a gadget like the Wintal MICROEVO2 might be useful.
Especially as it is both tiny and easy to power, so it's fairly easy to tuck it away (almost) out of sight, with content loaded for playback or display. It is a nearly flat squarish device, 63mm by 75mm and only 14mm thick. I suspect the dimensions are largely determined by the sizes of the connections' sockets. At 66.7g, it can be suspended by its connecting cables without applying excessive strain.
On one edge are the two inputs: the USB Type-B socket and the slot for an SD card. Between them are the power LED and the IR receiver for the included IR remote control.
On the other edge are the outputs. I would expect that most would use the HDMI output, which can deliver up to 1080p. But it supports older equipment, with a 3.5mm socket providing a component video signal (also up to 1080 – interlaced or progressive I'm not sure) and another providing composite video (up to 480i/576i) and left and right analogue audio.
The power input is also on the output edge. It's a round connection, but the supplied cable has a USB plug on the other end which plugs into a phone-style charger. The 5V current draw is rated at 2A, so if you're planning on plugging into the USB power socket on some other device, it'd be wise to check that it's rated at that high an output. Most aren't.
Setting up
I didn't bother with the analogue video or audio outputs. Good enough, I'm sure, but is there a display device still working which lacks an HDMI input but supports analogue video? If, for some reason you do have such a display, an adaptor cable for the 3.5mm AV output is provided. If you're going component video, you may need to fork out for your own (although I'd try out the AV cable first. Chances are its bandwidth is adequate to work for component video as well.)
So setting up was extremely easy: Power, a USB device, a memory card and an HDMI connection to my home theatre receiver.
Except that there were wobbles with the USB. It was quite sensitive to the USB device plugged in. There are three main options. One is a USB optical disc drive. The second is a thumb drive, while the third is a USB hard drive (or USB SSD).
If you opt for the optical disc drive, it shows up in the unit's on-screen menu as CD ROM. That's what you choose rather than USB. The unit recognised my old LiteOn DVD drive and played movies from it.
But with both USB memory sticks and hard drives, it was rather fussy. It recognised all the various sticks and drives I plugged into it, but with some of them it showed them as being empty. That is, that they had no playable files on them at all, nor any folders.
Out of three USB memory sticks, it worked properly with two of them. One was formatted in FAT32 format and the other in Windows standard NTFS. But on another FAT32 stick it initially worked, then a week or so later refused to work any more.
(Of course, I checked on these sticks and discs with a couple of computers, both before and after.)
I tried the Wintal MICRO2EVO with four USB hard drives – two of them 2.5' portables, one a 3.5' separately powered drive – all formatted NTFS, and one portable SSD, formatted to FAT32. On three of the hard drives, the unit loaded the drive, but showed an empty folder for contents. But it worked fine with the fourth hard drive – a LaCie 1TB unit with USB Type-C connection. It also worked well with the solid-state drive.
At this point I should note that the review unit was a pre-release sample. Given the popularity of the Wintal MICRO2EVO's predecessors, I would not be in the least surprised if the final production units were rather more omnivorous in their consumption of the USB devices.
In use
I gave both the inputs a whirl using a variety of media formats. Here's what I found, but I'd caution again to keep in mind that this was a pre-release test unit.
The on-screen menus give you three possible sources for three kinds of media. The sources are 'CDROM' – that'll only give you something if you have an optical drive plugged into the USB – 'Memory Card' and 'USB Device'. The three types of media are, of course, photos, music and video. There's also a 'File' option which lets you plough through the various sources, showing all content thereupon.
The Wintal MICRO2EVO happily played back my mp3 music files and my FLAC files, up to 96kHz sampling. But even though the specifications say that the unit plays AAC-format music, it would not play iTunes-style AAC (that is, with *.m4a file extensions). Not that it matters to anyone, but it would play my very small collection of Dolby Digital/AC3 5.1 files, which I gathered up nearly 20 years ago, but it output them in mixed-down two channel PCM.
The unit can also play back ISO files, which are images of DVD discs. I copied an ISO of one of my self-created, un-copy-protected test DVDs into a USB drive and it played from there as though it were in fact a CD. Like the AC3 5.1 files, the 5.1 channel Dolby Digital audio was converted to two-channel PCM.
It played back my test MPEG2 files, plus a HD MKV. With the test video files, it did a pretty good job, with one proviso. You should go into its settings and set the output to 50Hz or 60Hz as appropriate for the content (choose 60Hz for 24fps material). With the wrong setting, the unit dropped frames in an obtrusive way.
The CD/DVD drive playback functionality was limited. It worked with the DVD version of the disc I used to create the ISO. But it would not work with regular DVDs, due to their copy protection I suspect. Nor would it work with a self-made NTSC-format DVD. In fact, this disc crashed the unit. Neither would it play CDs (I of course checked the drive with the same CD on my computer immediately afterwards.)
If you set the output to a higher resolution than the source material, the de-interlacing was pretty mediocre. With 576i50 content, the progressive scan conversion was primitive, seemingly with one field in each frame simply dropped. For a decade or more now, other devices have used motion adaptive deinterlacing, which at least delivers decent resolution.
Conclusion
If the Wintal MICRO2EVO media player were a consumer device, I'd recommend against it. But as a low cost media player for commercial installations, particularly if it will be called upon to do just one job, play the one video or a small range, then it strikes me as brilliant. You would just make sure that the USB drive or SD card work well with the unit, and adjust the settings to match the video source. A bit of one-off tweaking, and the unit would be right to go.