Review: Bowers & Wilkins CCM7.3 S2 installation speakers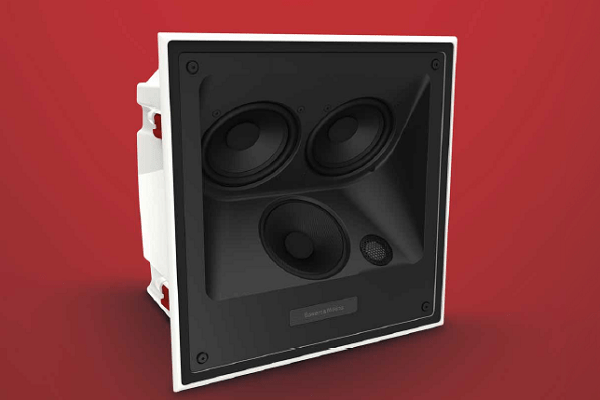 We tend to think of installation speakers as compromises: you lose some of the flexibility and quality of standalone loudspeakers for a near-invisible installation. But we've seen some very good installation loudspeakers over the years, and here's another set. Stephen Dawson reports.
The Bowers & Wilkins CCM7.3 S2 ceiling speakers manage to combine very high performance with remarkable compactness. They come from B&W's 'Reference' series.
What they are
The Bowers & Wilkins CCM7.3 S2 ceiling speakers are four driver, three-way speakers. Even with all that stuff inside, they occupy a square measuring just 355mm by 355mm, and require a mounting depth of 192mm. Not all that much bigger than most ceiling speakers, albeit in a square form rather than round.
It packs in all those drivers in part by using two angled sections. One – which is angled at perhaps 30° – holds a pair of 130mm woofers, using, as dubbed by B&W, 'aerofoil profile bass cones'. The other angled section is a bit steeper, perhaps 45°, and points the other way. It carries the midrange driver and the tweeter. When installing, it would be best to orientate the speakers so that the midrange/tweeter section is pointed in the general direction of the listening position. The less directional output from the bass need not be so pointed.
The midrange is a 100mm FST unit – FST stands for fixed suspension transducer. Googling around I see that FST apparently has something to do not with the suspension (which is at the base of the cone, around the coil and former) but the surround. Apparently it is rather less compliant than the usual roll surround, but works because the excursion of a midrange driver isn't very great. I would note that this technology has migrated down from Bowers & Wilkins' high end loudspeakers.
The tweeter is a 25mm carbon dome unit. It's covered by a hard perforated grille.
This whole section fits into a sturdy ABS backbox that protects the internal components. It also acts as a loudspeaker enclosure, effectively making the system an 'infinite baffle', or sealed loudspeaker. It's one with a quite small internal volume.
That made the frequency specifications a little surprising. B&W says that the speaker should be good for 52Hz at -6dB. I would have thought with such a small enclosure, the -6dB point would be higher.
Crossover
One of the reasons I liked doing this review was that even though I've been reviewing B&W loudspeakers for nigh on 20 years, I've never seen inside of one. That's now changed.
The inner workings of the CCM7.2 S2 were there for me to inspect. The two heavy woofers clearly had diecast baskets, necessary to support the significant weight of their hefty magnet assemblies. They are clamped into place and reinforced by pressed metal frames, bolted (not screwed) onto the main frame.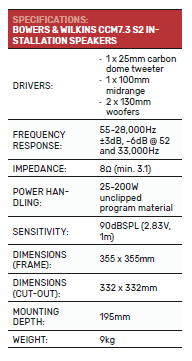 The rear of the midrange driver is not visible because it is inside its own separate, sealed enclosure. That's to prevent energy from the larger drivers affecting its operation. Note, this inner enclosure seems to have been custom designed for this application rather than merely borrowed from another model. One edge of it is angled to provide clearance from the outer enclosure.
The tweeter also has what appears to be a rear enclosure. This one seems to be diecast and features heavy fluting to assist in heat management. It also has a 50mm metal tube at the back, a B&W innovation derived from its Nautilus speakers. This is designed to allow the rear energy from the tweeter to dissipate gently, reducing smearing of the signal over time.
There is a proper crossover network behind all these drivers to send the various program frequencies to the appropriate drivers. Its large PC board has four large coils, and several substantial capacitors and resistors. All the cables between the board and the drivers are thick, looking like 15-amp power cables. All are tied off and most are wrapped in foam, for reasons I don't understand. Damping of some kind perhaps.
Speaking of which, a sheet of damping material lines the main enclosure, just like in a real standalone loudspeaker.
The rear enclosure and the – baffle, I suppose you'd call it; the panel into which all the drivers are mounted – is made of a glass fibre-reinforced ABS. The baffle has a crowd of reinforcing ridges across its back. Likewise, for the interior of the main enclosure.
The speaker section drops into the main enclosure and is secured by four bolts. A built-in plug mates with a socket built into the enclosure. That is in turn wired through to a pair of heavy-duty spring-loaded posts. The metal grille is held in place magnetically. The enclosure uses four swing-out lugs to secure it in the ceiling space. A hefty metal safety bracket is provided to allow the whole unit to be secured to a beam.
Listening
There was a challenge (what we used to call in the old days a 'problem') when it came to listening tests. I had been sent just one unit rather than two. I'm thinking now I should have asked for a second so I could test in stereo. But I didn't, so I did my listening in mono only, mixing down the two-channel input to one channel.
But perhaps that wasn't a problem. The question that's important for installation speakers for home theatre work – clearly, that's what these are for – is the frequency range that they can comfortably carry, and how cleanly they can do so. Things like frequency balance will be taken care of by the system's electronics.
For that, one speaker was sufficient.
I wasn't about to cut a 332mm square hole in my ceiling for this test, so I put it on the floor instead.
Initially I grabbed the first amplifier to hand – a 30W per channel integrated stereo unit. I plugged a Chromecast Audio into it – via a stereo to mono adaptor. And was soon dissatisfied. As I turned up the system it became increasingly harsh.
Bowers & Wilkins suggests power outputs of 25W to 200W are suitable. So I went digging deeper into my cupboard and emerged with a 200W Marantz monoblock power amplifier. It made a world of difference. I could turn up the sound louder without apparent stress. As I write this paragraph, I've been running the speaker for an hour with music at an average level of around 90dB (C-weighted), as measured from around 3m away.
One Bowers & Wilkins CCM7.3 S2 speaker alone is itself fully capable of room-filling sound.
The sound was quite detailed, and surprisingly well balanced, despite the less than optimal conditions. Properly installed in a ceiling and tonally balanced by a competent EQ routine, it would sound considerably better.
The only real surprise was the relatively modest bass. The 55 to 28,000Hz, ±3dB specification led me to expect a greater solidity at the bottom end. But while the upper bass was strong, tight and clean, there wasn't any real deep punch. For example, on the album Who's Next, the kick drum's initial heft felt like it was mostly composed of the second harmonic, which would be up around 80Hz, rather than the 40-ish-hertz fundamental.
That's kind of what I would have expected from the design – a small sealed enclosure – in a passive speaker design. An active speaker model can DSP more bass out of such an arrangement.
But, seriously, a speaker such as this would be installed in a system with a quality subwoofer. I'd suggest putting the crossover at 80Hz.
Measurement
I only did one measurement of the speaker, my interest in the bass performance piqued by the listening. Measuring output of a speaker in a room is always problematic, given the effect that the room has on the sound.  So I put my measurement microphone right up near the bass drivers in order to minimise extraneous interference.
The result was a bass end that was within ±3dB from 90 to 700Hz. The bottom shoulder – the place at which the output began to diminish, was at 107Hz. The output level fell fairly rapidly below that. Minus 6dB was at 70Hz. 50Hz was at -12dB.
That pretty much accorded with my listening impressions.
Conclusion
The Bowers & Wilkins CCM7.3 S2 installation speakers are the Rolls Royce of ceiling speakers. They perform brilliantly and will easily handle anything that a quality home theatre might demand of them. Just make sure that there's plenty of power on tap for them.
ADVERTISEMENT

ADVERTISEMENT
ADVERTISEMENT

ADVERTISEMENT