Review: K-Array Azimut-Kamut2L14 installation stereo system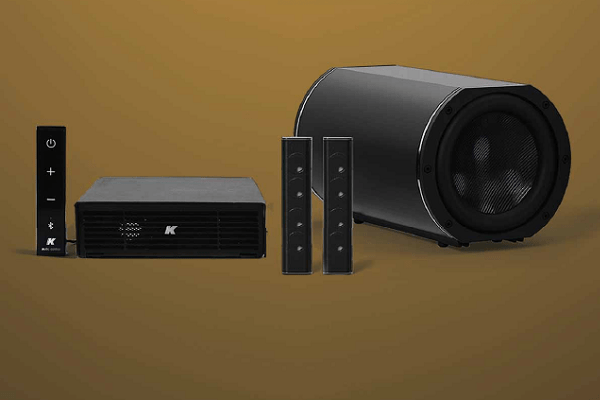 Thanks to the Asimut system from K-Array, Stephen Dawson finally agrees that good things can come in small packages.
I thought I'd seen it all, but I was wrong. Let me introduce the K-Array Azimut-Kamut2L14 installation stereo system by saying that if this were a home system, proud owners would be challenging visitors to spot the speakers. Chances are, they wouldn't be able to.
What it is
But let's back up. The K-Array Azimut-Kamut2L14 is seemingly a straightforward 2.1 network-capable audio system intended for things like shop installations. It's expandable, in that additional systems (including different models from the range) can be linked in to the same network.
Now, anyone with an interest in audio has probably noticed that all manner of audio systems are used in shops for background music. Often they're things like boom boxes or compact home stereos. The speakers cover the range from nondescript to quality to just plain unexpected. A couple of years ago I spotted some original-model Bose 901 speakers in a coffee shop in San Francisco, bolted up at the intersection of wall and ceiling.
So, why a system designed for this particular job? I'm guessing three reasons. First, this system is very close to invisible. Second, it supports the most useful music sources for this function. Third, it is very easy to set up and the network functionality proved extremely reliable.
Boxes
The system consists of two tiny loudspeakers, one small passive subwoofer, one compact amplifier and network unit, plus a small remote control, wiring and mounting hardware.
So, how tiny is tiny? The two Lyzard-KZ14 speakers are 100mm tall, 22mm wide and 10.8mm deep. Each weighs 59g. I have never seen speakers anything like as small. When I slipped them out of their boxes, I could only quail at the prospect of what they'd sound like. (Spoiler: I needn't have.)
Inside each of these are four 12.5mm – that's half-an-inch – drivers with neodymium magnets. They are stacked vertically. You are supposed to install the speakers upright. That makes for a wide horizontal dispersion and narrow vertical dispersion. K-Array says that the vertical dispersion is 40°, while the horizontal is 140°.
Each comes with 5m of thin cable attached. This is terminated in small Euroblock connectors.
These speakers are made of aluminium and can be provided in black or white finishes. They are rated at 15W input, 98dB peak output and a frequency response from 500Hz to 18,000Hz at -10dB. But using the digital preset in the control system, that bottom end is extended to 250Hz.
Obviously the sound is going to be thin even if it does get down to 250Hz. But there's a subwoofer provided as well. The Truffle-KTR25 passive subwoofer is a compact unit, almost cylindrical with a diameter of around Ꝋ150mm and a width of 250mm. It also is made of aluminium and is finished in black.
At one end of the cylinder is a 135mm driver, with a 135mm passive radiator at the other end. It is rated at up to 80W of input power, up to 115dB peak output and a frequency response of 45Hz to 150Hz -6dB.
Driving all this is the Kommander-KA02 amp. This also is tiny: 144mm by 144mm by 46mm tall. Yet it has four 50W output channels. Two of them are used for the speakers while the other two drive the subwoofer – a 5m cable, terminated at both ends with Euroblock connectors – is provided for that as well.
It supports Wi-Fi, Ethernet, playback from USB and Bluetooth. It also has an optical input and a 3.5mm analogue audio input. Plus balanced audio input via small Euroblock connections.
A small remote control is provided, but real control is exercised using the Azimut Director app. I used the Android version but it's also available on iOS.
Connections and controls
Plugging everything in was simple since all the plugs were already attached to the generous lengths of wires. Both screw and adhesive mounts were provided for the speakers, and it's recommended that they be attached to walls – that would give them a little more bass. Rather than committing to those, I just used a wad of Blu-tack for each and that worked perfectly well. The subwoofer went on the floor. The manual suggests you can hide it away under furniture or on top of a cupboard.
I kept things simple, using Ethernet for the network connection. I tried a couple of random USB drives to no avail, so I loaded up an 8GB USB memory stick – it was formatted to FAT32 – with MP3 tracks and it worked perfectly.

The manual says that the system is provided with a wired remote control. But it was provided with a small eight-key wireless, rechargeable remote. I think it's Bluetooth connected, even though it has lights that show on the end when you press a button. I could operate the unit well out of line of sight. I stepped out of my office and walked 20m away and it still worked. Control? Excellent. I imagine that's important in a shop.
But it's the Amizut Discovery app that allows full control. You can choose input, set the level, apply a 12-band equaliser – with a range of ±12dB – balance the input levels with each other, change the output levels with respect to each other. And a whole lot more, including update the unit's firmware.
And you can select which tracks to play from any USB devices that are plugged in. The app also shows you what's playing. If you choose Spotify, then you can see the track playing and pause it, skip it and so on (the remote also has play/pause and skip).
Listening
Listening to the system was somewhat puzzling. Almost mystifying. According to the frequency response specifications, there ought to have been a significant shortage of sound in the upper bass and lower midrange. Remember, the sub is specified at -6dB at 150Hz while the other speakers are specified at -10dB at 250Hz or 500Hz, depending on the profile in place.
But it didn't sound at all like that.
I didn't do any tweaking of the EQ, nor change the relative levels of the speakers and subwoofer. Those things may well be done when the system's in place, but I wanted to see what happened 'au naturel'.
And what happened in that state was a slightly bass-forward sound, but otherwise quite well balanced. Surprisingly so. I still had in my head the belief that there was no way that such tiny speakers could produce adequate sound, even underpinned by a subwoofer. But I was wrong.
The sound was nicely listenable, with pretty decent stereo imaging and good detail. There was also reasonable bass extension, down to around 50Hz by the sound of it. With the kick drum on The Police's album Ghost in the Machine, there was a reasonable sense of thud and the bass guitar line was easily followed.
But it was stunning in its ability to sound quite loud. Loud in the sense of filling my 5x7m room with fairly clean, nicely listenable sound. Not dance party loud. For background music in an intimate restaurant, no problems. Likewise for a somewhat larger general purpose shop. Simply put, the sound output was quite disproportionate to the size of the speakers. That's why I could imagine owners playing 'spot the speakers' games.
Measurements
So why was there no sense of missing upper bass or lower midrange? Can the ear be so easily fooled by having an adequate supply of deeper bass?
I disconnected the subwoofer, in preparation to measure the frequency output of the various components, while some music was playing. It instantly became thin and reedy. It was still clean, but there was no bass at all.
I measured up close, only a couple of inches away. Since there are four drivers in one speaker, there's some up and down in the output measured so close. But within that constraint, the output was even from 750Hz to 16,000Hz. It rolled off above the upper frequency. And below 750Hz it dropped precipitously. By 500Hz the output was down 21dB compared to the 750Hz and above average.
Golly, that should have meant an even greater gap in the output between the tiny speakers and the sub.
I measured the sub at both ends: one the driver and the other the passive radiator. And that solved the problem. The driver end didn't top out at 150Hz. It just kept on going. There was a general downwards slope from a peak at 62Hz to be down by 6dB at 450Hz. But reasonable output – down another 6dB – to 700Hz.
Which is why I could hear no gap. There wasn't one, or at least not an unusual one. I imagine having so high a crossover would reduce stereo imaging a little, but the tradeoff in balanced sound is worth it.
Below 57Hz the subwoofer fell off sharply at the driver end. But the passive radiator extended that out to 44Hz, stretching even a little further out to produce usable output slightly below 40Hz.
Conclusion
I was recently playing with the new Amazon Echo Studio smart speaker. I'd been fairly impressed by a solid performance from a smallish unit. But the Azimut-Kamut2L14 system makes it sound cheap and deficient, even though it is of barely larger volume than the Echo Studio. Of course, the Studio is less than one-tenth the price. Still, despite my predispositions to think nothing good could come from such tiny speakers, this system sounds good and is highly effective.