Review: Jabra PanaCast video camera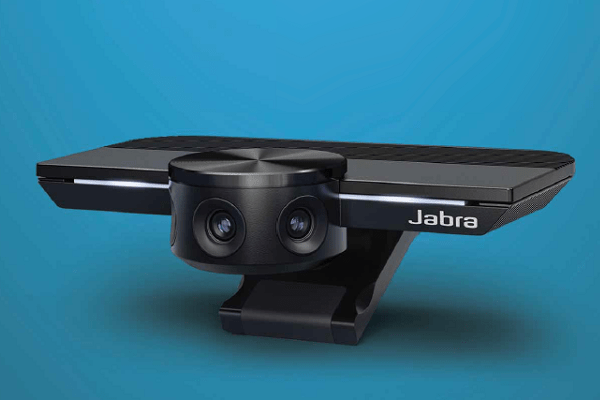 As the number of huddle rooms booms, suppliers are developing new and novel video conferencing solutions. This one may well be the best, writes Stephen Dawson.
What do you call a webcam with three cameras, two microphones and some very sophisticated built-in processing? Answer: the Jabra Panacast.
What it is
Well, I've pretty much said what the Jabra PanaCast is already. In one sense it's unremarkable: it is a plug-and-play webcam with two built-in microphones. But in another sense, it's a lot more than that.
You see, Jabra says that there is a very strong growth in so-called 'huddle' rooms or spaces. These are smaller, relatively undefined, spaces in various premises in which meetings can be conducted. Importantly, meetings can be conducted between groups of people in different locations, connected via the internet.
And this is, of course, where webcams come in.
Lately we've been looking at various devices which aid collaboration and other kinds of screen sharing. Generally, these work by managing the streams from a number of individual webcams on connected computers and laying them out side-by-side or in a grid pattern in a single stream. It's that which is presented to the other end. The point of that is to allow a group of people at one end to talk to a group at the other end, without either group having to literally huddle together so as to all fit in the field of view of one webcam.
The Jabra PanaCast does it in quite a different way. It is just one webcam, but it takes a very wide field of view so it can include many people without them all having to sit on each other's laps. Indeed, they can sit comfortably around a table, because the field of view is a full 180º.
How so wide? There are three 13MP cameras on a circular protrusion on the front of the Jabra PanaCast. One points directly ahead, one points around 45%, perhaps a bit wider, to the left, the other the same angle to the right.
That's not the tricky thing. The trick is that built-in software merges the three camera video feeds into one panoramic stream. The people on the other end of your video-conferencing system see the full table of participants at your end, arrayed horizontally and only a little distorted.
Clever stuff.
The Jabra PanaCast comes in the usual webcam arrangement. It's flat, except for the camera bud at the front, and has a kind of fold-out arm underneath. You can place it on just about any screen, with the arm holding it in place. Not tightly; it should not be left there when you're moving the computer around. As with most external webcams.
That arm also has a 0.25" threaded hole compatible with camera stands. An optional stand is available, although it's small and light enough to work with any compact camera stand. It can also be mounted on a wall. Jabra's illustrations tend to show it attached to the underside of a conference-room TV, which makes sense, and that would typically put it in a good place to capture all the participants. But remember, the Jabra PanaCast must be plugged into a computer to communicate. It doesn't have an HDMI output. It's USB 3.0. And, yes, it does require a USB 3.0 connection on the computer (or USB Type-C with 3.0 support, or Thunderbolt).
The TV can be used either with the output from the computer. You can also use the optional Jabra Hub as the interface. That has an HDMI output which can be plugged into a TV, and it in turn connects to a computer via USB. If you use the Hub, then you can also use one of Jabra's conference speakers. It recommends the Speak 710, which costs $517. This has microphones as well, and since it's normally placed on the conference table, it would not doubt improve audio quality for the other end.
Finally, I note that in some of the material I was provided, mention was made of some slightly creepy functionality that could be made available with suitable software. Apparently there's an API for allowing software to count meeting participants and so forth. I have no idea how that works and didn't try to find out.
Setting up
Apart from the relative economy of this solution, the best thing about the Jabra PanaCast is how easy it is to set up. I used it on three computers: my desktop, my Surface Pro 2017 and my Mac Mini (circa 2015, I think). It was just a matter of plugging it in to a USB 3.0 compatible port and waiting for a few seconds as the computer recognised it. No special drivers were required on either Windows or Mac. Jabra says that it works with Window 7 or later, macOSX 10.9 or later, Linux Ubuntu 16.x or later, and Chrome OS.
I have no reason to doubt that it works on those latter two just as well. Again, plug it in and a few seconds later it works.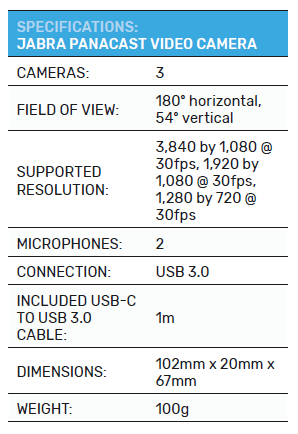 You will also want to download and install the Jabra Direct software. I'll return to that in a moment, but it is not essential. Most of the control of the camera will be up to the application you use. I just used Skype and the Microsoft Camera app in Windows 10, plus a little bit of VLC on Windows and Quicktime on the Mac Mini to make sure things worked properly. They did on Quicktime, but there was an interesting, but revealing, problem with VLC to which I will return. Jabra says that the unit is certified for Microsoft Teams, and that in addition to Skype it works with Business Skype, Cisco Webex, Zoom, Zoom Rooms, Google Hangouts, BlueJeans, GoToMeeting, Vidyo, Panopto, Slack, Circuit by Unify, Rainbow, Fuze and Amazon Chime.
Given how plug and play the unit obviously is, it really ought to work with any conferencing or collaboration software that plugs into standard Window or Mac (etc) video handling.
The Jabra Direct software lets you:
flip the image upside down (for when you're mounting the unit upside down),
restrict the field of view from 180º to 140 º, 120 º or 90 º,
switch on 'Intelligent Zoom',
change the video mode from 'Blend' to 'Carve' (I could not see what that did),
control the LEDs,
switch off the microphones.
Most important, it looks after the firmware in the PanaCast, installing updates as required.
In Use
I did my most close examination of the image produced by the Jabra PanaCast using the Windows 10 Camera app. That allowed me to choose the resolution.
It defaulted to 1080p, but because of the ultra-wide aspect ratio, while the image was 1,920 pixels wide, the active area of the image was only 544 pixels tall. Above and below that the frame was black.
But Camera offered other choices of 1,280 by 720, 640 by 360, 960 by 544 and 3,840 by 1,088. That was on my desktop. It offered and a couple more (including 4,800 by 1,200!) on the Surface Pro.
The 1,088 is not a typo. It would not work on the desktop but it did work on the Surface Pro.
The Surface Pro also offered more video resolutions, but the camera app on neither seemed to have a 3,840-pixel wide video mode.
Skype, on the other hand, makes up its own mind about resolution. I Skyped someone I know and asked his opinion on quality. It seemed nicely clear, he said. He sent me a screen shot and it looked good enough. Other software? It will depend on the control the software offers – Skype offers very little – and your connection bandwidth.
The specs say that the maximum resolution is 3,840 by 1,080, which ought to look extremely good on an UltraHD TV. Again, if your software (and bandwidth) supports that.
The wide capture was very effective. I played around by carefully putting my hands across what I imaged to the boundaries. I found that by moving slowly across the blend boundaries, I could see so very slight distortions. But when I held them still, they looked perfect. In practice, it might be smart to experiment a little with the seating to try to keep people's faces out of the blend boundaries as they may distort a little during movement.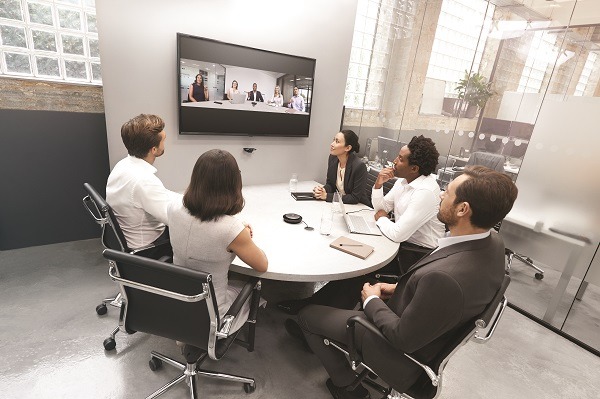 I mention the freeware program VLC earlier. This has a video recorder function. But it somehow was not taking in the blended stream from the three cameras, but the discrete streams from each camera, side-by-side. (Did I cause this when I was experimenting with the Blend/Carve settings? Possibly, but I couldn't get the stream to blend in VLC, and couldn't get the three-panel result in any other software.)
Anyway, the three panels clearly overlapped quite a way, I'd estimate 30%. That gives it a lot of data to work out the merge.
One other thing I noticed was that the Jabra PanaCast runs quite hot. Hot enough, indeed, that I could not keep my fingers on it for more than a few seconds. Just keep an eye on the screen if that's where the camera is and if it's likely to be adversely affected by heat.
Audio
There are two microphones, but the audio is firmly mono. Furthermore, it's quite lo-fi. The unit is locked to 16 bits (which is fine) and 16,000Hz sampling (which isn't). That means that the highest frequencies which can be captured are less than 8,000Hz.
Which is precisely what happens as you can see from the frequency spectrum of my voice as recorded by the Jabra PanaCast.
Conclusion
I was surprised by the super low resolution audio, but I don't imagine it will cause too many communication difficulties. As for the rest, the Jabra PanaCast is a very clever solution to the problem of allowing a group of people at one end of a video collaboration to communicate with those at the other end.