Raising the dead: retrofitting smart home systems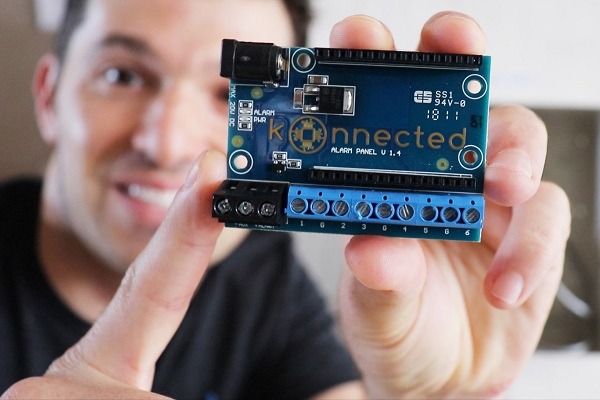 Connecting an old alarm system to your smart home platform has never been simpler. Anna Hayes finds out more.
Everyone knows someone who had or still does have a wired alarm system in their home. Considered high-tech in bygone decades, one American start-up company is doing its bit to bring these systems into the 21st century of smart home automation.
Konnected is an IoT-enabled alarm panel that retrofits generations-old wired alarm system sensors, integrating them into home automation platforms and breathing new life into the now outdated technology.
It is the brainchild of software engineer Nate Clark who showcased a prototype of the newest version of his product at the CEDIA Expo in Denver last year. The product was subsequently named as one of the 'Editor's Choices' in the follow-up edition of Connected.
The driving factor behind Konnected is the number of houses that are pre-wired for alarm systems – approximately 20 to 30 million homes in the US and Nate suspects that the numbers in Australia are, proportionally, equally high.
"Hard-wired security systems became popular in the 1980s so many suburban homes are wired with sensors on doors and windows. But the traditional security industry hasn't really moved very quickly in terms of updating connectivity with consumer grade or integrator grade home automation platforms."
Nate was one of these millions of people living in such a house in the San Francisco Bay area about three years ago. Having developed an interest in home automation and the SmartThings platform, he began to think about how to incorporate the features of such platforms into older equipment.
"I thought that there should be a way to connect those older sensors into modern smart home platforms but I couldn't find a device that did it easily. So, to cut a long story short, I decided to build it.
"I used my software development expertise and the availability of IoT chips that are easily programmable and was able to come up with a prototype within a few months."
The first version of the Konnected alarm panel product launched on Kickstarter in late 2017 and was wildly successful, smashing its $US25,000 target by more than $US150,000.
Nate believes that the value proposition of the product really resonated with people who liked the idea of being able to take a home's existing infrastructure and make it smarter, better and more convenient.
"I couldn't tell you how many messages I got thanking me for building the Konnected panel and that people couldn't believe no one had done it before," he says.
"It was clearly a product that others have wanted but nobody had really commercialised yet."
Nate says he was also lucky in that he was able to tap into already in-built communities such as SmartThings and Home Assistant users. With 15-20% of homes pre-wired for alarm systems, the overlap was there for Konnected to target.
"You get all the benefits of the hard-wired reliable sensors. You don't have to change batteries, they're super quick to respond, they're virtually invisible and already in your walls, and you're able to use them with the modern smart home platforms that are popular today."
Nate says he focused mainly on alarm systems to begin with but believes that the sky is the limit in terms of other integrations that could work in a similar way.
"Alarm systems are a good niche because there are really not a lot of alternatives, so that's where my focus has been. But, from a technology perspective, basically any type of wired sensor or simple switch can be retrofitted in this manner.
"There's unlimited potential here in the same vein of retrofitting wired stuff in your house and making it smarter and more useful."
He says Konnected is working on a dedicated garage door opener product that will hopefully be released this year. The team is also working on integration with Control4 and hoping to branch out to other platforms in the future.
Aside from fine-tuning the second generation hardware, Nate says Konnected is also building a new cloud-based integration with SmartThings that will not only be faster and more secure, but it will enable users to use the platform without having to purchase a SmartThings hub. Amazon Alexa and Google Assistant integrations will follow on from that.
"That will really open up our market and make the product more accessible to more people because they can simply download a free app instead of having to buy separate hardware devices."
Konnected is currently a team of five with scope to grow this year. Nate is based in Orlando, Florida while other members of his team are in different parts of the US.
But Konnected is not just an American entity, Nate says, pointing out that in the case of Australia in particular the team is looking for integrators and dealers to sell and install its products and service.
"It's better for the end user if we've got local distribution and somebody who can go into people's homes and help them install it and integrate it with other smart home devices.
"We have a dealer program that people can sign up to. For someone who does smart home integrations for a living, our product will be very simple for them to bring into their process."