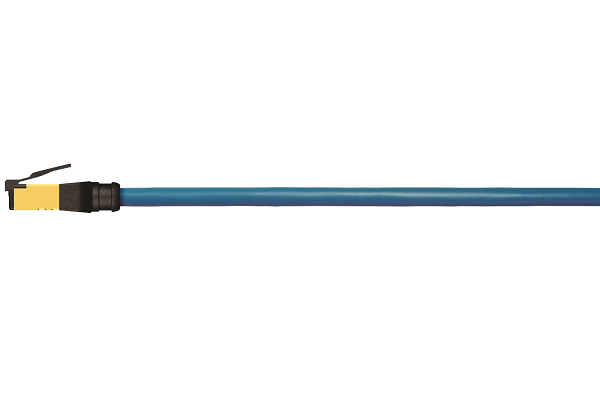 Running cable is an integral part of any integrator's day-to-day existence – it's also a task that can be hampered by any number of snags and issues.
That's leaving aside the question of whether it works properly once it's connected.
Australian cable manufacturer Kordz has announced the release of its new Cat 6A network patch cords, the PRS Series, which addresses a number of these issues and, in an Australian-first, runs and provides its own test data right on the cable packaging.
Kordz Australia – General Manager, Greg Parastatidis explains that, generally speaking, cables are presumed to be working out of the packet, but there are little to no reassurances from manufacturers that they will 100% of the time. Most companies send cables to third-party testing centres where they are tested to ensure they meet the specification and country standards, and then receive a certificate of compliance/certification, to then be on sold to the resellers.
"Some test centres might do a second or third test later down the track just to confirm that they're still performing at the same level, but not all do this, it's just a once-off."
Greg explains that there are certain situations in commercial environments where testing is required of the product on site. The integrator would use a Fluke Network Test Unit on every network cable before plugging it into the network, ensuring it meets the requirements of the project and the specification.
"We thought: 'let's shortcut this for the installers; save them time, save them money and let's do the testing on all PRS series network patch cord for the installers ourselves."
Kordz worked through a process whereby they identified each individual cable with its own serial number (Cable ID) which is laser-etched onto the outer jacket of the cable. Then, on the packaging, there is a QR code which immediately accesses the test result PDF. There's also a peel-off barcode and label that can be placed into a workbook or folder for future reference. There is also a method to upload multiple serial numbers to then bulk download the test result PDFs.
"The cords are not only individually tested at the factory but also performance-tested. In terms of reports, there are two different types available for download for each cable. Cables up to 10m cables get a component test report, and then after that to 30m, they come with channel test reports."
Follow this link to see a sample channel report and this link for a sample component report.
Greg says Kordz' new testing system cuts down on time for integrators and technicians on-site, as well as potentially cutting the need for them to invest in expensive Fluke Network Testers.
He adds that he sent some sample PRS Series cables to Engagis' Stage Test Lead, Remi Krawiec who was more than pleased with the latest offering: "I'm impressed with the quality and construction of the sample PRS patch cords sent through," he says.
"The thinner cable and smaller connector plug are always welcome in trying to reduce the clutter of cables in our solutions while the gold-plated shielded connector is also a nice addition, and I'm sure will improve the lifespan of the cable in any condition/environment.
"Our internal testing and usage of the patch cords has gone well, and the cables have performed as expected."
Another time-saving feature of the new range is the latch, which counters a common issue for integrators.
Where other cables use a clear polycarbonate connector and latch, Kordz' PRS Series features a compact nylon connector and latch that is so durable, the latch can bend a full 180° 2,000+ times and still be as functional as the first time.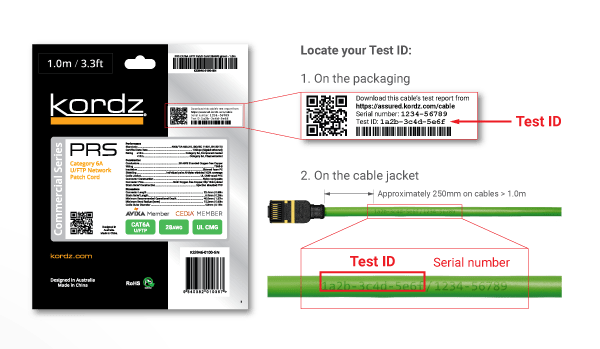 "What happens then is, when integrators are running cables through racks and it accidentally catches on to something and breaks off, it means you have to cut the end off, pull it out and run a new one. When they've got this design, it means they're not wasting time having to do that. If the latch gets caught on something it's just going to bend, making it still functional to use," Greg says.
"That's one unique feature. The mounting depth is obviously another feature, so it's got a very shallow mounting depth, ideal for patch panels and those tight spaces. The cable has a narrow diameter cable both on the PRO and the PRS series, that enables us to give you really good bend radii and reduces the size of the cable bundles making them easier to manage in any rack environment."
The cable also has a gold-plated connecter which is much more corrosive-resistant than chrome, which many competitors use. This adds to the lifespan of the cable, which also comes with the Kordz Lifetime Warranty (conditions apply).
The PRS Series offers true 10GBase-T performance while maintaining its small profile; a 40% reduction in size and 4.8mm diameter makes it easier for integrators to plug cables into place in some of the more confined environments.
It comes in 16 different lengths starting at 15cm all the way up to 30m.
It is PoE, PoE+ and PoE++ enabled for both type three and type four all the way up to 100W and comes in seven different colours for easy identification. It's more than just a simple Cat 6A cable; it's the best in the business.
Click here for the PRS patch cord technical datasheet.