Review: BenQ W5700 home theatre projector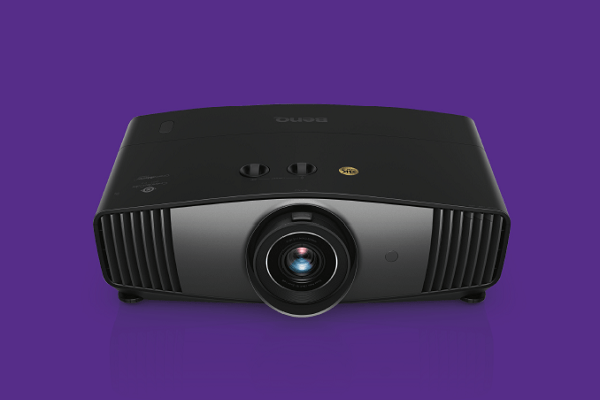 Despite a small saga in getting the unit ready for review, the W5700 from BenQ is perhaps the company's best. Stephen Dawson reports.
Anyone following what has been happening in the home theatre projector market would be aware of the BenQ W5700 home theatre projector. It is the first mid-priced UltraHD model from the company, and has been around for quite a few months. So why haven't we reviewed it already? That makes for an interesting story.
What it is
I'll get back to that. First, let's look at the basics. The BenQ W5700 is a midpriced, mid-sized home theatre projector. It offers UltraHD resolution using Texas Instruments' pixel-shifting XPR technology.
BenQ's first such projectors were larger, more expensive models which used the 0.66" Digital Micromirror Device. That DMD had a greater-than-full-HD resolution of 2,716 by 1,528 pixels. It was soon followed by UltraHD projectors which used the FullHD 0.47" DMD. These projectors were housed in compact home entertainment cases.
The W5700 also uses the 0.47" DMD, but in a more substantial housing. I've long maintained that the smaller DMD does a better job of producing real UltraHD resolution than the 0.66" one. The reason is that its pixels fit neatly into the 3,840 by 2,160-pixel grid of UltraHD. The other DMD necessarily smears its physical pixels across the boundaries of the output pixels. And because the DMD is physically small, the spaces between the pixels are proportionally larger. That in turn reduces the amount of overlap between the shifted pixels.
Unlike other pixel-shifting technologies, XPR can't be turned off in BenQ projectors. If it could be, the 'screen door effect' due to those wider boundaries would be very obvious.
The net effect is clearly discernible UltraHD resolution, although without the sharp-as-nails pixel differentiation seen with UltraHD TV panels.
There's more to modern UltraHD home theatre than dots. This projector is factory calibrated and tested – an individual calibration report is included with each unit – to provide 100% of the DCI-P3 colour gamut. Both HDMI inputs accept UltraHD signals up to 2160p60, including with HDR.
The projector bumps up the contrast ratio to a claimed 100,000:1, so it promised to deliver a HDR-like result more eff ectively than the previous 0.47" DMD models. The maximum brightness is 1,800lm.
It also has more flexible optics than those previous models, with a zoom range of 1.6:1 along with both vertical and horizontal lens shift. All lens adjustments are manual. A range of between 3.00m and 4.83m is required to match the projector to a 100" (2.54m) projection screen.
Watching
There was no doubt that the BenQ W5700 delivered a marked improvement in black levels compared to the lower-cost models. Regardless of what specifications say, you get to a threshold level beyond which black levels are subjectively convincing, and that's all that really matters. The BenQ W5700 easily reached that threshold.
In terms of hard figures, I employed the test patterns on a Sony UltraHD Blu-ray disc. These are available on just about all Sony releases and are accessible by keying in the number 7 6 6 9 (the telephone keypad code for S O N Y) while the main menu is being displayed. Most of the sequences are colour blocks defined
in the DCI-P3, REC.709 and BT.2020 colour spaces which can be used for calibration. But at the end are grey scales running all the way from 0 to 10,000 nits. This projector was calibrated so that it was possible to distinguish between 1,000 and 1,100 nits, but not beyond that. That means brighter material all crushing down to 1,100 nits. In practice, such peaks are rare and limited.
At the dark end of the scale, I could distinguish between 0.1 and 0.01 nits, but not darker than that. Between 0.01 and 1,100 nits, the grey scale ramped smoothly, demonstrating clear support for 10-bit (rather than 8-bit) of brightness.
And all of that, along with the wide colour gamut on off er, allowed the delivery of an equally convincing colour performance.
Alex Proyas' movie Gods of Egypt may be artistically disappointing, but it is a visual feast. When I watched it with the BenQ W5700, it was simply dazzling. The projector was equally impressive on the UltraHD version of the by-now classic The Fifth Element. It tended to be quite revealing of the relatively primitive special
effects, but the grand beauty of the blue sky over the yellow sands near the start, and the hyper-rich colour of Bruce Willis' stateroom on the planet Fhloston Paradise, more than made up for that.
The XPR system complicates timing in projectors, because in addition to matching the colour wheel rotations to the signal, and the rapid up-and-down movements of the micro-mirrors on the DMD's surface, XPR requires an optical shift four times in each frame. Consequently, the first few models tended to just convert everything to 60Hz for output, leading to visible cadence problems for 50Hz and, to a lesser extent, 24Hz material.
There is none of that with the BenQ W5700. It was smooth on 24Hz, 50Hz and 60Hz content.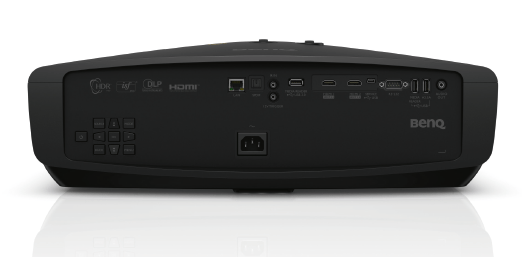 It also has a motion interpolation system to reduce motion judder. This was relatively primitive. Even though the level was adjustable, it only seemed to have any effect up near the maximum setting. Many such modern systems now develop multiple frames to insert between incoming signal frames, this one seemed to create only one. That's certainly enough to have a smoothing effect on many poorer scenes in 24fps movies, although it left a smaller amount of judder on my favourite test scene, a Chicago flyover 50 minutes into The Fugitive. But it also produced marked distortion in the form of what I call the 'heat haze effect'. That's were some objects moving in front of other objects seem surrounded by a swirling distortion visible  against the rearmost object.
For me, that distortion is too high a cost to pay for the smoothing effect. Having '4K Motion Enhancement' switched on also badly messed up 1080i50 content. When it was on, 1080i50 content often appeared to have a marked loss of resolution and sharpness, and at other times it exhibited visible combing. So, I'd suggest that the '4K Motion Enhancement' function be left switched off.
Even with it off , deinterlacing of 1080i50 and 576i50 material was primitive, seemingly locked into video mode. The reduced resolution and often resulted in on-screen distortion. Where possible, such content should be converted to progressive scan upstream of the projector.
Early problems
So now we get to why we are only now reviewing the projector. As I've indicated, it delivers a pretty impressive performance, and that includes effective UltraHD resolution. But when I first laid hands on the projector there was a problem. I deployed my usual test pattern primarily for two reasons. The first was to make sure that I had the output settings on my UltraHD Blu-ray player right. Since I'm switching things all the time, it's all too easy for me to change some setting
and accidentally stop the unit from delivering full resolution to the projector. The second reason was so I could take a close-up shot of the test pattern to illustrate this review.
The problem? My test pattern seemed to be coming through in regular full HD resolution, not UltraHD. I have designed it with alternating pixel-high horizontal
lines of white and different colours, and similar vertical lines. If you can't see the coloured lines individually etched on the screen, you're not getting real UltraHD. And I couldn't.
That marked the start of a minor saga in which I was swapping cables, UltraHD Blu-ray players and so on. At one point it worked briefly on one of the HDMI inputs, but then it stopped working. All that was when I was feeding the signal to the projector via the HDMI inputs. But when I put the pattern on a USB stick and played it directly from the projector, it worked properly, at full resolution.
Over the following months I brought this to BenQ's attention both here and then in Taiwan, and after a number of abortive attempts a fix was created by the head office. This involved more than the usual user-performed firmware update. It involved fl ashing the projector's ROM, and that means using special software
operating on a physically connected computer.
Now, let me be clear: I demonstrated the problem – no real UltraHD resolution for the HDMI inputs – on three different units of the W5700. I think it's safe to say that all the W5700 projectors shipped until that point – late July 2019 – had the same problem.
Yet no one seems to have noticed, insofar as I can tell from the internet. Customers haven't been complaining (publicly, at least), reviewers haven't been reporting the problem. Did no-one notice? Perhaps, in reality, even on a big projection screen, the differences between 1080p and 2160p resolution are subtle indeed, especially if the display is careful in scaling up from 1080p to 2160p. And that's why test patterns remain a useful analytic resource.
If you supplied or installed a BenQ W5700 projector, you may want to follow up and see whether the unit has the corrected ROM and firmware. If the projector's information screen reports a firmware of 1.0.0, it's carrying the old firmware. The corrected units are 1.0.1 (or later).
Conclusion
In my opinion, the BenQ W5700 is far and away the best UltraHD projector BenQ has yet released, and I'm counting the more expensive models in that judgement. It irons out many of the cadence problems. There are still some wobbles with resolutions like 1080i50, but who knows, maybe a new firmware can fix
those too.