Mass notification systems… Getting the message to the masses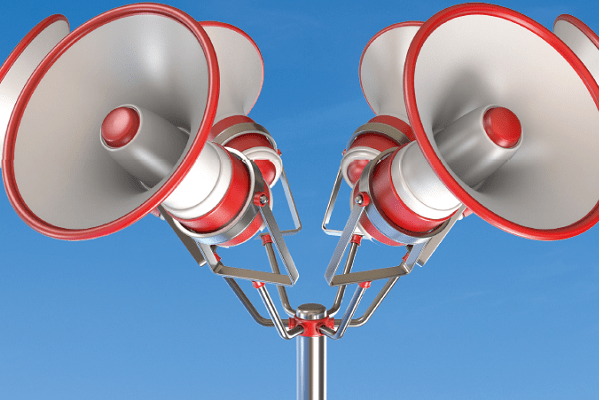 As Standards continue to morph, AV professionals have a big part to play in mass notification emergency communication systems. Anna Hayes reports.
In the event of an emergency situation, mass notification and emergency communication systems (MNECs) need to be robust and reliable, communicating the right information in a way that can be understood by everyone in the building.
Once upon a time, a building's safety system was a simple fire alarm, serviced regularly and with fire drills to educate employees on what to do and where to go
in the event of an emergency.
But different types of emergencies have called for extra, and more informative, methods of communication, and the AV market plays a large role in that, providing audio alerts and digital signage to create an end-to-end in-building safety system.
In Australia, all government and corporate buildings; healthcare, education, entertainment and transport facilities; houses of worship; pubs, clubs and hotels; and mining operations are required to have fire warning and evacuation systems installed and certified as per their respective state legislation.
Also known as an Early Warning and Intercommunication System (EWIS), a typical system consists of, and relies on, controlled audible warning signals on each level or zone. In areas of high ambient noise levels, visual warning indications are also in place.
Jim Seretis is the consultant liaison and business development manager for Australia and New Zealand with Biamp Systems, who hosted a seminar on this topic at the recent InfoComm 2019 expo.
He explains that there are two standard signals: 'Alert' and 'Evacuation' which are generally a tone or voice message.
"In the past 10 years we have seen a large reliance shift towards voice messaging and speech intelligibility to ensure building occupants can clearly understand the information and instructions provided, and respond accordingly."
He adds that EWIS/MNEC systems can also be used to distribute background music, scheduled messages, priority public announcements and more.
The markets for these systems differ greatly: the US has a well-documented history of gun-related incidents in places of high footfall, whereas Australia seems to respond to legislative requirements rather than provocative incidents.
However, Perth-based Altronic Distributors general manager Brian Sorensen says that the spate of school shootings in the US has raised interest in lockdown control in Australia, and it is an area that Altronics has branched into in recent times with its range of Redback Audio products.
Redback has built a dedicated school lockdown system which, unlike most systems that direct people to exit the building, this system is designed to keep staff and students informed without causing panic or distress.
Brian explains: "For instance, you could design the system to play a particular music track known to school staff which indicates a situation on campus grounds.
This then allows staff to make critical decisions to keep people safe."
So what are the key components of an EWIS/MNEC?
Brian says that providing the right information is crucial and speech intelligibility plays a huge part in delivering a clear message to occupants. This means having the right speakers and sound pressure level output (SPL). In hotels, there is a critical decibel audio level which is required at the bed head that then determines where a speaker is located as well as what speaker and 'power tap' is selected.
"We have seen an increase in interest in higher output speakers to simplify installation in these types of applications," says Brian, adding that they had first  developed their patented One-Shot speaker installation system as a quick and easy set-up that would save time for the installers.
Systems have also moved on from simply sounding an alarm which, Brian points out, only conveys half the message.
"Combining the system with recorded messaging, through a message playback device, can ensure people remain calm during an emergency and respond in the appropriate way. We have found prerecorded messaging to be a key feature that many building and facility managers have utilised."
Another important factor is that of cabling as flame retardant products are required so that all occupants can be alerted, even if the cabling integrity on a floor is compromised by fire.
Jim believes that the key to a good EWIS/MNEC is, aptly, communication from start-to-finish, between all parties.
"It' is very important at the infancy stage of the project that very clear concise information by all parties is achieved moving forward. A successful end result is usually due to clear communication channels throughout the duration of the project, even when changes in the systems design are required or the functionality brief changes."
While it might sound simple, these systems are a complex build with a particular focus on standards and integration of products by many different manufacturers.
Jim remarks: "No one manufacturer can provide a complete end-to-end mass notification solution. Therefore, there are challenges interfacing equipment to communicate together and provide the necessary mass notification, monitoring of the systems if failure occurs, etc. This is typically resolved with proper communication between manufacturers and integrators working closely together to provide a positive outcome."
Redback's suite of products has long been focused on finding solutions for architects, designers and installers to provide audible alerts in the event of various emergencies. Brian says that Altronics tries to provide an end-to-end installation solution from audio controllers, amplifiers, speakers and even the cabling to connect it all together.
"We love talking to installers because they are the ones who really drive our product development forward. These days, where the time is lost is in compliance to the approvals. Due to the strict requirements of the approvals, some speaker models require equalisation to boost/reduce certain frequencies; ensuring speech intelligibility is not sacrificed in the system. There are also challenges in ensuring speaker cabling is compliant."
He adds that with the right products, however, maintenance on these systems should be minimal aside from messages or alert tones requiring updates.
Standards are a major factor in the design of any EWIS or MNEC. The two main standards in play in this area are AS-60849 Sound systems for emergency purposes, and AS ISO7240 Fire Detection and Alarm systems, Sound system loudspeakers, but Jim says that the recommendations and regulations continue to morph.
"This is complex and there are many parts of the standards addressing different parts of a MNEC. Generally speaking, AS-60849 is the standard most used in today's market but many will argue older or newer variants should be considered."
He adds that the plethora of varying standards, and understanding the various protocols used by different manufacturers, are the biggest challenges for integrators in this area.
Brian agrees, pointing out that the new AS ISO7240 standard has changed the landscape dramatically, particularly in the case of ceiling speakers where the approvals process for a fire speaker is now a considerable undertaking, performed by the CSIRO and under strict conditions.
"This has meant that product development is now a far longer process than it was pre-AS ISO7240. Legislated in 2015, this standard has been designed to ensure the continued operation of the announcement system in the event of a fire in the building."
He adds that Australian standards are now very close to the European regulations, pointing that the Australian standard is based on the widely used EN-54 Fire detection and fire alarm systems standard.