Remote monitoring to preempt problems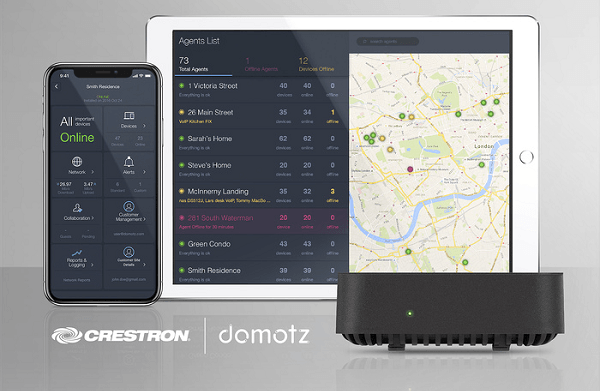 A new partnership between Crestron and Domotz, Inc will allow integrators to remotely monitor their client's systems and better assist them.
Crestron provides smart home technology while Domotz, Inc is a developer of remote home and network monitoring and management solutions. The seamless integration of Domotz products with Crestron smart home systems will let Crestron residential systems integrators to assist clients, reduce support costs and improve operational efficiencies.
The solution includes the Domotz Pro Mobile app, Domotz Cloud and Domotz Network Agent, which allows integrators to monitor performance in real-time, receive customisable alerts and reports, detect and troubleshoot network and IP problems in real-time and preemptively solve them, and power devices on/off, among other functions.
Crestron will sell the Domotz Box solution directly to residential dealers.
The company's vice president of residential John Clancy says the move creates new sales opportunities for dealers with the ability to offer a more robust and deeply integrated solution than before.
"The ability to stay on top of their clients' systems, and diagnose issues and preemptively resolve them without having to open complicated VPNs or ports or roll trucks, is a game-changer for our residential dealers. It makes the Domotz Box a must-have for every project."
Domotz chief revenue officer JB Folwer says: "The strength of these two companies working together creates a solution for dealers that will help them run their business more efficiently and bring a higher level of service to their clients. Dealers will be able to purchase long-term Domotz service plans directly through Crestron, making it easier to purchase and deploy systems."