Safe Zone to display Gunfire Detector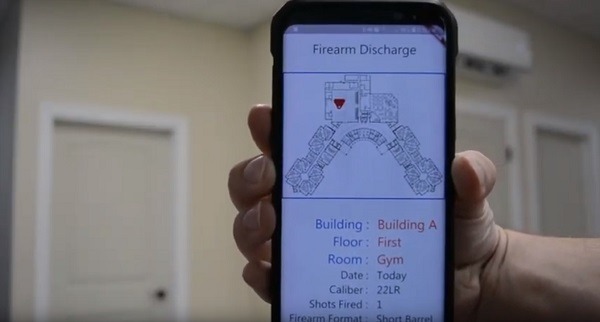 Early warning systems in the event of gunfire will be displayed by Safe Zone at next month's InfoComm 2019 conference in Orlando.
The Safe Zone Gunfire Detector (GFD) is available to systems integrators serving customers in K-12 education, higher education, houses of worship and late night retail channels.
The small, triangular unit mounts in a ceiling corner and provides gunfire detection for an area of up to 255m3. Using WiFi connectivity and cloud-based machine learning technologies, it sends and analyses data that returns usable information to local law enforcement and on-site administrators in less than 10 seconds.
It combines infrared and sound detection technologies with cloud-based data that can analyse more than 3,000 data points of each loud noise that exceeds ambient levels by a certain threshold. It can determine the location and number of shots fired, and the type and calibre of gun used.
Within 10 seconds of the trigger pull, an alert is sent to public safety access points in the appropriate dispatch centre, sending critical information right to law enforcement computers. On average, it takes up to 12 minutes for officers arriving at crisis scenes to obtain usable information from shocked, and often conflicting witnesses.
The system can be connected to third-party alarm, surveillance, door lock and mass notification systems. Property managers can increase the capability of their system by adding door and window sensors, silent alert units, and wall-mounted emergency duress buttons.
Safe Zone president Mike Anderson calls the GFD the "active shooter security breakthrough a very troubled world has been waiting for".
He says: "In an active shooter situation, saving minutes saves lives. Existing gunfire detection systems are limited in functionality and are prohibitively expensive for many locations. Now, every institution from schools to small businesses and hotels can ensure the fastest possible law enforcement response to an active shooter situation."
The system, he says, communicates with all key personnel, from first responders to school administrators, parents and management. He adds that it takes an average of five minutes for police to be notified of an active shooter situation due to the chaos and immediate danger.
Mike points out that we are living in a time when active shooters are a real concern for everyday people: "Shooters tend to continue assaults until confronted, so helping law enforcement to locate shooters up to 17 minutes faster could save countless lives and improve other first responders' ability to minimise damage and administer emergency care. That's why we designed the Safe Zone Gunfire Detector to be as affordable and fast as possible – Saving Minutes Saves Lives.