Poly Studio X30 Meeting System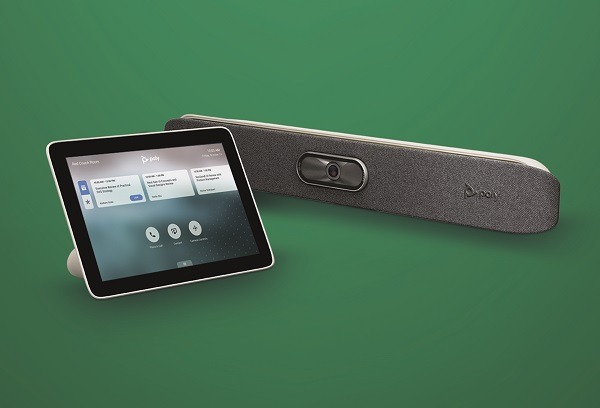 Video conferencing has been one of the biggest winners of the pandemic, writes Stephen Dawson, as he checks out Poly's new PC-less meeting system.
It is eight months or so since last I travelled. And that's kind of the norm these days. It probably applies to you as well. But we still need to communicate, sometimes in groups. But how? The Poly Studio X30 meeting system is a PC-less solution to that requirement.
What it is
The Poly Studio X30 can be thought of as an advanced webcam that can sit atop a monitor or TV. It can work with a whole bunch of meeting or conference systems. What sets it apart is that it doesn't need a computer. Indeed, it won't work with a computer in the conventional way.
The unit is quite wide – 442mm – but manages to keep the weight down to 730 grams. I mention this because it really is intended to sit on a TV. For a while I had it placed – very carefully! – on the very thin screen of my OLED TV. You can remove the folding arrangement underneath for fixing to walls and so on.
In the middle of the front is an UltraHD camera. Your comms software probably won't be sending UltraHD content – although the Poly Studio X30 does support it at up to 15 frames per second. The main use of the resolution is for automatic zooming and tracking of meeting participants. More on that later.
Also on the front are four MEMS microphones for picking up the sound of meeting participants…and also for tracking. I'll return to that too.
There's a speaker for delivering sound from the other end of the meeting or conference. A setting lets you switch instead to the speakers in the TV. They are probably no better than the built-in speaker, but you can always add enhanced external speakers to a TV.
Underneath is a couple of USB ports, an Ethernet connection – gigabit rated – and HDMI in and out.
The product sheet says that the unit also supports Bluetooth 5.0 and WiFi. The Bluetooth would be for an optional Poly remote control. There didn't seem to be a facility for connecting, for example, a Bluetooth speaker. I could find no settings to set up WiFi. Apparently this is included for future functionality.
So, here's how it works. You plug the HDMI output of the Poly Studio X30 into a TV and connect it to your network. You control it using a web browser on a device on the same network. Or you can use the optional Poly TC8 controller reference price: $US699), which is simply an 8-inch touch panel. This requires a Power-over-Ethernet connection to work.
You can switch the Poly Studio X30 to work with Poly's own conferencing system or with Zoom Rooms, Microsoft Teams, GoToRoom, 8×8 meeting Rooms or RingCentral Rooms.
You can also share content by plugging something – typically, a computer – into the HDMI input. In some circumstances the unit also supports wireless connections using Apple AirPlay and Miracast.
Setting Up
It was all very exciting once I plugged in the unit. A bar of LEDs on the top lit up, and then started bouncing the lit section from one end to the other and back again, presumably as the unit booted up.
After a minute or so, the TV into which I'd plugged the unit's HDMI output switched on. That was a surprise to me. It seems that CEC is enabled in the Poly Studio X30.
After some more bootup display, the unit settled into a "Set Up Your System" display, showing an IP address, username and password. The light atop the unit settled down to showing four LEDs at the middle.
As instructed, I typed the IP address into a browser. I found I had to push through security warnings from my browser. It claimed that the "site" certificate could not "be verified up to a trusted certification authority". (I asked Poly about this later, and typically a business setting up a full implementation will purchase a suitable certificate.)
When I pushed through, the browser presented me with a Change Password screen. I filled that in, accepted the terms and conditions and then the browser page asked me to choose my conferencing provider. The choices on offer at that point were Poly and Zoom. I chose Poly, which meant that the system was restricted to communicating with others using Poly hardware.
At that point, you have to choose between Manual Setup and "Provision". The latter seems to be in support of an existing configuration because you can choose a server. Presumably if you're a SysAdmin rolling out a bunch of these, that would make life easier for you. Later I used the settings to find that there was a firmware update available. Once I'd applied that – it was just a matter of tapping a button in the interface – all the other conference systems became available.
In Use
It was at this point that I ran into trouble. Everything was working perfectly, and continued to work perfectly throughout, but I couldn't work out how to call someone. I assumed, correctly, that using the Poly system would mean needing the person at the other end of a call to also be using a Poly system.
But it turns out that there's a fair bit of setting up required for that, with a server loaded with appropriate software. So, in the end I used it with Zoom.
That turned out to be a little bit limiting because Miracast and AirPlay won't work when the unit is in Zoom mode. Poly tell me that this restriction (it also applies with Microsoft Teams, and perhaps some of the others) is to do with the conferencing software policies.
I did play with Miracast and AirPlay when the unit was in Poly mode, and they worked very well with my Windows computers, Android phone, iPhone and iPad, responding quickly and with reasonably low latency – certainly well under one second. I would expect that when used in Poly mode, they'd work as well as the direct HDMI connection did in Zoom.
I should add that switching between conferencing systems involves a reboot of the whole system, so what you'd typically do is just set up the system for whichever conferencing system it will use and leave it set for that.
Poly tells me that in places like Australia, roughly 20% of users employ the Poly conferencing system while the rest use one or other of the various cloud systems (Zoom, Teams and so on). And that in places like India, the balance is more towards Poly.
One of the clever things about the Poly Studio X30 is the auto-tracking and zooming. You can set the maximum zoom – up to 5x is allowed but 3x is the default. The device looks for a face or faces. If there's just one, it zooms in on that one. If there are several, it stays zoomed out sufficiently to ensure all are in the frame. If it is zoomed in on one face, then it slides the image around to keep the face centred if possible.
I had it set up with a very busy background behind me. The zooming and tracking worked, but a little slowly. However, in the settings you can change the tracking so that it also uses the four microphones to assist in location. That made the tracking quite a bit more certain.
The audio system has also been engineered so that the four microphones can "fence" off the audible area. If you move to around 45 degrees to the side of dead ahead, the microphones will reject your voice. That makes the system more usable in spaces where other conversations may be taking place. It also rejects things like keyboard noises. Of course, you can switch off audio fencing.
Right at the end of this review I did have one problem. Having finished with using Zoom, I decided to switch back to Poly mode to check one or two things. On previous switches, the password I'd assigned to the web interface when I'd first set up the system kept on working. But this time it didn't. No worries: the on-screen display showed me a new one – a random collection of digits and letters. I duly entered them without thinking to write them down.
And then the interface timed out and logged me off. And for some reason, Chrome's password manager hadn't captured it. I had no way of getting back in. Do write down the password and change it to something sensible straight away! Luckily, I'd finished the review.
Conclusion
There are a bunch of hardware conferencing systems rolling out now for obvious reasons. The Poly one is very effective, and its sharing capabilities are great if you're using the Poly communications platform (and still okay if you're not).
The question will be: do you need a system that is free of any requirement for a PC? I imagine there are plenty of places where that would be the case.