Give me an A! Give me a V!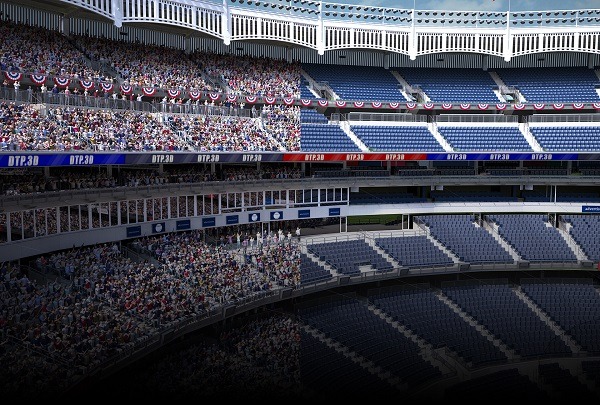 The pandemic forced sports fans to find new ways to support their favourite teams and competitions. Sean Carroll speaks to a few companies about their solutions for sports fandom during Covid-19.
 It was only a matter of months ago that I wrote an article on AV in sports stadiums for a previous edition of Connected, looking at Optus Stadium in Perth and the incredible light and laser show it boasts.
I finished the piece with a quote from Rutledge AV WA operations manager Elijah Steele who said: "Over the next three years, mobile devices and other technology will play a big part in personalising the user experience."
I guess you could say he was right? But I don't think anyone expected him to be right in this way.
In March of this year, as the pandemic was making its way across Europe, Spanish soccer club Valencia and the Italian club Atalanta faced off in a first leg Champions League match up. It was an exciting 4-1 win for Atalanta, a club that hadn't had this high level of European glory in a long time.
A month after the match, it was likened to a "biological bomb" according to the mayor of Bergamo speaking to the UK Independent. Bergamo was the host of the match and by the time the final whistle was blown, 40,000-plus attendees had spent 90 minutes celebrating together, scarcely acknowledging social distancing measures.
Sport has changed considerably since then and after many delays to local and international play, leagues and organisations are finding ways to restart the sports we love so much while still staying safe.
The restart of sports has generally been a success, whether it's moving all AFL teams out of Victoria, the NBA creating a bubble in Orlando's Disney World, many soccer leagues playing in empty stadiums, or tournaments being postponed like what we're seeing with the men's T20 cricket tournament that Australia was hosting this year, or the Tokyo Olympics.
Almost every restart has gone with the option of having no spectators in stadiums.
To counter this, many teams have found novel ways of imitating the fan experience: soccer club Borussia Mönchengladbach had cardboard cut-outs of its fans for Bundesliga games and FC Seoul received a fine for renting a large number of female sex dolls to fill the seats.
Regardless of the method, these games felt considerably different as such a large part of sports is the fans that follow the leagues and teams.
As a result, many companies are creating digital ways for fans to engage with games and cheer for their favourite teams.
One of these new methods is the Yamaha Remote Cheerer, a solution that the company started working on in 2018 as a way for people to remotely access social events, creating unity and interactivity even if people were in a different location.
"We wanted to give people access to events who couldn't [attend], including hospitalised children, parents busy with childcare, the elderly, those with disabilities or anyone living too far or overseas," Yamaha Corporation leader of SoundUC group Yuki Seto explains.
Another solution is UpRoar Live! created by Zenapptic.ai and its creative partner, Motion Path.
"It's the combination of Zenapptic.ai technologies and our creative skills that are the foundation for these new solutions. We are specialists in real time graphics and in augmented reality graphics for broadcast while our creative [team] uses the Zenapptic.ai platform to allow viewers to actually control how our graphics behave," Motion Path president Anton Maximovsky explains.
"Using the UpRoar Live! application, viewers of sports and other events input their reactions and the Zenapptic.ai platform tabulates those reactions in the cloud. The results then trigger our graphics to animate or transform or perform other exciting effects. In addition to fan reactions, we are also working with branded content and sponsorships to create new AR generated marketing opportunities."
The Remote Cheer application lets users select from a range of pre-set 'celebrations', things you usually hear spectators say and it outputs those sounds through the speakers at the venue.
Where it gets really cool is that it aggregates the amount of people cheering for a certain team and the sound in the stadium is based off however many people there are cheering at any one time.
"We've received a plethora of positive feedback on the system not only providing a feeling of fan presence for the players but also encouraging them to give it their all in matches, and fans have also expressed their amazement and enjoyment of the application on social media. Many enquiries and much excitement have come from overseas as well," Yuki says.
The Remote Cheerer has also worked on a way to mitigate broadcast delays so that the players on the field, court or stadium can be celebrated in real-time for their play, not a few seconds later.
Both solutions can be accessed through a mobile application or URL with UpRoar Live! being customisable so that teams can add their own colour scheme and logos.
"Using the Uproar Live! application connected to the Zenapptic.ai cloud platform, users can upload video or images and then it's automatically placed in specially built templates specific for either augmented reality displays or physical displays," Anton says.
"Event producers can approve or disapprove content before is displayed on the broadcast or stadium."
It uses Zoom or similar video conferencing solutions to integrate it onto AR graphics or video walls around the sports venue or fills empty stands with an AR-generated crowd if there are no fans.
"Other AR effects and graphics can be controlled by the broadcaster, team or league as part of an overall sponsorship or advertising initiative," Anton says.
"Fans select their response based on the game action. The responses are tabulated, and a proportional mix of pre-recorded crowd audio is played out through the venue sound system or broadcast control room. For events where a small crowd can attend in person, UpRoar Live! is used to amplify crowd response. 500 invited fans can sound like 20,000 and still deliver authentic in-venue audio."
He continues with a good point: "We have a great deal of experience using real-time data to trigger things; video playlists, graphic responses and we have a great deal of experience creating and using AR. We wanted to combine the two and use authentic real-time cheering from real fans to create a new kind of viewing experience for sports."
The sports and AV industries have been working together for a long time. The pandemic is bringing a range of new challenges but the solutions we've seen so far not only bring fans closer to the teams they love, but like attending sports: it's just good old fashioned fun.