One For All remote is clean as a whistle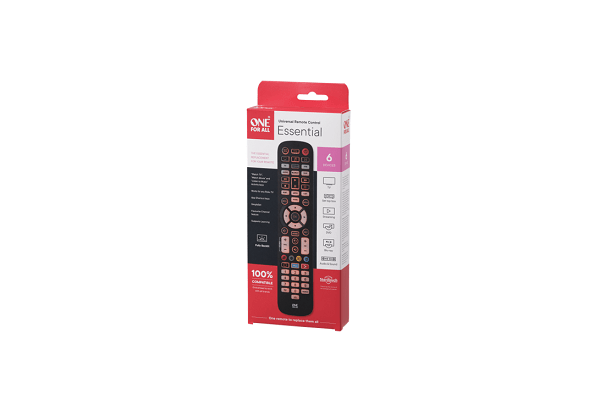 When it comes to germ catchers, frequently touched items such as TV remotes can be some of the dirtiest items in a home.
The new One For All Essential 6 Antimicrobial Remote Control offers a clean design and a clean surface featuring SteriTouch antimicrobial protection.
SteriTouch harnesses the antimicrobial properties of silver to protect a surface from the growth of bacteria, fungi, and mould for its usable lifetime. The silver ions embedded in the surface of the remote control are released via ambient moisture and enter a cell membrane. The ions destabilise the cell, stop respiration, and inhibit cell division, while also blocking the replication of DNA and killing the cell.
The addition of SteriTouch offers protection against bacteria such as E.coli, MRSA, Salmonella, and Legionella, as well as black mould growth, biofilm, and fungi. This protective barrier makes the One For All Essential 6 Antimicrobial Remote Control ideal for use in domestic settings as well as applications where health is paramount, such as medical centres, aged care facilities, hospitals, event and accommodation venues.
The Essential 6 Antimicrobial Remote Control seamlessly allows users to control up to six devices with just one remote. It also features three handy shortcut keys for quick access to streaming services, and a favourite channel feature.
Three smart activities provide additional control of devices by allowing swift changes between Watch TV, Watch Movie, and Listen to Music with a single key. The Essential 6 Antimicrobial Remote Control is not only a smart device but also comes complete with a learning feature that easily adds any function from the original remote controls that are being replaced to give the user every key needed.