Josh.ai and Autonomic to transform audio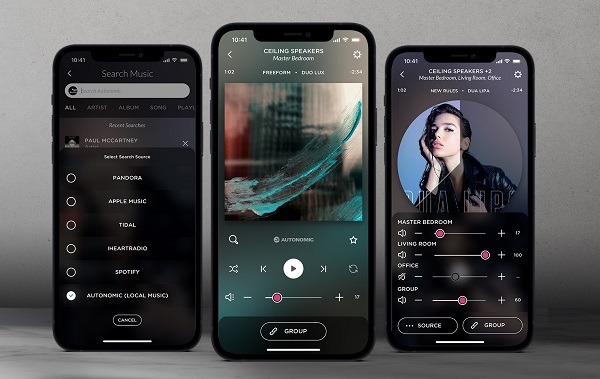 Josh.ai continues expanding the power of artificial intelligence in the home with its support of Autonomic, an industry leader in custom audio products.
Integration with eSeries MMS streamers, as well as Autonomic's full line of multi-room amplifiers, enables Josh.ai's proprietary voice automation and intuitively designed app to provide convenient music access throughout a user's living spaces. Autonomic clients are now empowered with natural and secure voice commands, like: "Ok Josh, draw the west sheers, listen to Yo-yo Ma in the den and dining room, and set the volume to 25%."
The integration provides feature parity across Josh.ai's app and voice interfaces for content search, zone grouping, and transport control. Users will seamlessly be able to search for their favourite songs, artists, albums, and playlists across supported streaming services.
With the highly anticipated release of Mirage OS 7.0, Apple Music, Tidal, Spotify, SiriusXM, Pandora, iHeartRadio, and TuneIn are all available for Autonomic clients to enjoy in high resolution audio. Autonomic local music content that is saved as favourites or playlists will also be accessible at launch.
Once Josh.ai is deployed, each Autonomic device is automatically detected on the network along with all compatible streaming services that are signed into the local Autonomic system. As part of the Josh.ai AV Setup workflow, Autonomic streamers and amplifiers are then configurable as input sources and output zones respectively throughout the home. Beyond native control in a standalone Autonomic multi-room audio system, Josh.ai also can access Autonomic streamers when routed through Crestron SIMPL, Crestron Home, and Control4 audio distribution.
Autonomic product engineer, Michael de Nigris Jr. says: "Autonomic's primary focus is to provide integrators a no-compromise multi-room audio solution tailored specifically to luxury residences. Our partnership with Josh.ai reinforces that goal."
He adds: "As an industry partner, Josh.ai and Autonomic are highly aligned in the user experience we are looking to create. This integration highlights the flexibility provided by the MMS and the power of Josh's artificial intelligence. As we continue to advance our already feature-rich platform with new services such as Apple Music and Calm Radio through Mirage OS 7.0, music listeners now can enjoy an intuitive listening experience using natural voice to recall their favorite content."
Josh.ai chief executive, Alex Capecelatro, says: "Our vision with Josh.ai is to offer simple, secure, and magical experiences for interacting with the smart home. Partnering with Autonomic provides our luxury-oriented clients with products that are purpose-built to perform in their living spaces."
He adds: "Together we are offering an unparalleled experience with natural and intuitive voice control of high-quality music content. Our relationship with Autonomic illustrates Josh.ai's commitment to the custom channel. I am thrilled that this is just the start of our close technical and strategic partnership."