Nortek's 2GIG EDGE is a game-changer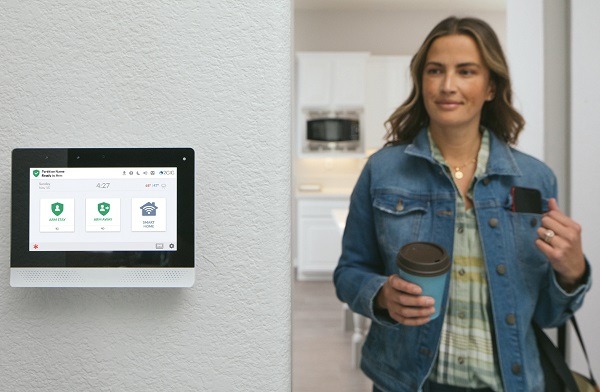 Revolutionizing the pro-install security market, Nortek Control today launched the 2GIG® EDGE™ Security and Automation Panel.
Packed with state-of-the-art Artificial Intelligence (AI) and edge analytics, the new 2GIG EDGE panel delivers the industry's first secure face recognition touchless disarm. Engineered using edge analytics and with technology built right into the panel ensures homeowner's biometric data stays secure by saving it only on the panel. Once homeowner data is deleted, it is deleted forever.
Another industry first includes 100% compatibility with live feed of ONVIF cameras to the 2GIG EDGE panel. This allows homeowners to use existing ONVIF devices for their surveillance needs; all built on a foundation of security and data privacy. Upgraded with a new intuitive user interface in an exceptionally powerful and secure platform, the 2GIG EDGE panel not only supports encrypted sensors and devices but now provides the most secure way to disarm a system with hands-free convenience — no phones to carry or codes to remember.
Other upgrades include dual microphones with noise and echo cancellation and front firing speakers that enable two-way voice communication for best-in-class audio quality. Additional features include a built-in radio and wi-fi communications, camera and glass break sensor. And, its 1.6 Gigahertz (GHz) quad-core processor combined with its built-in edge analytics make it one of the fastest panels on the market and four times faster and more powerful than previous generation 2GIG panels.
Nortek Control senior vice president of global sales and marketing Bruce Mungiguerra says the 2GIG EDGE is born from security rather than its tablet design.
"Engineered with advanced edge analytics and face recognition touchless disarm, a first in the industry, our panel surpasses the IQ of any other smart home security panel on the market today […] As the most reliable and most secure panel on the market, the 2GIG EDGE panel is destined as the industry's go-to install enabling dealers and integrators to showcase the added value of what a professionally-installed system can offer."
Nortek Control developed the 2GIG EDGE Security and Automation Panel to be the center of today's smart home making it compatible with a broad array of home technologies and products. The panel allows users to seamlessly connect to cameras, doorbell cameras and directly view video in real time from up to eight different camera feeds. Further increasing security and data privacy, encrypted sensors and devices help eliminate system hacks and prevent account take-overs.
Plus, integrators are able to customize the panel to a homeowner's personal needs with controls, rules, scenes, notifications and Smart Areas zone partitioning. All this, plus the simple set-up and the rock-solid reliability that the 2GIG brand is known for, enables dealers to maximize productivity and sell a more compelling, complete solution that also opens the door for future smart home automation up-sell opportunities.
Nortek Control vice president of product management for the 2GIG brand, Quinto Petrucci says: "The design of the 2GIG EDGE Security and Automation Panel brings together the best of Nortek Control intelligent AI, advanced home automation, audio, wireless and security technologies. The features these technologies enable culminate in layers and layers of value to homeowners while giving dealers and integrators a competitive advantage in selling the evolution of home automation and security. It is truly a next-generation platform that can scale and expand to meet future needs."