New Big Ass Fans driver for Control4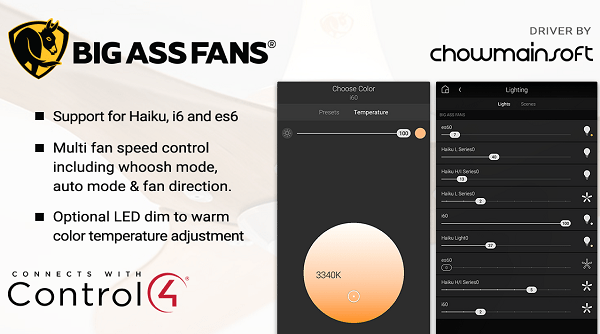 Chowmain Software has released a brand new Big Ass Fans driver for Control4.
This driver is written from the ground up by Chowmain's Andrew Luecke for the new Big Ass Fans API and supports all IP controllable fans (Haiku – firmware version 3+, es6 and i6 fans) with the following functionality:
Fan Speed Control
Preset Speed (On speed when toggled)
Whoosh, Fan Direction
Light Dimming
Light Colour Temperature Adjustment.
Temperature & Humidity Feedback
Occupancy Sensor Support
Existing Big Ass Fans Haiku Control4 driver customers can install this driver at no additional charge. Customers will need to upgrade to the latest version of the firmware for the new driver to operate.
ADVERTISEMENT

ADVERTISEMENT
ADVERTISEMENT

ADVERTISEMENT