ATEN launches new 5K DisplayPort KVM-over-IP extenders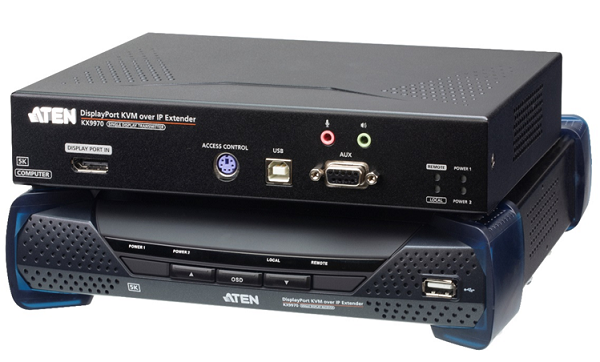 ATEN International has announced the launch of its 5K DisplayPort KVM over IP transmitter and receiver.
The KX9970 KVM over IP Extender is designed to enable real-time KVM over IP extension over long distances with 5K lossless video compression, zero-latency transmission, and color depth up to 12 bits, making it suited for diverse control room applications, including broadcast centers, air traffic control (ATC), eSports applications, and more.
The KX9970 features transcendent 5K audiovisual performance, real-time KVM over IP data transmission over up to 10 Gbps networks, speedy peripheral data sharing, and much more.In order to meet the demands for professional TV broadcast post-production of high-definition video, the KX9970 provides 5K (up to 5120×1440@60 (4:4:4), 5120×2880@30 (4:4:4), and 4096×2160@60 (4:4:4)) image quality and color depth up to 12 bits.
With eSports booming and beginning to rival traditional sports leagues in viewership, it's more important than ever to broadcast impeccable coverage of global gaming events and tournament where every tiny detail is crucial to viewers. The KX9970's support for 1920×1080 @240 Hz / 2560×1440 @144 Hz allows broadcasting producers to seamlessly switch live between on-scene players and gaming feeds without experiencing any impactful lag or interruption while gaming video is being streamed.
Furthermore, the KX9970 can also improve work efficiency at mission-critical ATC centers with its ability to display zero-latency and color-accurate video on 2048 x 2048 monitors.
In addition, in tandem with CCKM (KVM over IP Matrix Manager), the operator at each remote console connected to a KX9970 receiver can benefit from ATEN's Panel Array Mode that enables simultaneous viewing of video sources from multiple transmitters from 2×2 to up to 6×6 multi-view layout on one screen.
The unique features on the KX9970 KVM over IP Extenders include:
Lossless video compression up to 5K over 10 Gbps network with zero latency.
Native DP signal processing with color depth up to 12 bits and support for HDR 10.
Power/Network failover ensures constant availability for mission-critical applications.
Panel Array Mode to maximise remote console efficiency.
USB isochronous transfer enables USB camera and USB speaker usage between transmitter and receiver.
ADVERTISEMENT

ADVERTISEMENT
ADVERTISEMENT

ADVERTISEMENT