Networking's white elephant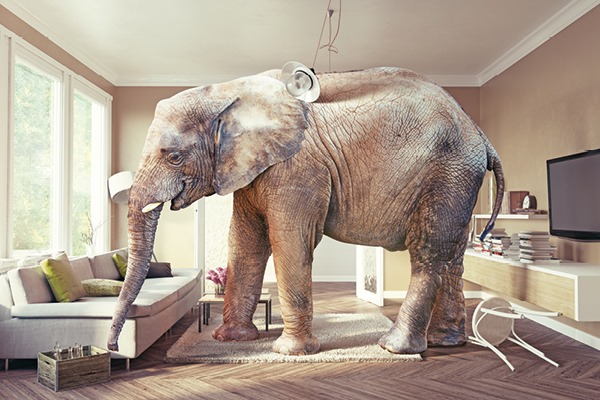 With a lot of attention being given to 10Gbps networking, the question must be asked: is it the future of home networks or the next white elephant? Geoff Meads reports.
When it comes to bandwidth a bigger number is always better, right?
For years we've seen internet speeds steadily increase, meaning greater access to content and the eventual move to streaming services, such as TV being delivered over the internet. In fact, broadcasters such as the UK's SKY have announced a 'network only' box for later in 2018. This will do away with the need for a satellite dish to receive its service.
With more and more devices joining the home network every month the question on some industry members' lips has become, 'is it time we move from the current 1Gbps network infrastructure towards the 10Gbps networks that some commercial premises enjoy?'
While racing to a higher bandwidth network might seem an obvious choice, can we really justify it to our residential customers? Let's start by looking at some example costs of such an upgrade. For starters, let's talk cable.
While good old Cat 5e cable (ISO Class D) can pass 1Gbps data pretty comfortably (although it can't be certified at the full 90m + 5m + 5m run length), it simply won't pass 10Gbps of data.
For that we need to move up to Cat 6 (ISO Class E). There are also other arguments for installing Cat 6, such as its better suitability for Power over Ethernet (PoE). Cat 6 will carry 10Gbps data but, again, is limited to a run length of 55m if you wish to certify it. In addition, as with all high-speed, non-screened cables, the overall performance will drop when multiple cables are bundled.
At time of writing, the price differential of raw Cat 6 cable over Cat 5e is approximately 30-40% plus, of course, the connectors and extra time for installation (darn those plastic separators and thicker cores…).
Some folks are suggesting Cat 6a (ISO Class EA) is the preferred way to go for high-end residential applications. Indeed, this does offer 10Gbps speed at the full 90m + 5m + 5m run length. But, at what cost?
The current cost premium for raw Cat 6a cable looks to be about double that of Cat 6, plus the funky connectors and extra labour time, of course…
While there are very few host devices that support 10Gbps right now, network switches are available. Typical prices for 10Gbps switches are in the hundreds of dollars per port region, compared to tens of dollars per port for 1Gbps switches. So, while 10Gbps networks are possible, we definitely can't call them 'consumer level' quite yet!
But, given that we can install 10Gbps now (or put in better cabling and wait for equipment costs to come down) should we do it? Right now, I'm not so sure…
There are aspects of our future data usage that suggest to me the need for a 10Gbps network isn't as clear as it might seem. As experts in the field, and those who our customers trust to make the right infrastructure choices, we really need to form a solid opinion on this subject. Here are a few observations of my own which might help inform your choice. We'll concentrate on TV here as video is the most data hungry service we commonly use.
There can be no doubt that we're moving to a landscape where IP is the dominant delivery method for our favourite TV programs. We're moving away from satellite dishes, TV antenna and cable delivery and making more use of the internet service that's already coming through our front door.
While there are some regions that now have super-fast internet to the house (e.g. up to 1Gbps in South Korea) most of us are likely to stay below 100Mbps for the foreseeable future. Remembering that this bandwidth has to serve the whole house (not just a single data link between, say, a switch and a smart TV), clearly, we're likely to see TV streams remain at just a few megabits for HD or the low tens of megabits for four. All of which means the local network isn't the choke point here, it's still the connection from a router to the internet.
You've probably noticed that, for the first few seconds of a TV program being streamed, the picture quality can be a little 'fuzzy'. That's the content provider compressing the TV picture hard to get it to you using the lowest data rate possible. Then, as the stream continues, they ramp up the data rate (lowering compression) until you get a nice crisp picture but one that doesn't buffer. This variable compression method means we can get a pretty good picture, even when our connection has limited bandwidth. However, there is a limit to how much data these services will use so don't expect the full 4K uncompressed performance from a streaming service or, indeed, anything like it.
There are also better compression methods coming to market to help keep data rates low for internet delivery. Although exact examples are hard to find, current evidence seems to suggest H.265 (as an example) might reduce data rates by 50% or more over H.264.
The World Wide Web and the applications running on it have themselves changed dramatically. It will come as no surprise that we are using mobile devices for more and more of our web experience and this increase is even more evident with younger users.
With content being formatted more and more for mobile devices we're seeing a smaller data payload for delivered content. Website and application authors are squeezing pages, audio and video into smaller and smaller files so that they can be delivered faster and using less of your mobile data package. With these applications also being used at home, the stress of data posed on the home network is significantly less than it used to be.
It might appear that better cables and higher speed network gear should be the 'go to' solution for installers. However, to me this doesn't always represent the best advice. For ultra-high end installs it might be a good approach (although I still prefer the fibre optic route over higher spec Cat cables…). However, for the rest of the market, an installer should be cognisant of the real-world demands of the network and how that might change in years to come. That way we are ideally placed to recommend solutions that balance performance, cost and future compatibility.