Intelligence augmentation… Beyond imagination?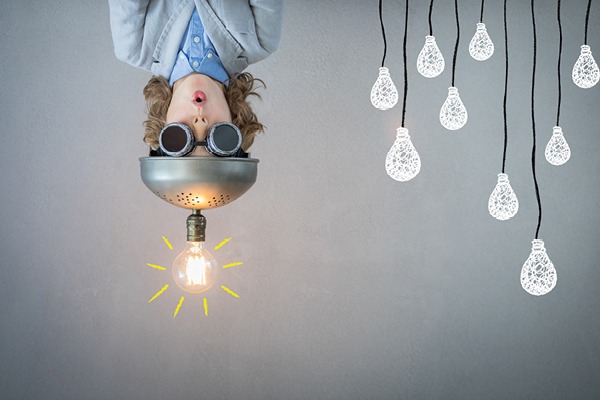 There's much talk about how transformative artificial intelligence will be to our lives. Ian McMurray argues that it's more likely to be IA than AI.
In a life full of frustrations, high on my list is to hear scientists repeat, ad nauseam, that such-and-such a planet cannot sustain life as it has neither oxygen nor water. Another frustration is that, however grotesque a monster or an alien in a sci-fi movie is, they're always at least somewhat humanoid. Even the Daleks had something like an eye.
Where am I going with this short – and far from complete – list of frustrations? (Don't even get me started on Windows 10…) Simply: we cannot imagine what we cannot imagine. Yes, I'm aware that doesn't really make much sense – but bear with me. When people say "in my wildest imagination, I couldn't…" it's important to note that their imagination isn't wild but is, in fact, a rather tame beast that relies exclusively on what we know. It is far from limitless.
When Shakespeare had Hamlet say: "I could be bounded in a nutshell, and count myself a king of infinite space – were it not that I have bad dreams" he was alluding to the allegedly endless power of the human mind. It's really not so.
Not a threat
Which is why artificial intelligence is unlikely to be the threat that doom-mongers claim. The uber-famous scientist Stephen Hawking claimed AI could spell the end of the human race. Elon Musk, chief executive of Tesla and part-time saver of boys from Thai caves (well, almost…), said we were "summoning the demon".
The fact is that the fundamental nature of computing – and computing is what artificial intelligence is – hasn't changed. Computers only do what we tell them. It's still ones and zeros and 'if, then' instructions. The differences today are only the huge processing power at our command; the ability to acquire enormous amounts of data from sensors; and some smart programming.
Returning to my original point: computers don't even have our paltry level of imagination. In fact, it could even be said that they don't even have intelligence as we understand it. Unless, of course, you define intelligence as being able to marshal some facts and make decisions about what to do based on that information. If we tell a computer that oxygen and water are prerequisites for life, the computer will scan the solar system – very, very fast, of course – and conclude, as we have, that Jupiter can't be home to intelligent beings. Without data that indicates to the contrary, it too will be incapable of positing some form of life that doesn't need water and oxygen.
Expert systems
Now – and none too soon – to my point. I wrote in a previous column about one of the earliest instances of applied artificial intelligence: expert systems. One of the best known examples, way back when, was an expert system developed for Campbell's Soup. So-called 'knowledge engineers' picked the brains of one Aldo Cimino, a veteran maintenance engineer, and captured his vast store of knowledge, feeding it into the expert system's knowledge base that informed its inference engine. The thinking was that, once Aldo was no longer around, his experience and expertise would still be available to the company.
We're talking about the late 1980s, so PC hardware – on which the expert system was based – was far from what we have today. Only so much data could be handled – because storage was limited, and processing was far from fast. Fast forward 40 years, and we can do so much more.
And that's why – in true "what goes around comes around" fashion – expert systems are a topic of conversation again. Except we don't call them that anymore. We talk about 'intelligence augmentation' or 'IA' – which, increasingly, looks like it is the true destiny of artificial intelligence.
Here's an example of why I believe that. The world, his wife and their dog Spot seem to be talking about autonomous vehicles. And, in fact, some very remarkable things have been achieved with autonomy – which has AI at its heart. For autonomous vehicles to work as we believe they should, however, we have to be able to tell the onboard computer everything about every possible situation the vehicle might encounter – and how to deal with it. (That conveniently leaves aside the principle of information that can be inferred from data, but I'll let that pass.) When sensors detect a stop sign, the car must gently apply its brakes and come to a halt. If the car 'sees' a bend in the road, it needs to steer round it. When the car cannot avoid a collision with either an elderly person or a child, it will choose… What? You wouldn't want to be the programmer who codes that into the car.
To quote Hamlet again: there's the rub. Wholly driverless cars seem to me to be a pipe dream.
The big opportunity
The future of AI – in my mind, at least – doesn't see computers replacing humans on a grand scale. The big opportunity lies in how we can get them to support us. AI is great at gathering far more data far faster than we can – and turning it into actionable information. (I was reading the other day, by the way, about the so-called 'DIKW' model, which sees data turned into information turned into knowledge turned into wisdom. Fascinating stuff.) Computers that complement what we do, rather than eliminate what we do, are – for the foreseeable future, anyway – where AI will bring real value.
To pick up my earlier analogy: increasing numbers of cars now include growing numbers of 'driver assistance' features. If you start to veer over the white line, the steering corrects you. If the car thinks you're getting sleepy, it wakes you up. If you're too close to the car in front, it slows you down. What they're doing is not eliminating the driver: they're helping protect the driver against human error – the cause of the large majority of accidents. They're supporting the driver – augmenting his intelligence. No, they're not – yet – particularly advanced implementations of IA, but (and excuse the pun) you can see the direction in which they're headed.
How, then – if at all – will intelligence augmentation affect the AV industry? The single biggest opportunity I see goes back to those expert systems. Experienced AV designers and engineers are becoming an increasingly scarce commodity – at a time when it could be said that AV systems are becoming more complicated and thus harder to install, diagnose and maintain. Intelligence augmentation would see that expertise captured to support those who are still on a learning curve.
Unprecedented complexity
Another place it has a (not dissimilar) role to play is in managing AV networks and assets. The confluence of AV and IT is introducing hitherto unprecedented levels of complexity, with huge amounts of data about performance available – data in quantities that can be impenetrable to a human, but that would be the work of seconds (if that) for a management system based on intelligence augmentation to interpret.
It's also interesting – and exciting – to speculate how intelligence augmentation could perhaps be built into individual pieces of AV equipment, perhaps taking something like onboard diagnostics to a whole new level. Or could it transform the huddle room, making meetings even easier to convene?
But then: speculating on how IA might impact our industry, though, is obviously somewhat self-defeating. As a learned man once said: we cannot imagine what we cannot imagine.