Much-needed credentials for the tech space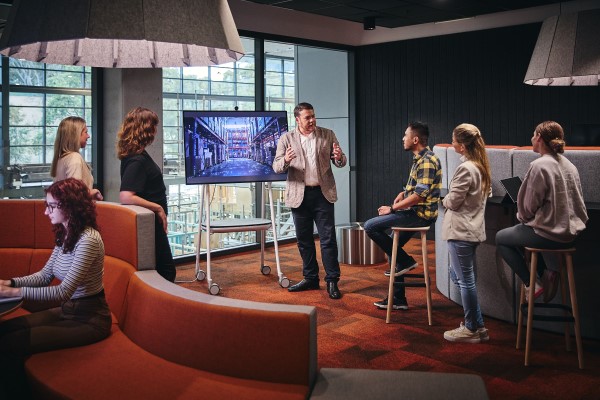 Leading NSW educational institutions have developed microcredentials and skill courses for the tech sector. Sean Carroll finds out what they are and what they could do for the integrator industry.
Following the Gonski Shergold Review of the NSW VET sector in March 2021, it was made abundantly clear that the sector needed more training and credentials for the tech industry.
Just over two years on and the Meadowbank Education and Employment Precinct in NSW has debuted its microcredentials and microskills programs under the Institute of Applied Technology – Digital (IAT-Digital) initiative. The IAT-Digital is a blend of theoretical and practical learning – bringing together the best of academia and industry to co-design courses that are relevant and applicable to the jobs the industry seeks – right now.
"The IAT-Digital came about as a collaboration between Macquarie University, the University of Technology Sydney, TAFE NSW and Microsoft," IAT-Digital senior operations manager Sally Browner says.
"The idea was to develop a range of microcredentials so students can upskill quickly and efficiently in the key areas where there's a massive gap and shortfall in society. This can be done either online or face-to-face in a way that's convenient for the tech sector."
A microskill is defined as a bite-sized, self-directed course that addresses a specific skill or topic as quickly and affordably as possible. Each course has only a few hours of content, which can address regulatory changes and rapid advancement in industry technologies, including niche skill requirements. These are delivered on demand and are 100% online.
Microcredentials are practical and academic courses that apply directly to the workplace. These include assessed learning and provide certification in industry-specific skills recognised as evidence of competence.
The idea behind this kind of learning is that it can be stacked with other microcredentials, tailoring the learning to the specific industry.
Sally says that these courses are aimed at the more mature market of the sector, re-skillers and upskillers. The IAT-Digital team is also looking at pathways for school leavers but in the meantime, they're focusing on the sweet spot of the reskill/upskill market.
"We're finding a lot of people with IT skills who either had a gap year or career break and are looking for a refresher or people who are seeking to pivot into tech come into the course," she says.
"We have a range of credentials that are essential, including cybersecurity, data, AI and cloud and software development. We're also just about to launch Python and Power BI as well and all those credentials will stack so people can bundle them in whichever way they like."
To help students learn and apply their skills in these emerging areas, TAFE NSW Meadowbank has created a mock city and cybersecurity control room. Dubbed Anytown, this 64m2 3D-printed city is designed to mimic what a real-life attack on a city would look like.
When a trial is on, the teacher can start to hack certain areas of Anytown like the city's power, water or airport and this will show up on the diorama in real-time.
"With this, students can see, in real-time, what the impact of a cyberattack is. It's a great way to engage all the cyber credentials in one," Sally explains.
"Equally, it's a great tool to engage with students and bring to life what a career in cybersecurity would look like."
As mentioned earlier, these courses are supported by Microsoft. Each program for all foundational credentials includes a Microsoft certification, so alongside the regular coursework, students have the ability to complete Microsoft Learn content and sit the following exam within the time period of the course.
"Some of the credentials are incredibly well-aligned with the Microsoft certification already. For example, the advanced cloud credential is similar to the AZ 104 Microsoft Certification," Sally says.
She adds that Microsoft has been involved from the beginning, both from a content support point of view and as subject matter experts for course development as part of the working group.
For the pro AV and integrator market, workforce development remains a significant challenge, which has only been amplified by the COVID-19 pandemic. Additionally, the integrator is moving further into cybersecurity (with Nick Ross writing 'The AV industry can't ignore cybersecurity anymore' in this edition of Connected) and these courses are an excellent opportunity to upskill and add some security elements to their toolbelt.
An integrator's expertise is necessary to ensure that all components of a smart home system work seamlessly together, are secure and are tailored to the specific needs of the homeowner. It's imperative that pro AV workers are up to date with cyber threats and understand how to protect their clients.
The article 'What more can an electrician do?' in the most recent edition of our sister publication, Electrical Connection, looks at the growing role of the electrician. It says that sparkies are at the forefront of our digital transformation and they're in a prime position to make the most of emerging technologies.
For electricians who want to move into the cybersecurity space, these courses are also perfect opportunities to upskill where they can. And that is just one segment that can make the most of the IAT-Digital courses on offer.
The IAT-Digital are producing entire cohorts of upskilled professionals who are ready to bring cutting-edge industry knowledge and techniques into the Australian market.
ADVERTISEMENT

ADVERTISEMENT
ADVERTISEMENT

ADVERTISEMENT