Meridian Audio takes to the seas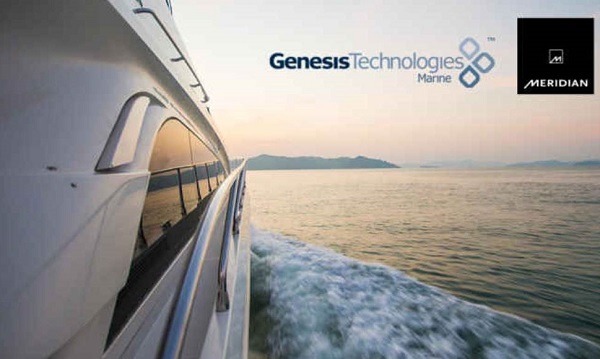 Meridian Audio has teamed up with Genesis Technologies Marine to drive greater penetration and sales growth for Meridian's products in the marine market.
Genesis is one of Europe's leading designers of AV solutions for private superyachts.
Meridian's director of Sales, Barry Sheldrick says: "Superyachts are the epitome of luxury and high-performance engineering and Meridian is an ideal audio solution to address the demanding requirements of these installations."
He adds: "Our unique approach to audio design ensures our products save on heat, space, and weight, whilst delivering our renowned, superior sound performance, all of which are essential for yachts. Meridian has been designing and specifying reliable, repeatable high-performance systems for theatre applications and audio systems all around the home for more than 25 years. This expertise, combined with our excellent dealer support services, are the foundations of this new and exciting partnership with Genesis Technologies Marine."
Genesis Technologies Marine has more than 20 years' experience working with marine installers as a technology and AV service provider. The company produces custom-designed systems which are the epitome of refinement and sophistication to meet the many specific needs of the yacht market.
Genesis Technologies Marine chief executive Rico Vogeli says: "At Genesis Technologies Marine we take pride in delivering the best sounding and most flexible bespoke entertainment experiences while making the job of our partners, the specialist integrators, as easy as possible.
"Meridian's award-winning range of DSP loudspeakers combine innovative technologies with powerful and immersive sound. Spearheaded by the new flagship DSP8000 XE, their products offer a range of flexible installation and integration solutions, including on-board amplification and a shallow mounting-depth, essential for marine projects. We are excited to be working with the Meridian team and to bring their unique, high-fidelity products to the marine sector."
Barry adds that the Meridian brand is growing rapidly with this latest partnership being seen as a natural progressions for the business.
"It builds on the strong demand for our products that we are enjoying with residential integration partners around the world. We are excited to now be working with Rico and his team on integrating the high quality, high-performance Meridian experience into even more superyacht projects."