Leading the way with strategic thinking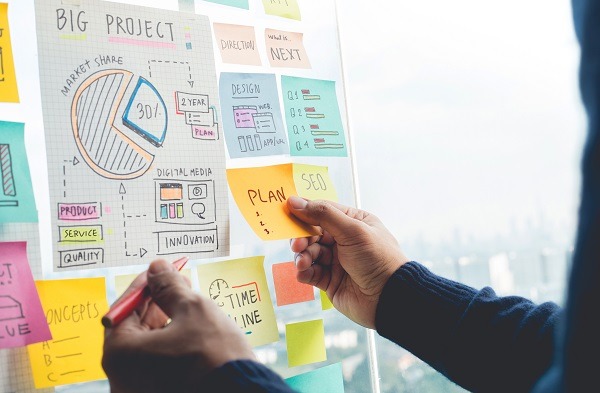 As Australian businesses face into a new financial year, John O'Brien shares some thoughts and experience on how to plan for an ever-changing local, and world, landscape.
We are into a new business year and looking ahead to an uncertain future. What are your plans for the next calendar rotation and beyond? Me, I'm mapping out what I'm likely to do this month, next month and next year. But first step in the plan is getting today sorted out. Then I can focus some more on the bigger picture.
Anyone in any sort of management role, whether you run a large company or are an individual contractor, will be making decisions like these daily and they affect the success of your particular endeavour.
Some may 'go with their gut' because it has always served them well. Good luck to them. Most of us will have to run the sums and then do some hard thinking and analysis. This is where strategic thinking can be of great advantage.
Defining and refining a plan
Strategic thinking is all about envisioning potential futures and possibilities for your project. Strategic planning is a way to incorporate some of the ideas from that thinking into a scheme that is practicably realisable.
To get that plan together, some basic research and auditing will be required. What are your business opportunities and vulnerabilities? What is the competition doing? What are your capabilities? This, and more, is part of the information gathering phase.
When you know the lay of the land, you can start sifting through your options by testing some ideas and analysing if they have any merit. After a few iterative rounds and you have decided on a particular course of action, it is time to get into planning just how you will implement that vision.
Big picture, small detail
Before we get there, it is important to understand the difference between strategy and tactics. Strategy is all about what we are doing and why – the big picture. Tactics are more about how and when we do something and who does it – the daily how-to manual.
Strategic planning outlines the long-term, broad goals that you want to achieve. Tactical planning covers the short-term steps and actions needed to achieve the goals defined in the strategic plan.
Broadly, tactics need to reinforce the strategy, not undermine it. Conversely, if you don't have enough tactical resources available at the right time, you may not achieve the goals of the strategy.
Where's the AV benefit?
Let's start with a design-and-construct AV installation. Your broad strategy could be to work with the client to find and deliver an outcome that satisfies their needs and makes you a profit. No profit = no business. Happy customer = more business.
The tactics in this scenario can be broken down into: budgeting to keep costs in control; scheduling to realistically allocate staff and contractor resources; diplomacy to keep good relations with the client and all other parties involved in the job; and keeping enough across the whole venture to foresee complications before they arise.
These tactical steps form part of the bigger strategy. Further, they are not set in stone and may require modification or updating as circumstances change.
A good approach is to build some leeway into your tactical approach. Run with the plan but also plan for the unexpected. Lockdowns and border closures have derailed many well thought out operations of late. Generally, who knows when a crucial component will be delayed in shipping, when a key staff member will call in sick or have a family emergency, when the rest of the building works will be delayed, or any other manner of interference that could occur?
If it doesn't happen, you bought some slack. If it does, you will be prepared to respond rapidly and, hopefully, not blow out the budget or run over time.
How to think like a general
Late last century, many business leaders were seeking advice from a century's earlier guru in Sun Tzu, specifically his treatise 'The Art of War'. Many military leaders still do. I've studied it deeply and it is fascinating. It is more than just martial and covers logistics, diplomacy and deception.
Treating commerce as primarily adversarial was 1990s thing and today's business environment is becoming more inclusive and collaborative. However, commerce is still inherently competitive so…how are you going to win the race?
In the uncertainty of a post pandemic world, nothing should be taken as given. Sun Tzu sums it up well here: "According as circumstances are favorable, one should modify one's plans." It's ok to have plans B-Z when the environment is rapidly changing. Tactical nous allows clever refining of the daily tactics as the situation evolves.
Virtual models
As an operations manager for a medium sized hire and install firm, I had to juggle a lot of resources, all competing for limited time. Mostly, it was mapped out on whiteboards and decisions made via common sense. The strategy was to ensure the most effective use of staff, equipment and contractors. Tactics were a day-by-day proposition, made up on the fly. After hours, I'd discovered PC strategy games and often tried simulating resource allocation dilemmas from work in a game environment. I took some lessons back to my business and made improved workflow decisions, benefitting our bottom line.
What I was doing there is known as 'sandboxing' – being able to test outcomes in a non-mission-critical platform. This comes under a broader umbrella of 'war gaming'. Done as much for fun (gamers like me) as seriously (military institutions worldwide), war gaming is a great way to train minds in the art of strategic thinking.
Consider another computer game that I play a lot of – Civilization. The overarching strategy is to complete the game via a particular win condition. To do that, players need to ensure a steady supply of the correct resources to build appropriate units or technologies to dominate the world. OK, grand strategy sorted. Turn by turn, the tactics vary widely to fit the situation, which evolves rapidly, but the eye is always on the end goal. This particular game gets incredibly complex and takes some serious brain power to win on high difficulty levels. It was even used in a recent study on business students, finding candidates with higher game scores also showing better problem-solving and organisational skills.
Is this directly relevant to my business? Apart from writing about it now, no, but indirectly, yes. As well as being a fun thing to vent steam, I find it a great way to hone tactical and strategic neural pathways. With lessons from there, I approach all my commercial and community dealings with a well thought out bent.
How to think strategically
Thinking strategically is a mindset that can be encouraged by a lot of things. Start by observing and reflecting before asking questions. Analyse a variety of inputs – market conditions, business trends, company capabilities and goals – before honing the plan. A strategic outlook is as much about learning 'how to think' as 'what to think'.
Take some time to consider opposing or 'out-there' ideas. Even if they are discarded, it will keep you open to all the consequences of different strategies and directions. It will also help you in the key discipline of problem-solving. If you truly understand the problem and its potential solutions, you should see the solution more clearly. Understand and acknowledge your own (or company) biases to see problems logically, without the rose-coloured glasses.
Strong planning skills help deliver the solution, but good management requires clear and prompt communication with all stakeholders. Being able to build consensus and collaborate with all participating bodies along the way will help ensure a successful outcome.
Keep learning
Your mind is a tool for your business. Hone it well, study formally or informally, and it will be sharp for use. Think, ponder, reflect, then act. Strategic thinking leads to strategic planning and that leads to your future.
My broad plans for the next 12 months are mapped out but are loose enough to accommodate any unexpected surprises. When (not if) they happen, I will respond tactically to keep the bigger picture on track and ensure that my strategy succeeds.