Mayflex launches Aura, a new AV brand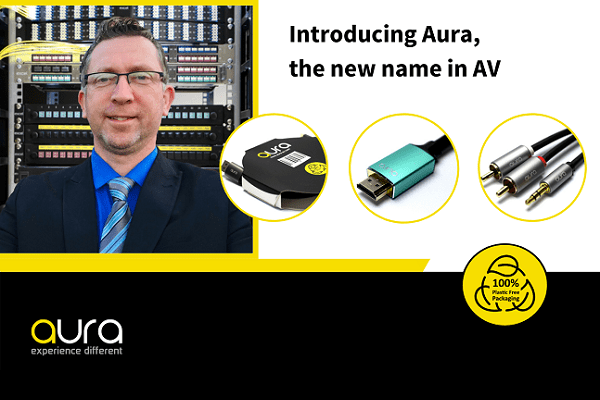 Mayflex, distributors of converged IP solutions, has launched Aura, its new brad of AV cables and connectivity products.
The initial product range includes coax, AV and HDMI cables, HDMI extenders, TV brackets, modules and wall plates, AV adaptors and connectors.
Aura aims to bring a different approach to an established market, offering an extensive range of AV passive products all supplied with 100% single-use plastic-free packaging.
"We are delighted to create the Aura brand, following on from the massive success of Excel, Mayflex is well placed to develop quality solutions which are backed by our exceptional service and support," Mayflex managing director Andrew Percival says.
"In September 2020 we welcomed Simon Jacobs to the team who brought with him over 20 years' experience of the AV market. Simon has worked closely with the leadership, sales and marketing teams to develop the Aura brand and ensure that we offer a premium set of products that meet the market requirements."
Simon Jacobs says he's excited to see the results of many months of work to design and develop the Aura brand.
"As the strapline highlights, you 'Experience Different' with Aura with exceptional quality and best-in-class performance, all protected in stylish packaging which is free from single use plastic and is made from materials which are 100% recyclable, definitely a first for any AV vendor in the market today," he says.