KanexPro releases matrix switcher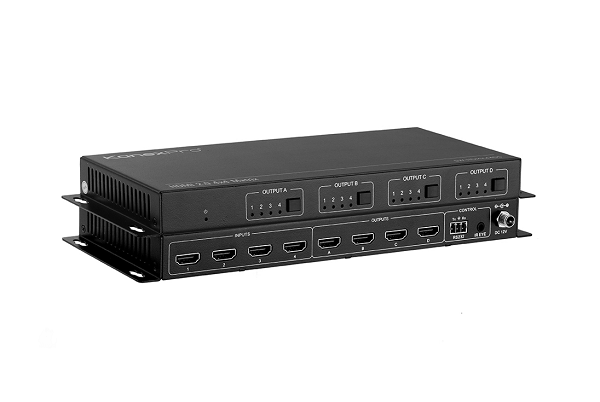 KanexPro has released its SW-HDMX44DS matrix switcher, which is ideal for a multitude of diverse applications.
The HDMI 2.0 compliant four input and output switcher supports a mix of both 4K and 1080p displays to be connected and operated at the same time. The built-in 4K to 1080p down-scaler will automatically downscale a 4K HDMI video signal to 1080p to ensure compatibility and the best possible picture on all connected displays.
It supports resolutions up to 4K@60Hz 4:4:4, HDR10, and Dolby Vision. It can be controlled via front panel buttons, IR remote and RS232 commands.
HDCP 2.2 & 4K/60 HDCP 2.2 authentication is present always on this matrix ensuring proper handshake of the protected content. It also maintains resolutions up to 4K- 4096×2160@24, 30, 50 or 60Hz, 3840×2160@24, 25,30, 50 or 60Hz and 2560×1080@60Hz displaying 21:9 aspect ratios, as well as 1920 x 1200 or full HD 1080p/60.
It can connect multiple sources to multiple displays and features a specialised down-scaling function that allows for mixed resolution displays to show content at the best supported resolutions. This allows for 4K displays to display 4K resolutions and 1080p displays to show 1080p resolution at the same time from the same source. Ideal solution for home theatre, office, school, conference room, retail, or hospitality applications.
Built to commercial standards, KanexPro products offer premium features like locking power connectors, metal enclosures, and passive cooling designs which are a must for long term reliable and stable installations.