Josh.ai releases first voice control solution for Crestron Home AV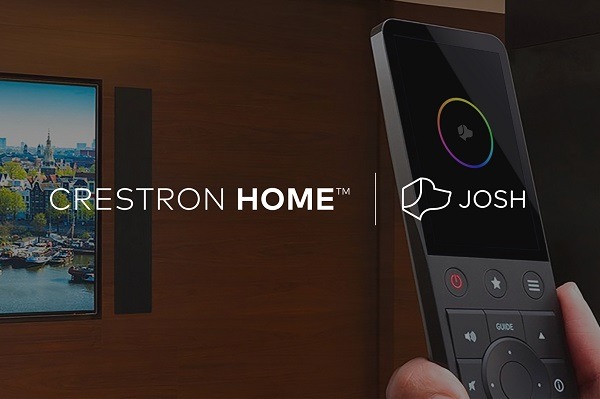 Josh.ai has expanded the impact of AI in residential settings with its latest update, enabling Crestron Home integrations.
With the close relationship between the two companies, Josh.ai was given exclusive development access to expand its AV distribution capabilities to Crestron Home systems.
Crestron Home clients are now able to enjoy intuitive control of their AV content using natural voice commands, all without requiring a professional installer to pre-program scenes or quick actions.
A hardware-agnostic approach allows Josh.ai to seamlessly support any system design, no matter the complexity or specific brands that are installed. As long as Crestron Home acts as the control backbone, Josh.ai will be able to communicate with a home's devices and use its intelligence to find specific content with compatible service providers.
Josh.ai's programming design has been guided by dealer feedback, enabling installers to set up complicated distributed AV workflows accurately and efficiently without re-doing the work they originally put into their Crestron Home deployment.
After connecting to the network, Josh.ai automatically detects and requires the authorisation of the Crestron Home hub. A second authorisation token is now needed to support AV distribution, which is set by the installer. For a step-by-step guide on how to integrate Crestron Home with Josh.ai, dealers can go to Crestron's Josh.ai partner page to learn more.
After both authorisation steps have been taken, Josh.ai will begin auto-populating all compatible devices that have already been programmed within Crestron Home's interface. In addition to AV source distribution, Josh.ai natively works with Crestron Home's lights, shades, thermostats, locks, scenes, and quick actions. Visit Josh.ai's Crestron partner page for more details on what is possible when these best-in-class solutions come together.
"We're thrilled to expand our partnership with Crestron and this update illustrates the invaluable relationships forged in our industry," Josh.ai chief executive Alex Capecelatro says.
"Supporting Crestron Home's distributed AV infrastructure has been one of our most commonly requested features and delivering this functionality to our mutual dealers is a testament to the cooperation of our respective engineering teams.
"Our goal at Josh.ai is to make user experiences as intuitive and magical as possible, no matter the complexity of the technology in the background. While not only distinguishing ourselves from the mass market solutions, this level of Crestron Home integration gets us another step closer to our goal of providing every smart home user with their ideal experience."