RingCentral enhances meeting offering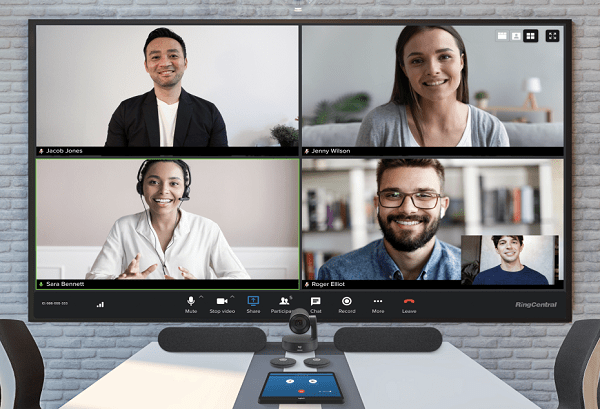 RingCentral Inc has announced new enhancements to RingCentral Rooms, including voice activated control, and compatibility with Logitech Rally devices and Windows devices and appliances.
As workers begin to return to offices and work from anywhere, organisations must manage safety concerns, including cleanliness and social distancing guidelines to ensure their employees are comfortable attending hybrid video meetings in an office environment. To support this, RingCentral Rooms have announced the following new features:
Voice activated Rooms: Users can use a voice command, "Hi RingCentral, join my meeting" in any conference room that leverages RingCentral Rooms, without needing to touch the shared tablet controller or any high touch surfaces.
Mobile phone as controller: Users can start, join, and manage video meetings in a conference room using their own RingCentral mobile app (connecting to the room via Bluetooth) so they can adhere to social distancing guidelines and avoid touching the communal controller tablet to control the Rooms system.
Rooms monitoring: Users can now track and monitor their RingCentral Rooms devices in real-time, gaining visibility into device history and un-provisioned devices. With this feature, users can easily search, filter, and track meeting rooms and devices based on location/IP address, time, and device name.
Rooms status and alerts: IT admins can now customise the operational status of their room's assets to ensure meeting rooms are fully functional. Administrators can receive real-time, proactive alerts about the status of devices and integrations in any particular meeting room and remedy any issues before the meeting occurs.
Windows for RingCentral Rooms: RingCentral Rooms now supports Windows-based host appliances, in addition to Android and Mac appliances. With this update, we are continuing to expand our portfolio by providing compatibility and support for the majority of devices used by customers today including devices from Logitech and AVer.
In addition, the Logitech Rally Family of devices will support RingCentral Rooms, included with the Logitech Tap controller to allow users to control room settings. Devices include:
Logitech Rally Bar Mini for small-sized meeting rooms
Logitech Rally Bar for medium-sized meeting rooms
Logitech Rally Plus & RoomMate for large-sized meeting rooms
RingCentral executive vice president of products and engineering Nat Natarajan says: "At RingCentral we are focused on connecting people – wherever they are located – with the best messaging, video, and cloud phone service. As offices open up, organisations are quickly adapting to support a collaborative hybrid workforce that creates participation equity. Our rapid innovation on Ring Central Rooms makes it easier and more rewarding for people to connect, resulting in a more inclusive culture so they can do their best work."