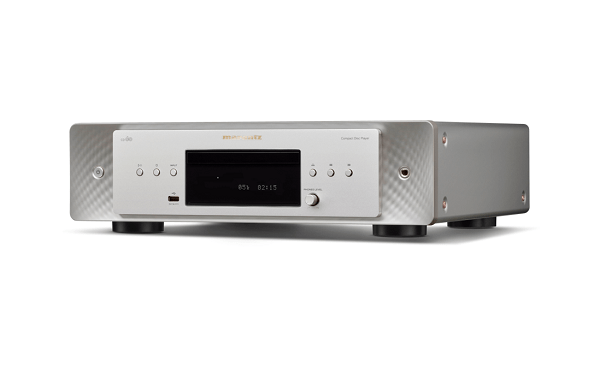 Marantz has announced availability of its CD 60 high-performance CD player.
The CD 60 features Marantz's striking new industrial design and exceptional build quality to give warmth, richness, and dimensionality to the music only Marantz brings to digital audio.
The CD 60 pairs elegantly with existing Marantz amplifiers or as a standalone addition to any hifi system. The CD 60 is a perfect mate to the newly announced MODEL 40n integrated stereo amplifier, making them a tremendous power couple for those who cherish their CD collections as well as modern streaming conveniences, or to Model 40N's sibling, the MODEL 30, for those not after the streaming capability.
Marantz participated in the development of the CD format, and the CD 60 has benefitted from a much-heralded legacy of engineering and refinement that includes the latest HDAM amplifier modules, a proprietary Marantz technology, used in the analogue output stage.
The new HDAM (Hyper Dynamic Amplifier Modules) are superior in their overall response compared to off-the-shelf IC chip solutions found in other products. These modules have been further optimised for the CD 60 to flow current more accurately leading to significantly lower distortion at high frequencies than its predecessor for unmatched musicality and detail from every recording.
The CD 60 also offers the convenience of a front panel USB-A port, enabling playback of a vast array of digital files such as MP3, WMA, AAC and WAV, FLAC HD, ALAC, AIFF (up to 192-kHz/24bit), and DSD (up to 5.6-MHz) from a connected USB storage device.
The CD 60 features a new reference-class D/A converter (up to 192kHz/24-bit and DSD 5.6MHz) for optimum musical fidelity with incredible clarity across all frequency ranges. A unique added benefit of the CD 60 DAC, critical listeners can choose between two filter options, with Filter 1 delivering a gentle roll-off while Filter 2 provides a sharper roll-off for more precise imaging.
The CD 60's digital to analogue conversion stage featuring HDAMs creates a sense of effortlessness that is apparent during focused listening sessions.
The CD 60 inherits the exclusive Marantz HDAM-SA2 high-performance headphone amp circuit with three gain settings (Low/Mid/High) for a perfect match with almost any headphone. The headphone amplifier can also be switched to "off" when not in use, eliminating any unwanted interference.
Marantz brand president, Joel Sietsema, says: "With so much attention devoted to the burgeoning vinyl market plus the popularity of streaming content, it's easy to forget that an entire generation of music lovers built sizable collections of beloved compact discs, making it no surprise that CD players still rank among our top selling components.
"Marantz was present at the dawn of CD technology with our original player, the CD 63. Now, the CD 60 reminds us why we fell in love with the format 40 years ago – delivering more warmth, musicality, and detail than any player in its class."
ADVERTISEMENT

ADVERTISEMENT
ADVERTISEMENT

ADVERTISEMENT