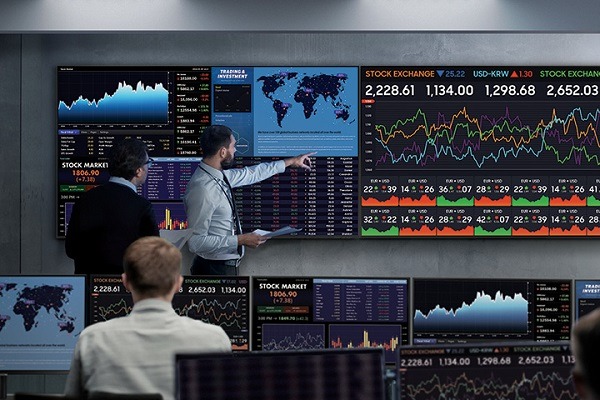 Creating lasting impressions in commercial installations has become something of a challenge but 8K technology is moving the goalposts and offering businesses their opportunity to stand above the rest.
Technology in the workplace, whether it's an office building, a retail store or worksite control room has and is continuing to evolve to keep up with the new and ever-changing expectations of customers and increased reliance on digital images.
If we've learned one thing from the past two years, it's that digital content has become king and whether we're consuming it from our home through a screen, or in person at an office or a shopping mall, content and how it's portrayed is a huge part of the discussion because it is a huge part of both the employee and consumer's experience.
To that end, Samsung Pro Display has released its Neo QLED 8K Digital Display range, available in 65", 75" and 85"sizes. This ground breaking digital display is guaranteed to stand out from the crowd.
"Samsung Pro Display has been recognised as the bestselling digital signage brand globally for the past 12 years and as a leader in this industry, we are very excited to launch Neo QLED 8K. As our reliance on digital content continues, technology like 8K can allow Australian businesses to keep up with the level of detail required."  Says Phil Gaut, Senior Director Display and Memory Solutions, Samsung Australia.
Being able to use digital content in innovative ways sets a business apart from its competitors and the level of detail required from many industries is increasing.
"Now is the optimal time for businesses to upgrade their technology to best-in-class visual displays. As more of our work is going digital from mapping systems to medical imaging and control rooms, Samsung's Neo QLED 8K Display, can provide life like detail to maximise accuracy and productivity which is a crucial part for any businesses when analysing digital content" Gaut adds.
The Really Big Picture
At the heart of Samsung's new range is its picture quality, delivering ground-breaking, super-high resolution. At more than 33 million pixels, the quality is four times higher than 4K UHD content and 16 times higher than FHD, with every frame showcased with optimal clarity, resulting in spectacular visuals for any business setting.
"8K resolution provides a three-dimensional visual experience with depth and extreme details in colour, shades, and texture. The premium viewing experience provided by Neo QLED 8K Displays brings accessibility to native 8K content and whilst also being able to upscale lower resolution quality content to 8K quality." says Gaut.
Neo QLED 8K Display also features Quantum Mini LED, an exclusive Samsung technology, where the size of LEDs are now 1/40th, compared to the previous models. Significantly smaller LEDs, mean more can fit within the display which in-turn provides more control to help guide light more accurately and enables precise dimming in a slimmer and more sophisticated design, offering a display experience that is spectacular inside and out.
"The precise light control that Neo QLED provides is something that takes visual display to the next level. As our reliance on the details in dynamic visual content continues to be intertwined into our day-to-day, the blend of Neo QLED with 8K resolution provides the clarity and detail needed for content now and in the future." Gaut adds.
In addition, Quantum Matrix Technology Pro creates the perfect environment for businesses through detailed backlight control for pinpoint brightness control and high contrast ratios. The display showcases deep black colour expression to ensure accurate logos and product images.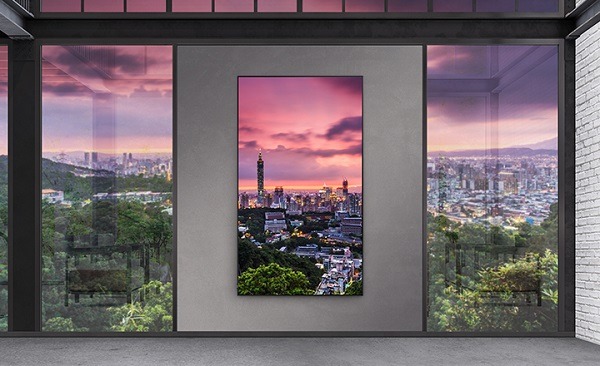 Making an impact
As a display tool, there isn't many places where this display won't fit right in – be it an art gallery or retail space, a board room or control room, or even in the healthcare sector which is an incredibly fast-growing technology space.
In a gallery or exhibition space, Adaptive Picture Mode will optimise content in real time helping to providing the best picture quality possible based on the surrounding lighting conditions.
In studios, built-in director mode allows users to minimise post-processing to bring the images displayed close to the way the director intended without any distortion. Directors can monitor the final product delivered to consumers by using the same picture quality with filmmaker mode in CTV.
One of the most exciting spaces for this type of technology is in retail where edgy, dynamic content is in demand as a tool for enticing customers, and providing them with an experience that brings them back as repeat customers.
Designed for maximum engagement, the Neo QLED 8K Display can display products with real-life accuracy, providing a three-dimensional visual experience with depth and extreme details in colour, shades, and texture.
In more corporate structures, like control rooms and boardrooms, the Neo QLED 8K Display is perfectly suited for workspaces and customer-facing situations where the visual experience ensures the versatility to feed from multiple sources at the same time.
"Samsung's Neo QLED 8K Display is designed to enhance virtually any business environment while optimising the space for efficiency, either mounted flush to the wall or installed vertically, functionality is wrapped in a slim and simple bezel design." says Gaut.
Finally, an area that is seeing tremendous growth is that of healthcare, where this model is particularly effective where high resolution detail and accuracy is vital.
The Neo QLED's DICOM Simulation Mode meets 100% of the greyscale required by DICOM standards. Plus, it helps to simulate medical images such as X-rays.
One thing is for sure, the future of almost every industry will be visual and there has never been a better time for businesses to take stock of their technological offerings and see if they fit the bill when it comes to exhibiting a dynamic and powerful display.
Contact Samsung to discuss the future of digital signage and arrange a demonstration with a member of the sales team. Leave your details <samsung.com/au/business/display-opt-in>
or email [email protected] for more information.
ADVERTISEMENT

ADVERTISEMENT
ADVERTISEMENT

ADVERTISEMENT