Maxell MP-JU4001 Projector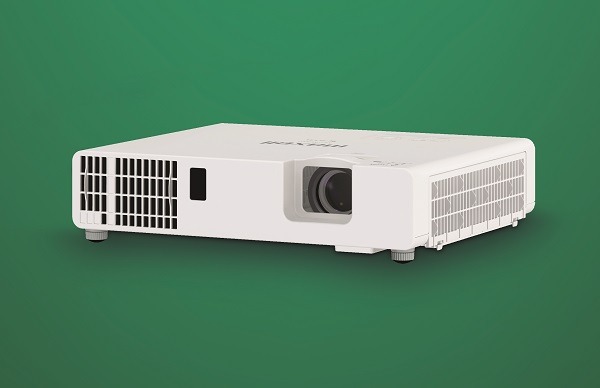 Laser diode projectors are becoming more affordable. Stephen Dawson checks out a digital presentation solution that should stand the test of time.
When laser-diode projectors first appeared, they promised so much. And they delivered it: fast on and off, long life, the ability to vary output in order to enhance the picture. But they appeared only in very expensive devices. Now, though, they're starting to make their way into more affordable gear. And are being improved along the way.
What it is
The Maxell MP-JU4001 doesn't look all that special. It just seems to be a small-to-mid-sized business style projector. At 3.5 kilograms and not much more than 13 inches on the largest dimension, it is portable at a pinch, although not exactly designed for that.
What does set it apart is that laser light source.
For the most part, laser diode light sources have worked by using a power laser diode, typically a blue one, to fire at some carefully chosen phosphor, which then glows white very brightly. And indeed, that's how it works in this projector too. The difference is that in the past the phosphor has been coated on a rotating wheel, presumably to manage heat issues and avoid, um, depleting the phosphor I suppose, too quickly. The innovation in this projector is that the whole thing is solid state. Perhaps different phosphor selection and better heat management has allowed Maxell to dispense with the wheel thing.
Maxell says that the life of the lamp source is 20,000 hours in normal mode, and also in Whisper mode. And 30,000 hours in long life mode.
Controlling the light to form the picture is a 3-LCD engine. It provides WUXGA resolution: that's 1,920 pixels across by 1,200 pixels vertically. I have a soft spot for that resolution because it is highly compatible with full HD, allowing perfect pixel mapping from input to display (leaving a band across the top and bottom of the display area unused).
Maxell rates the output of this projector at 4,000 ANSI lumens, and its contrast ratio at two million to one. I take that last figure to be a dynamic ratio, based on full on and full black (when the projector winds down the lamp source brightness).
Focus and zoom are manual. The zoom range is 1.6:1. There is no vertical or horizontal lens shift. There is keystone correction available, including automatic keystone correction. And a more advanced geometry setting that allows you to move different edges of the picture differently to correct for unusual angles of placement. As always, you're going to get significantly better performance by placing the projector perpendicularly to a suitable projection surface rather than manipulating the picture to try to adjust out lesser placements.
For inputs, the projector has two HDMI ports, one composite video and two D-SUB15 analogue computer inputs. One of the latter can be configured to be an output instead, passing through the analogue signal to a monitor. There is also analogue audio in and out. Two USB ports – one of them a Mini USB Type-B – are provided, along with an Ethernet connection. A Wi-Fi dongle is available as an optional extra.
A D-SUB15 to D-SUB15 cable is supplied with the projector.
The Mini USB Type B socket lets you plug in a computer. The function? No, it's not for sending computer's picture to the projector (use conventional video connections for that). It's to allow the projector's remote control to act as a "simple PC mouse & keyboard". I checked it. It works. But the arrow movement on the screen is slow and it's all a little clunky. Still, it's there if you do need remote access to your computer via the projector.
There is a single loudspeaker built in at the back, supplied with 16 watts of power. For anything other than a small room, I'd strongly recommending adding an external audio system, but it was clear enough and did go surprisingly loud for a projector speaker.
Both a security bar and a Kensington lock point are provided on the projector to ensure against theft.
The remote control is clearly a generic one, with buttons for various functions not supported by this projector (eg. powered zoom and focus). There did not appear to be an IR receiver on the back of the projector (nor any connections for external IR receivers). I found that it worked reliably, though, just by pointing the remote at the screen. The projector starts up with a set of simplified menus, but you can easily switch to a fuller set.

In Use
Even though the USB Type-A connection is rated at two amps, a Chromecast with Google TV objected. Not for lack of power – this device's own power supply is only rated at 1.5 amps – but presumably on principle. It worked okay with an older Chromecast device. The Amazon Fire TV Stick Lite also objected, claiming "Insufficient power", but gave the option to continue anyway and it seemed to work okay.
The USB Type-A is also used for so-called "PC-less presentations". The manual says that the unit can "read" images and audio from a USB stick. But I could only get it to recognise images. It can handle JPEG, bitmap, PNG and GIF. Plus you can include a playlist.txt file which lists and controls how the files are played back, including managing rotation of images.
Now, let's remember that this projector is marketed as a Digital Presentation Solution. Nevertheless, I'll look at a few things related to entertainment uses, a couple of which were quite interesting.
The overscan setting in the advanced menu was a bit weird. When I went to it, I was surprised to see a setting of "10". Overscan, of course, is where the picture is zoomed in a little, thereby pushing the edges of the picture off the four edges of the screen. The idea is to tidy up what could be raggedy edges. This certainly had some validity in the olden days with both analogue video and even free to air digital SDTV sometimes having strange stuff at the picture border. But for the most part it's no longer required, yet some device makers still have a default of overscan on in some picture modes.
Despite the setting, in fact overscan was not on. For some reason "10" equals no overscan, and as you reduce the number step by step to "0", the amount of overscan increases in 0.5% increments up to 5%. (Of course, just leave it at 10 unless there's good reason to change it.)
The unit does support standard Australian TV signals: 576i50 and 1080i50. Just be warned that the progressive scan conversion is a little basic. While it clearly uses motion adaptive deinterlacing, it is locked in that mode the whole time, rather than using cadence detection to look for opportunities where a simple weave may provide better picture quality.
There are actually four light output options. The default, and brightest, is Normal. This is rated at 20,000 hours for the life of the light source. Following that are Long Life 1, Long Life 2 and Whisper. On the menu there's a number next to each of these: 100 next to Normal, 75 for LL1, and 50 for the other two. As you flick through them you'll notice that Long Life 1 is noticeably less bright than Normal, and Long Life 2 is even less so. I'm figuring that LL1 is 75% power and both LL2 and Whisper are 50% power. Meanwhile, the fan speed for both Long Life modes is the same as Normal, while for Whisper it is much lower, resulting in a much quieter performance. So the Long Life modes reduce brightness while retaining the same levels of cooling throughput to extend life, while Whisper drops the brightness and the fan speed, retaining the same life as Normal.
Fact is, in any home theatre-type use with a fairly dark environment, Whisper is probably the way to go. In a darkened room, it's still nicely bright. The fan noise in anything other than Whisper mode is louder than would be appreciated by many home theatre users.
I have no idea how Maxell determined that two million to one contrast ratio figure. With the default settings, and in Whisper mode (ie. 50% brightness), the black levels were okay, but in a darkened room the black bars at the top and bottom of a 2.35:1 movie were clearly dark grey, compared to an unlit part of the screen. I'd say it is comparable with projectors rated at 20,000:1 to 50,000:1. Colour performance was strong, and you can tweak things if you like.
In practice, when starting up, the projector typically had content displayed in about ten seconds, although it had its splash screen up at full brightness a few seconds earlier.
In normal mode, the picture was bright and colourful, even under the full glare of my office lights. Just a little reduction in ambient light was needed to allow even quite dark material to be clearly viewed.
The Ethernet connection supports some media display, Crestron e-Control and control via the projector's own web page. The latter provides access to some deeper settings, and can be set to, for example, send you an alert email in the event of one of several errors, such as fan, filter, airflow or temperature errors. You can set timers, check the projector status.
It can also act as a Network bridge to allow control of external devices and, with the installation of Live Viewer, you can send presentations from a computer to the projector.
Conclusion
The Maxell MP-JU4001 is an excellent presentation projector, and thanks to its light source it should offer many years of trouble-free operation.