Panasonic releases new range of PTZ cameras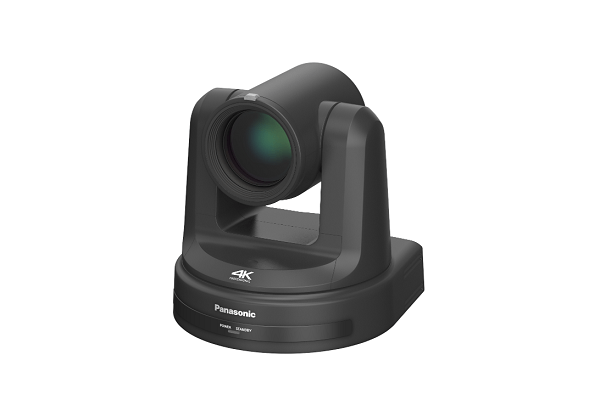 Panasonic has released a new range of PTZ cameras, aimed squarely at those Australians working and learning in a hybrid setting.
The new PTZ camera lineup consists of five models starting with the AW-HE20 (HD) and AW-UE20 (4K) entry-level models, the 4K AW-UE40 and AW-UE50 in the mid-tier and the 4K AW-UE80 joining Panasonic's top-of-the-line robotic cameras. Key capabilities include secure and stable video communication, support for the latest video protocols, easy and versatile installation and operation, and compatibility with the Panasonic ecosystem for smooth integration into existing camera systems.
The wide 71o (H) lens with 12x optical zoom combined with multiple outputs, 3G-SDI, HDMI, USB & IP, which can all be used simultaneously, make the AW-HE20 (HD) and AW-UE20 (4K) ideal utility PTZ cameras for use within small to medium meeting rooms of between four and 16 people or teaching spaces. Adding Panasonic's widely used AW protocol and streaming protocols ensures the ability to integrate the cameras with most leading recording devices, software, video conference platforms and room automation systems.
Outstanding 4K image quality is delivered through a best-in-class 1/2.5" 4K sensor combined with the best-in-class 4K zoom lens, including optical/optical-electronic image stabilisation. The wide-angle lens increases to over 74o (H) with 24x optical zoom that works flawlessly with i.ZOOM. This results in an effective HD zoom range of 36x, making these cameras perfect for both small and large spaces.
The lens and sensor sit within a compact stylish dome housing incorporating a newly developed proprietary Direct-Drive motor system that delivers the quietest (NC25 or less) movements yet. The added stability minimises blurring, and improvements to positional, speed and dynamic accuracy combine to make the AW-UE40, AW-UE50 and AW-UE80 the perfect solution for preset triggered shots, tracing shots and operated shots.
Panasonic product marketing manager for broadcast, cinema and professional video, Matthew Alexander says: "What's great about our new PTZ range is that it offers everything. Sometimes you need a range of cameras with varying capabilities to capture different types of shots from multiple angles. The five new models dovetail perfectly into our existing PTZ camera range, offering one of the most complete series available on the market today.
"With our broad lineup, we ensure that access and control of all your Panasonic professional PTZ cameras remain consistent across all the control hardware and software platforms."