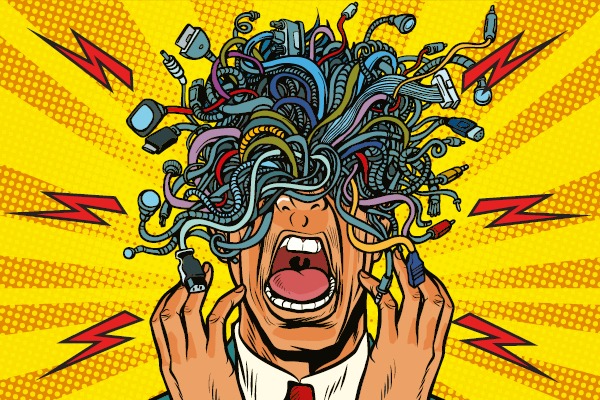 A lot is happening in the world of connectivity. David Meyer looks at the future of HDMI, HDBaseT, fibre, AV-over-IP and network cabling.
This has been a year of disruption for AV cabling. HDR has tipped the scales for HDMI and HDBaseT, challenging bandwidth and bringing optical fibre even more into the consciousness of technology integrators. At the same time, home owners are streaming more content than ever, reducing what we need to send or distribute over HDMI in the first place. And what content we do want to distribute is being fragmented across more choices — matrix switch or AV-over-IP, and then which type? What about bandwidth and things like compression and latency?
Let's take a look at trends and directions in each of the key AV connectivity areas — HDMI, HDBaseT, optical fibre, AV-over-IP and network cabling as we hurtle towards 2019.
HDMI in 2019
Somewhere along the line someone nominated '4K/60 4:4:4' as the format to denote 18Gbps HDMI 2.0 capability, and it seems the whole AV marketing world followed suit. But I'll go on record now to say that it DRIVES ME CRAZY! Why? Well, '4K/60 12-bit HDR', also at 18Gbps, is far more relevant given the rise and superiority of HDR. It would mean dropping to 4:2:2 (or in practice, 4:2:0), but that's better than dropping to 8-bit as is the case with 4:4:4! It's the lesser of two evils, as we can't have it all…. or can we?
Enter HDMI 2.1. The spec was released back in November 2017, followed by the compliance test specification (CTS) in August 2018. Expect to see HDMI 2.1-enabled products at CES 2019, though I won't get into the features here as this article is about cabling.
A new HDMI 2.1 source and sink can let each other know if they can support 48Gbps, but what if the cable can't? What if it's HDBaseT, for example? The source could just blast it out in all futility, but fortunately HDMI 2.1 has been designed to be way smarter than that. The devices will test the link to determine the maximum supportable rate, starting high and retesting as necessary at lower speeds until it finds a level that works, settling on one of six tiers: 48Gbps, 40Gbps, 32Gbps, 24Gbps, 18Gbps or 9Gbps. HDMI currently comprises three AV channels plus a separate clock, but HDMI 2.1 repurposes the clock to a fourth AV channel. As such, many existing HDMI cables with the clock constructed the same as the AV channels will theoretically work at the new 24Gbps level (6Gbps x4 = 24Gbps), which is great news for 4K/60 4:4:4 and 12-bit HDR! Just swap out the electronics and the cable could be good to go.
New 48Gbps-capable HDMI cables will be labelled 'Ultra High Speed'. Active cables are already prevalent to achieve 18Gbps in longer lengths, but that will only increase. However, they're facing a new stumbling block with 2.1 compliance.
HDMI has always mandated a source to make available 55mA of current on its +5V DC power pin, but compliance doesn't require anything higher. A sink (e.g. display) can then draw up to 50mA. By omission, no limit was imposed on in-line devices drawing power, but over-current protection was defined at up to 500mA. It's a bit ambiguous, and problems ensued.
Now, HDMI 2.1 effectively caps an active Ultra High Speed cable assembly's power draw at a miniscule 5mA, or 0.025W of power. Most active cables will need way more than that, so external power will become a common element, most likely by way of USB micro or USB-C. Finding a space for extra power may be a pain, but it's actually a good thing as it removes the unknown that has caused so many problems in past. But be sure to allow for it in system design.
HDBaseT in 2019
2019 is the year for HDBaseT to double up. Since its official launch in 2010, HDBaseT has been an 8Gbps transport which equates to 10Gbps in HDMI. Next year we'll see the release of HDBaseT 3.0 which doubles this to 16Gbps uncompressed, for support of 18Gbps HDMI.
The challenge for HDBaseT is that this happens to coincide with new products to push HDMI beyond 18Gbps, thanks to HDMI 2.1. HDBaseT already ratified Display Stream Compression (DSC), the same 3:1 visually lossless compression scheme used in DisplayPort 1.4 and HDMI 2.1, as the key to supporting HDMI 2.0. But when combined with HDBaseT 3.0, DSC could theoretically push the action up to 48Gbps for formats such as 8K/60 12-bit 4:2:0. Above 48Gbps, HDMI 2.1 itself uses compression, and as HDBaseT can't compress already compressed video, so these higher formats will be out of reach.
I predict that the solution for HDBaseT may reside in new compression codecs such as JPEG-XS, which boasts a 6:1 compression ratio and a mere (nominal) 16 video lines of latency. Even at 4K/24, this means latency of less than the 1ms limit of human perception. Theoretically, HDBaseT 3.0 with 6:1 JPEG-XS could support up to 8K/60 4:4:4 with 12-bit HDR, or stretching the ratio up to 9:1 could support every format included in the HDMI 2.1 spec, though impact on image and latency might push into the perceptible range at that point. And it wouldn't be cheap.
The good news is that cabling requirements don't change. The best balance of performance and alien crosstalk mitigation for HDBaseT is Cat 6a F/UTP (overall foil wrap over unshielded pairs) with at least 24AWG copper cores. 23AWG is better still.
Bottom line: there's plenty of life left in copper, but only in tandem with compression when we get into the HDMI 2.1 realm. Staying uncompressed for absolute maximum performance really points to fibre.
Optical fibre in 2019
2019 will be the year for fibre to go from a premium option with some integrator reluctance, to becoming the new normal for connecting screens where high performance is expected. Optical fibre is the only medium that will be able to carry all of the data capabilities of HDMI 2.1 without applying additional compression.
Keep in mind that the speed of any fibre system is determined by the electronics, whether it be infrastructure fibre with little black boxes at each end, or HDMI active optical cables (AOC). For example, three 6Gbps lasers achieves 18Gbps total, or four 12Gbps lasers could support the full 48Gbps of HDMI 2.1, with auxiliaries multiplexed on the same or separate channels. Detachable electronics can provide an upgrade path as increasing bandwidth is needed, but AOCs have the lasers inbuilt, so bandwidth is factory capped. But AOC is nonetheless a great compromise between infrastructure fibre and terminated copper HDMI cables.
OM3 will still dominate fibre infrastructure cabling with the best cost-benefit ratio. Run at least two strands, as many products use duplex configuration for bi-directional communications. The choice of termination is then determined by the products to be connected, most commonly either LC or SC snap-in type.
If you've not ventured into pulling and/or terminating fibre yet, it's only a short matter of time.
AV-over-IP in 2019
Where 2017-18 saw AV-over-IP technologies in early adoption but fast maturing, 2019 will see it progress to early majority stage. Some vendors have already reported it overtaking their matrix-based solutions, and that will become far more widespread.
Thanks to the TV and movie post-production world moving to IP-based systems, developments in compression codecs and the ICs that drive them will get even better, and far more of them leads to lower prices. Ultimately we'll have more compression, but with higher performance and lower latency, with codecs such as JPEG-XS as mentioned in the HDBaseT section above. This is one area that will just keep getting better.
AV-over-IP solutions are currently either 1GbE or 10GbE, in line with networking architecture. That won't change, so the only question is what content we need to distribute via IP. Do you need to deliver 4K HDR to every room? Probably not.
If you have the option to create a dedicated network for AV-over-IP, parallel to the regular home network, it is a good idea to do so. Cabling follows the same rules, which is quite straight forward.
Network cabling in 2019
Home network speeds are being dictated in large part by video content. But if there's no AV-over-IP system, or if it's kept separate, 1GbE will continue to be just fine for normal residential networking in 2019. Some cities in the US are already offering 10Gbps internet connections. Yeah, that's not a typo — that's 100 times faster than our $50b NBN! Sigh. Clearly, they need 10GbE home networks just to keep up with their internet speeds, but that's not even on the roadmap for Aussies. So 1GbE it is.
Specifying cable is actually the easy part. Whatever you pull now, make sure it will support 10GbE. That way, even if deploying a 1GbE network, the hardware could be swapped out for 10GbE as needed in future, knowing the infrastructure is good to go. That means high quality Cat 6 up to about 50m runs, or preferably Cat 6a for the full specified 100m limits. Allow for a parallel network for optimised AV-over-IP, and use duplex fibre to ensure non-blocking uplinks between multiple network switches, irrespective of length.
In summary, bandwidth demands are increasing. A lot. But at the same time we're streaming an ever increasing amount, with sub-25Mbps streams just requiring a decent internet connection. It's quite the juxtaposition, balancing maximum quality versus good old convenience.
From a cabling point of view, the answer will not be a one-size-fits-all approach. It will be a hybrid. 24-48Gbps is what you want to run to the main displays — home cinema and media rooms — meaning active HDMI, AOC, HDBaseT or fibre. For distribution to secondary screens, Cat 6/6a for compressed distribution over IP would be a more pragmatic approach.
ADVERTISEMENT

ADVERTISEMENT
ADVERTISEMENT

ADVERTISEMENT