Inside-Out: The Rise of Outdoor AV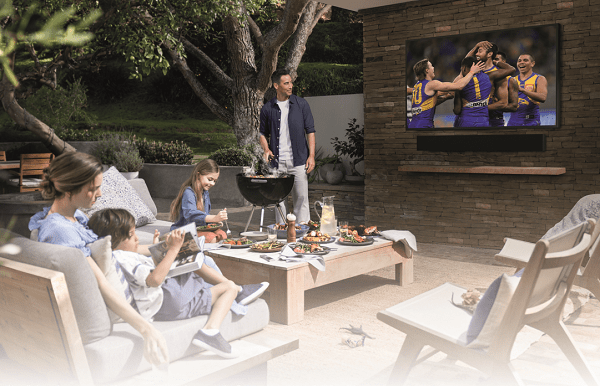 The way we spend time with one another is changing and our homes are the new entertainment venue. Sean Carroll looks into what integrators can do to bolster the outdoor AV experience.
In case you missed it, there's a pandemic. Now, I'll get these phrases off my chest before we begin: 'new normal', 'unprecedented' and 'changing the way we go about our day-to-day life'.
Awesome, so you know exactly what I'm talking about. Large public spaces aren't the same, the pubs are tentatively open, and states and territories are in varying stages of normality.
People can't spend their money going on that Europe or Asia trip this holiday season, hell, we don't even know if they can go interstate anytime soon without a solid reason and mandatory quarantine.
In light of this, home owners are looking indoors, or rather outdoors, as an investment space for entertainment systems. The AV industry has a growing number of elite residential offerings for people's backyards with distributed audio solutions, outdoor TVs and security which all integrate with existing control systems.
Now, I won't say that the pandemic has been great for the industry, that's not the case.
AVIXA projected that the AV industry in the Asia Pacific region will decline from $94 billion to $88 billion from 2019 to 2020 in light of COVID-19.
But there's definitely an opportunity here for people who want to create an exceptional outdoor experience for themselves and their guests. So, without further ado, what can integrators offer customers in the outdoor AV space?
A 'sound' investment
Honestly, it'd be nice just to hear anything other than voices on a Zoom call or the robotic voice of a broken connection.
But in all seriousness, Australia, given its climate, has the potential to have the best outdoor entertainment setting.
Queensland-based residential integration firm eXperience One (formerly BMR Group) has done its fair share of outdoor AV installations and knows how to kit out the ideal setting.
"Up in here in Queensland, it's obviously a little bit different to some other parts of the country, we get to enjoy a lot more time outside all year round so for me, and when we've done jobs in outdoor areas, the biggest thing is obviously audio," eXperience One managing director Matt Manalis says.
He echoes that belief with his own preference: "It's all about being outdoors so for me, if I'm lounging around in a pool or entertaining guests, I just want to have good quality sound. So with music, making sure you've got solid bass, consistent volume and good quality source as well."
Sonance has been working in the custom install channel for 35-plus years and boasts six CEDIA Hall of Fame awards for its work in the audio field.
As Sonance vice president of international sales Kent Sheldon explains, the company started with the approach of design first, and audio delivery second.
"We believe that all products should blend in so they look like they are part of the space that they're installed into. We take that very seriously when we design our product. We know we can make a variety of speakers sound good, so what we concentrate on is taking good audio design and converting that into form factors that look like they belong," he says.
Lighting in landscaped outdoor spaces, he says, is mostly shaped as a conical fixture, so Sonance fashions its speakers to look the same.
"They are hard to detect so that when you walk out, you don't see speakers and as you sit down, you're completely encompassed in sound. It can be run at a very low level because the coverage is so good, and it seems the audio is coming from everywhere."
Sonance offers three tiers of that distributed audio model with a subwoofer which is usually buried underground and a number of satellites around the garden, giving a true stereo effect around the entire outdoor area.
Kent adds that it's an experience you just have to hear to believe how great it is.
"The reason we like satellite-subwoofer systems is because they allow the integrator to create an array and evenly blanket the listening area with what we call comfortable sound," he says.
"It needs to be good at high-end, low sound pressure environments. If you turn a system way down and it collapses and doesn't sound good or the coverage falls apart, that's not a great audio system. If the party's getting on and someone leans on the amplifier and the system can't handle it, that's also not good."
Amber Technology is the distributor of Sonance in Australia among other brands.
Amber Technology general manager Richard Neale echoes Kent's opinion: "The satellites are kind of like a spotlight for audio in a way, you can direct them into your own yard, meaning you reduce the level of sound going over the fence to the neighbours which is always a good thing."
Because you're using more speakers, each one makes less sound – it's not getting overwhelmingly loud, there's just more coverage, he points out.
"The old style of doing things was; you put a pair of speakers up under the eaves, fi ring down into the backyard. If you want to hear it way down the end of the yard, you have to make it loud on the deck and that's a really uneven listening experience because volume decreases with the square of the distance."
On top of the satellite-subwoofer system, Amber and Sonance both have rock speakers in their offering, speakers which are somewhat disguised in an outdoor setting by being shaped like, well, a rock.
These rocks are more omnidirectional and represent an alternative approach to making the speakers invisible.
Madison AV distributes the JBL installed audio loudspeaker range. Boasting solutions suitable for some of the world's largest sports stadiums, JBL is now in your backyard with the Landscape Series.
"The Control 80 Series Landscape speakers offer full range sound quality, high fidelity sound character and a broad frequency range of 55Hz to 18kHz with 360-degree coverage.
They feature a powder coated stainless steel grille and have a tough polyethylene enclosure that resists abuse from gardening equipment and the elements," Madison AV product line manager for installed audio, Peter Haak says.
"They are designed to be mounted on or in the ground, and the enclosure colour extends throughout the material, so the speaker will maintain colour even if they are scraped or scratched. These speakers are IP-56 rated, meaning they are protected against dust and strong jets of water."
Madison AV also distributes the JBL Control Contractor Series which features ceiling and surface mountable options with all the appropriate weather resistance ratings and the option of a paintable grille.
Matt Manalis adds that whatever solution is installed, it needs to integrate with the preferred control system, giving the end user a seamless AV experience as the outdoor environment works just like the indoor.
"We also have to make sure they have an easy-to-use interface on their phone, they have access to all the things they need in the area they're in; music source, volume, presets for grouping if they have multiple areas, or in a party setting where they'll be elsewhere in the house," he says.
For example, if there's a big sporting event on and the client has friends over, you don't want to be rushing in and out of the house to adjust a setting outside.
The 'big game' is best enjoyed outdoors
At the CEDIA Expo 2020, a Tech Talk called 'The Great Outdoors' heard from a number of panellists on this topic.
On the panel was Samsung head of product marketing, lifestyle TV, Daniel Yacey who spoke about the company's new foray into the outdoor AV market with the launch of its Terrace outdoor TV in September.
"We're trying to redefine the role of TVs, trying to find new ways to create demand and the idea of entering the outdoor space came from our friends in the custom integrator channel," he said.
"One of the most exciting things is that customers want something to expand their outdoor space and we've found a way to bring out QLED technology to these people."
Daniel also pointed to in-house research that Samsung conducted, finding that if people have the option to watch TV outdoors, they're more likely to.
But a concern has been that if you install an outdoor TV, it'll just sit there until it's time to host a party.
In his experience, Matt Manalis says he doesn't see too much outdoor video, but the options are there: "You don't necessarily want to go outside to watch a movie, it might just be a sporting event.
"While most people are happy with a 75" TV or something in that range, there is also the option to go for something better like a flip-out projector we installed once in an alfresco area or a projector which displayed on the back fence."
The Terrace from Samsung is available in 55", 65" and 75" models and aims to bring the QLED and Smart TV functionality outdoors.
"With a crystal clear QLED display and advanced anti-glare technology, the Terrace is ideal to watch the big game with mates over a barbeque, or enjoy a family movie night on a warm summer's evening," Samsung Electronics Australia director of AV, Hass Mahdi says.
It gives integrators a 4K resolution with 2,000 nits brightness (three times that of the TU8000 Samsung TV) which is clearly visible outside regardless of the time of day. It also comes with an IP55 rating for weather resistance. With a 200Hz motion rate, it's ideal for fast-moving content like sports.
But if that size of TV doesn't tickle your fancy, as Matt says, there's definitely the option to upsize.
Oceanic Distribution boasts the Patio Theatre range from Stealth Acoustics, a range of unique end-to-end outdoor cinema solutions.
"With sizes starting from 103", going up to a massive 273" and beyond there is a solution to suit a huge variety of home applications. The range features both fixed application and motorised screens," Oceanic Distribution director James Hicks says.
"The entire range features ultra bright, LED screens which are daylight viewable. Sound can be integrated into the enclosures of the Extreme and Transformer range if desired with the Transformer series having integrated electronics inside the enclosure, and the Extreme and Megalith come with a separate rack for the electronics.
"Sensors in the enclosure dim the screen based on the ambient light level and there is also an inbuilt moisture sensor which closes the motorised panels in the case of rain."
The screens from Stealth Acoustics also have a number of concealment options including folding and simple rolling up and down movements.
The screens, like the outdoor TVs, will integrate with control systems so it's integrator-friendly and easy to control.
But of course, not all outdoor TVs and screens will be tabletop and there's a plethora of mounting options available.
"Chief outdoor mounts are the first to this space for Arisit, knowing this is a new specific consumer-focused channel, we wanted to make sure that TVs within the outdoor offering could be supported by tried-and-tested quality product to ensure peace of mind for not only the installer but the end users," Arisit national AV manager, Tim Gaedtke says.
"Chief mounts are weatherproof with outdoor-rated finishing and stainless-steel hardware, and they are tested to maximum TV weights.
The mounts also pass on a lot of flexibility to the integrator, letting them choose how they want the TV to sit, what direction it's facing and so on.
Why now?
Kent referenced an article which quoted Eric Clapton saying he's not sure if live music will ever be the same as it was in the past, with concerns over large crowds getting together in public spaces.
Kent points out that the USA had no live music for its summer season and he was doubtful about the Australian summer.
"There are a lot of people who love listening to music and their own backyard is a place where they can certainly entertain themselves and their family and their friends. People right now are investing in their homes – they're taking their vacation funds and they're making their home a more enjoyable place to spend their time."
While there is no silver lining to such a brutal and deadly virus, there is an opportunity here for integrators to point to customer's backyards as the next AV space. The products exist, the companies are investing in this area, and there are great times to be had.
As Richard Neale puts it: "We've got all sorts of solutions but now is the time. Out with your quotation book and go see some customers."