HDAnywhere MHUB U (4×1+1) 40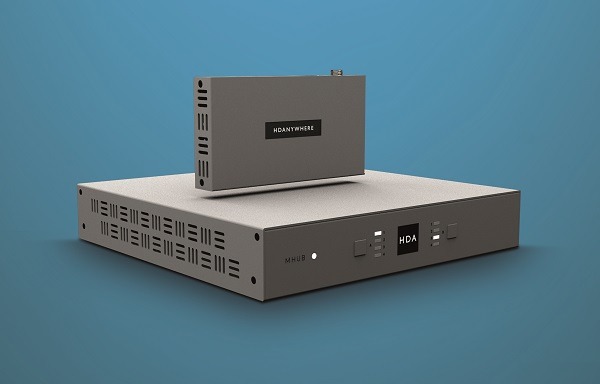 Chaos and clutter is the last thing you want around your entertainment unit and that's where HDAnywhere's Minihub comes in. Shane Jackson gets to grips with the versatile little unit.
Space around the family TV or display is prime real estate, it's space that you don't want clogged up with wires and boxes.
Just picture it, you've got a Bluray player, AppleTV, media-player, maybe a gaming system and various other set-top boxes cluttering up your space. And that's before we even mention the multitude of remote controls required for each device.
It's messy and anyone can be forgiven for wanting a nice, clean and clutter-free environment in which to chill out with your favourite TV shows, or a spell of gaming. And if it can be simple and easy to control too, well that's a bonus.
To that end, HDAnywhere has presented an answer in the MHUB U (4×1+1) 40.
What it is
HDAnywhere's MHUB U (4×1+1), or MHUB Mini as it's commonly referred to, is essentially an HDMI matrix switcher with a range of cool little features. It's the smallest unit available in the line-up of MHUB units, with its bigger brothers offering extra inputs and outputs for larger homes and premises.
The MHUB Mini is designed for the average two-display home and that's what I'm basing this review on.
Unboxing the device, you will find the MHUB Mini itself, the bitesize HDBaseT receiver unit, and the user guide which is full of great information including usage diagrams and 'how to' sections. You'll also find seven IR transmitter cables and three IR receiver cables, as well two three-pin Phoenix connectors, rubber feet, an HDMI IR dongle, display receiver mounting brackets and screws, a master remote control for video switching, a 24V 1amp power supply with regional sockets and, finally, the WiFi aerial.
Looking at the back of the MHUB, we find four HDMI inputs, a single HDBaseT output, a single HDMI output and a single HDMI mirrored output of the HDBaseT port. The MHUB allows you to connect up to four source devices concurrently, then allows one local TV to be connected via HDMI with the possibility of a second TV connected via the HDBaseT port which, in turn, is connected to the receiver, allowing another TV to be connected in a different room in the house.
It also comes with two digital and stereo outputs, one for each zone.
In terms of control, it includes discreet I/R ports as well as one RS-232 port for control of the MHUB, an Ethernet port and WiFi for connection to your network.
Along the front you will find the power LED indicator, your two selector buttons for zones A and B and the HDA logo which is also the I/R window.
A quick mention on the receiver unit, along the back you will find the HDBaseT in port, an HDMI out for connection to your second TV and I/R in and out. It also has a power port but this is not used as the receiver is powered from the MHUB mini via that HDBaseT connection.
When it comes to positioning and mounting the unit, it is small enough to mount behind your TV with the use of the supplied display mounts and screws, or it would fit in an equipment rack without much issue as its only 200mm wide, 200mm deep and 45mm in height. The HDBaseT receiver unit is only 120mm wide, 65mm deep and 18mm high – it would fit virtually anywhere.
From port to port
One thing to note on the HDBaseT functionality – being a class B port not only does it provide power to the receiver unit but it is able to provide 18Gbps content using HDAnywhere's tipping point compression (TPC) which will allow the receiver unit to be placed up to 40 meters away and be able to receive a 4K HDR signal, or a 1080p signal at up to 70 meters away.
TPC is a compression technology that comes into play once total used bandwidth exceeds 9Gbps and will attempt to keep that bandwidth usage between 9Gbps and 18Gbps. It does this by stripping chroma data, and reducing the colour gamut or total range of colour, which the human eye is significantly less sensitive to.
This will allow for your second zone and TV to be at the opposite end of your house, without sacrificing much of your video signal quality.
In use
The MHUB Mini offers a host of control options – sure, you can use a platform like AMX or Control4 but it's really not necessary when the easiest, cheapest and most comprehensive manner of control is in your pocket.
Downloading HDAnywhere's uControl app turns any smart phone or table into the ultimate remote control device – it's simple to use, set up, modify and configure and, for the average homeowner, is probably going to fit the bill from both the technical and financial point of view.
In my testing, I simply connected the MHUB to my network via Ethernet cable. Then, making sure my old S7 Samsung phone was on the same network, I downloaded and started the uControl app which, as I said, is as simple an experience as they come.
Following the setup wizard, you first search for and discover your MHUB device and link it the app. Once that's done, it gives you the ability to start naming and labelling your zones, sources and displays. After this, you simply import or configure the I/R control according to your connected devices.
For my trial run, I had my old reliable Xbox 360, an older Bluray player, a Nintendo Switch, and a media player PC connected as my sources. In terms of displays, I had my cheap "smart" TV connected as the main display and a 4K computer monitor connected via the HDBaseT receiver unit.
With this setup, I was able to gain control of my Bluray player and TV via the uControl app which is great because it retires the remote controllers for each device. The app also has a built-in 'demo' mode that allows you to explore its features and functionality without the need to be connected to a physical MHUB.
Throughout all of my trialling of the unit, it performed well and behaved just as I expected. It was quick to change signal and it didn't matter if I was using the remote, the front panel buttons, or the app – the response time was always great. In fact, it's probably better than I even realised as my cheap smart TV is certainly not the quickest thing in today's TV market!
My Xbox and Switch both looked great while gaming via the MHUB – I could see no loss of quality or lack of responsiveness, and watching a Bluray movie was crystal clear.
If you are an integrator with a basic knowledge of matrix switches, video signal distribution, and I/R, mixed with even the very basics when it comes to control, you'll be able to set up and configure an MHUB without any drama – it's that easy.
In a nutshell
I really like the MHUB range which has been designed for those who want smarter, neater living spaces and comprehensive control, all from one system.
The MHUB Mini, given its price point, it's the perfect media hub solution for smaller homes or apartments with only two displays. It's small enough that it can be easily hidden away, out of sight and it's quiet because of its fan-less design.
Couple all of that with easy install and operation, it's one of the best bits of technology available on the market to make your daily entertainment needs come to life.
ADVERTISEMENT

ADVERTISEMENT
ADVERTISEMENT

ADVERTISEMENT