Atlona now shipping Bluetooth speakerphone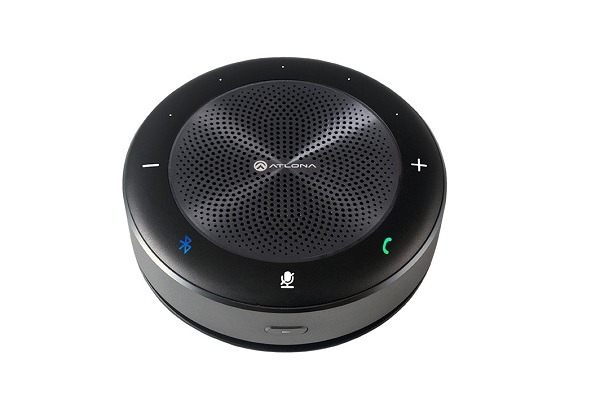 Atlona is now shipping the Atlona Captivate AT-CAP-SP100, a USB / Bluetooth speakerphone for use with popular video conferencing and unified communications platforms including Zoom and Microsoft Teams.
The CAP-SP100 provides microphone and speaker audio in a single elegant enclosure suitable for meeting rooms as well as executive and home office environments. USB, Bluetooth, and analogue audio connectivity ensures compatibility with a wide array of computers, laptops, and mobile devices.
The CAP-SP100 features a 6-element microphone array for 360˚ voice capture as well as the ability to concentrate audio pickup on individual talkers while suppressing background noises. Sophisticated audio processing optimised for voice intelligibility allows meeting participants to be heard loud and clear.
The included battery allows the speakerphone to operate for up to 8 hours without a power connection. The CAP-SP100 speakerphone is an ideal addition to video conferencing system designs based on our Omega Series of switching, extension, and video processing solutions.
Applications include: executive or home office, huddle rooms, and conference rooms.