Hanging mics enhance conference rooms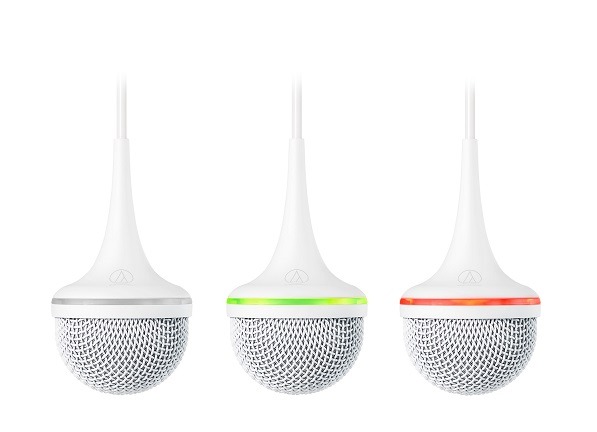 A new line of hanging microphones is one of the products on display at Audio-Technica's booth at InfoComm in Orlando this week.
The ES954 Hanging Microphone Array is designed for huddle rooms, conference rooms and other meeting spaces and, when controlled by the Audio-Technica ATDM-0604 Digital SmartMixer, the four-capsule microphones provide 360-degree coverage through virtual hypercardioid or cardioids outputs that can be steered horizontally and vertically.
It can be used singly or in multiples to capture every speaker in a room. The graphic interface enables control of the width and orientation of each virtual polar pattern, steerable in 30-degree increments. It also includes a tilt function, to counteract ceiling heights or allowances depending on whether the speaker is standing or sitting.
Used in conjunction with a gate on each microphone channel, it can be configured to automatically follow anyone talking while moving around the space.
The ES954 Hanging Microphone Array features a permanently attached 1.2m (4-ft) cable with locking grommet enabling easy microphone height adjustment.
The package includes a low-reflective white finish Plenum-rated AT8554 Ceiling Mount with RJ45 connectors and push-type wire terminals, along with an included seismic cable. The ES954 connects to the mixer over a pair of shielded standard Cat 5 cables. Two included RJ45 breakout cables provide four phoenix-terminated microphone outputs and one dual un-terminated LED control cable.