guardDog.ai digs up security bones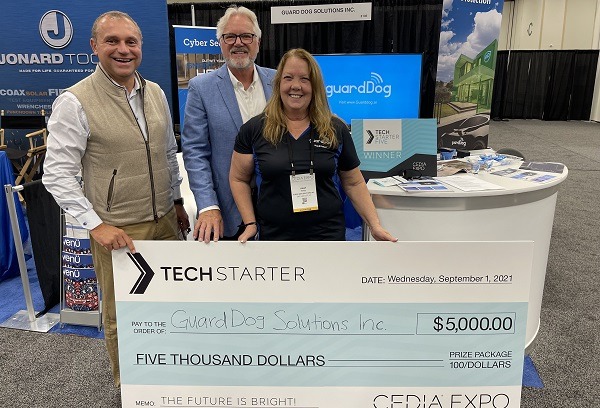 With millions of IoT devices in buildings across the world, vulnerabilities are opening up for cybersecurity attacks. Sean Carroll writes about an emerging technology countering this issue.
As smart home technology continues to grow, the number of IoT devices in buildings across the world is growing exponentially. As the world brings technology further into its homes and businesses, it, unfortunately, opens up more opportunities for cyber-attacks.
Whether it's for business, government, healthcare, entertainment and more, end users of IoT devices need to be careful what they're letting in. What vulnerabilities they may be exposing themselves to by embracing the connected world.
To counter this problem, guardDog.ai has launched its cloud-based cyber security software service with a companion device that works together to simplify network security, powered by its Autonomous Incident Response (AiR) technology.
The solution launched by guardDog.ai, provides protection and visibility as it exposes invisible threats on networks and the devices attached to them, with patented technology to address and prevent cybersecurity threats before they compromise network environments.
Glenn Merlin Johnson, a business development advisor to the company, says that the guardDog.ai solution can be set up in less than five minutes and sits above the entire network of IoT devices: "It encompasses every wired and wireless device in the house and sits over the network, which is important because we're not literally inside the network.
"We're not collecting any data and reselling anything like that at all. It is just this, it's kind of a guard dog, a guard dog that's marching around that 5,000 square foot property and reporting and eliminating any unwanted individuals trying to get into the network."
guardDog.ai recently made its first appearance at the CEDIA Expo in Indiana, USA and was awarded the Best of Show acknowledgement as the 2021 Grand Prize winner of CEDIA Expo's TechStarter Five.
A panel of independent judges considered the company as a strong, new brand with a unique business model and an inspired vision for its product.
Kelly Ryan, guardDog.ai executive vice president of business development, says it's an amazing opportunity: "I give credit to our amazing team for this win – but I am also hugely gratified for the impact our product and technology are making in the battle to protect every consumer and every business in the growing war against cyberattacks. guardDog.ai's protection is unique and scalable and is a technology that can make a critical difference for all."
While the guardDog.ai solution is simple and intuitive, its goal is to add peace of mind and security to both the integrator and especially their end user clients.
"We are not expecting the integrator to be a managed security service provider (MSSP) or security expert. But we are giving them the tools to shortcut all the issues on the network and give them the tools to bring in an MSSP to look at those deep issues, particularly on the wired side," Glenn adds.
"If you think about it, how many open ports do you have in just your home's router?"
"We don't want the integrator or the dealer to go in necessarily and close those ports and things because that could upset the architecture of the network. We want to have a shortcut to point out those individual issues, and then bring in an MSSP under their wing."
guardDog.ai uses a Fido 'plug-and-protect' network overlay that is simply a radio that talks to the AI and all the WiFi devices. The overlay plugs into the existing router and then the guardDog.ai security is deployed.
"It doesn't take an IT professional to install it. That's why we're working with the CEDIA members who can White Glove install that device very quickly and instantly to get this protection and reporting underway so we're moving very fast in that arena," Glenn adds.
And it's not long after the solution is deployed that the 'guard dog' is looking at the entire network and on the prowl for any uninvited threats or vulnerabilities. In just five minutes or less, the product dashboard will show all the issues and potential threats on the network.
In his case, Glenn set up the guardDog.ai solution on his own office network and after the quick scan, it eliminated 15 potential issues and he was able to see how quickly the threats were mitigated.
One of the main selling points that is helpful for integrators is the solution's ability to work in both wired and wireless networks. Whether the home is a hard-wired system or a smaller IoT-based system, guardDog.ai can protect users from threats. It protects users in the edge territory that lies outside the perimeter of the enterprise network or on attached devices that other solutions can't see, including the myriad of IoT devices such as digital doorbells, smart refrigerators and game systems that are inherently vulnerable to the networks they join.
At the time of writing, the company was working on signing an ANZ representative/dealer for the solution. Glenn adds: "We're setting up reps and dealers, and we are a worldwide product that can deploy anywhere that has the internet and a connected router."
And on top of the initial guardDog.ai solution, the company is working on a mobile version that can take the guard dog cyber protection elements with them whether it's at a café or in a hotel, users want to be assured there's something on the lookout for any threats or vulnerabilities as they travel.
"Mobile is a big area we're going into. We're working to set up in the CEDIA channel, the custom home integration channel, but we also have channels in healthcare, legal, finance, education and many other industries throughout the world."