Big Ass Fans driver for Crestron Home now available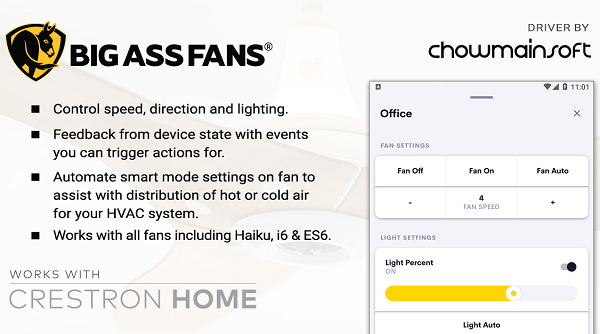 Chowmain Software has released a new Big Ass Fans driver for Crestron Home, providing bi-directional control and feedback over all IP controlled fans including Haiku, ES6 and I6 models.
The Big Ass Fan Crestron Home driver allows for control over many of the fan controls including speed, direction and lighting. The driver is capable of receiving feedback from the device to provide events and actions on the state of each feature.
From turning off your fans and lights when you arm your security system to automatically turning them on when it detects you are at home, or if the temperature is at an uncomfortable level, integration provides you with so many different solutions.
You can even tie in the fan to your HVAC system to assist with distribution of hot or cold air by automating the fan's smart mode settings.
Fan features include:
Fan Off
Fan On
Fan Auto
Fan Speed Down
Fan Speed Select
Fan Speed Up
Fan Direction
Whoosh Enabled
Eco Mode Enabled
If the fan includes a temperature sensor the current temperature will be displayed at the bottom right of the display.
Light features include:
Light Toggle
Light Percentage Slider
Light Auto Mode
Light Color Temperature
General Features
Temperature Scale Selection