Extron 4K/60 HDMI DTP2 receiver and switcher with audio de-embedding now shipping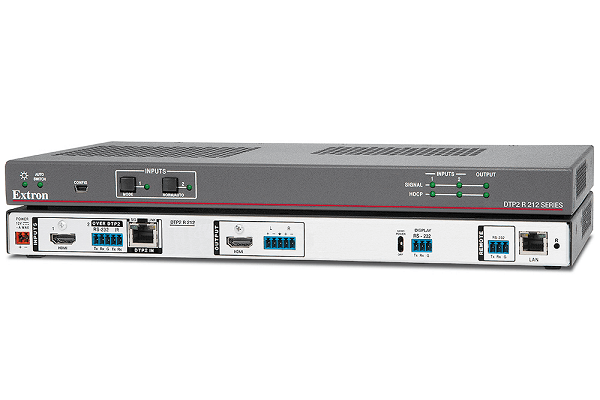 Extron has announced the immediate availability of the DTP2 R 212 and the DTP2 R 212 SA, two next generation DTP2 switcher/receivers with greater performance and capabilities.
Both work with Extron DTP-enabled products for extending HDMI, audio and control signals up to 100m over a shielded CATx cable as well as HDMI input which gives users connectivity for a video source like an Extron ShareLink Pro 1000.
The devices are also HDCP 2.3-compliant and support data rates up to 18Gbps and video resolutions up to 4K/60 with 4:4:4 colour sampling. The Ethernet control port supports display control and offers convenient system management. It also has a built-in Class D stereo amplifier.
"These DTP2 R 212 receivers are ideal for small rooms and huddle spaces," Extron vice president of worldwide sales and marketing Casey Hall says.
"The HDMI input, built-in amplifier and ease of controlling displays bring combined functionality and simplified integration to these environments."
The devices give integrators reliable, long distance transmission of HDMI signals, supporting HDR, Deep Colour up to 12-bit, CEC pass-through and embedded HD lossless audio formats.