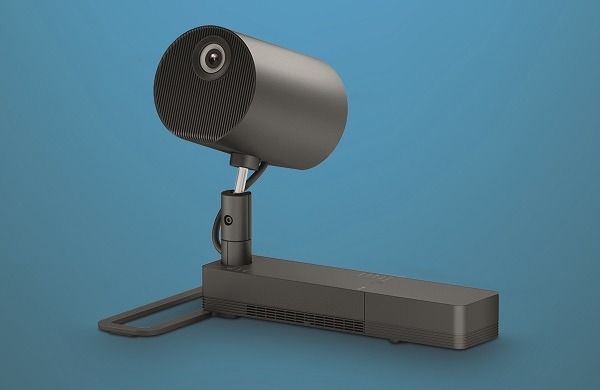 Epson's new digital signage projector brings colour to an already burgeoning technology space. Shane Jackson got to grips with the versatile unit.
Digital signage is a constantly evolving market. From enhancing retail advertising, both outside and in-store, to providing health updates (very relevant nowadays), or even being deployed in hospitality facilities, it's a sector that we can expect a lot of action from in the future.
To that end, Epson's recently released LightScene EV-115 brings a new level of functionality and quality.
What it is
The LightScene EV-115 is a digital signage laser projector using the manufacturer's 3LCD 3-chip technology projection system which provides for amazing colour, incredible detail and solid reliability. The technology's architecture dedicates an entire chip to process each primary colour – red, green, blue (RGB), continuously, as opposed to single-chip technology that delivers one colour at a time.
Looking at the projector, it's well constructed and finished in a nice matte black surround (it also comes in white). On opening the box, I was a little surprised by the size and weight of the unit (it was bigger and heavier than I had anticipated). It's not a huge concern, but something to be mindful of if you were planning to mount several in a smaller space.
Specification-wise, the EV-115 can project an image or moving content at a resolution of 1280×800 pixels (WXGA) and is capable of producing light at an output of 2200 lumens at a range of 1.8 to 2.2 metres.
The unit is packed with great features and technology, some of which we'll explore in a little more detail as we go on.
Setting Up
The projector comes with just about everything you might need: the unit itself, IEC power cable, remote, a ceiling/wall mounting kit, and a floor mount kit. They also give you a few cables and clips which must be part of the ceiling/wall mount. Some hex nuts and key, as well as a cable cover complete the package.
The projector was very easy to set up; as simple, in fact, as simply plugging in the power cord and using the remote to navigate the menu and explore the range of options.
It has three options for media input which include: an SD card reader, a HDMI input and the LAN port. It also has built-in WiFi allowing you to connect to the unit with your smart phone using Epson's iProjection app, giving quick access and full control over any projector on your network.
Other connections on the back of the unit are a USB port and an audio out. The USB, however, is not for content but for motion sensor connection which would allow the unit to change behaviour upon sensing motion – playing an audio track or portraying a particular image when a person walks near it, for example.
With constant developments in AI and machine learning, this could allow the user to set up a series of rules to run certain content when certain demographics of people pass by it, thus creating content seemingly tailored directly for that person.
The projector comes with a nice little remote that allows for full control over the unit, letting you switch between HDMI, SD card and LAN for source selection. You can also select Spotlight mode, which simply turns the unit into a spotlight, allowing you to instantly light up an object. The remote also has a favourite playlist hot key, focus, zoom, and volume control as well as AV mute and, finally, the ability to enter the OSD menu and navigate it via remote.
As stated above, inputs included a LAN port for networked devices, a HDMI port for connecting a media player or dedicated PC/NUC, and the SD card which is what I used for testing – the alternative was dragging a desktop PC to where the unit was set up! Set up with the SD card was easy and a quick way to get content on the unit.
In Use
After deciding not to tear my ceiling apart for the purpose of mounting, a decision which took about three seconds, I decided to use the floor stand which let me sit the projector comfortably on almost any flat surface. The unit could, theoretically, also be mounted on a lighting track with the optional lighting track mount allowing it to be repositioned to a degree.
From my point of view, I simply set it in the middle of my dining room table, pointed it toward the wall and it was perfect.
Lighting conditions around the area are poor at best, but after a few quick adjustments in focus and zoom levels, and a little brightness, I had a perfect, crisp, sharp and vibrantly coloured image projected against my wall. The built-in test patterns came in handy in this situation as I was able to switch between them while making tiny adjustments until I was 100% happy with the projected image.
For networked units, you can access each device through a web UI which is fairly straightforward to use and allows basic control over the projector – pretty much everything you can do with the remote plus a few more options such as playlist creation, test patterns, SD card management, and other advanced settings. In advanced settings there are a few nifty little extras such as the ability to set up email notifications, so if a projector on the network has a problem it will send you an email alert immediately.
In terms of use cases, let's say you've got several EV-115 projectors installed in a store. Having to go to each projector and using the remote to make adjustments would be confusing and cumbersome. But if they're all connected to your network? Simply log into each projector's web UI, and you can quickly make adjustments to multiple projectors at once and see the combined results immediately.
The app also allows you to add overlays or templates to the projected image, even allowing for custom designs. This can be done from the menu of the projector itself, but I couldn't find this option in the web UI.
In a nutshell
The Epson LightScene EV-115 is a highly flexible digital signage projector that's packed with features, guaranteed to make a boutique retailer, education facility, museum or entertainment precinct stand out from the crowd when it comes to AV deployment.
ADVERTISEMENT

ADVERTISEMENT
ADVERTISEMENT

ADVERTISEMENT