DVDO releases H.264/5-Encoder, Decoder to simplify real-time visual communication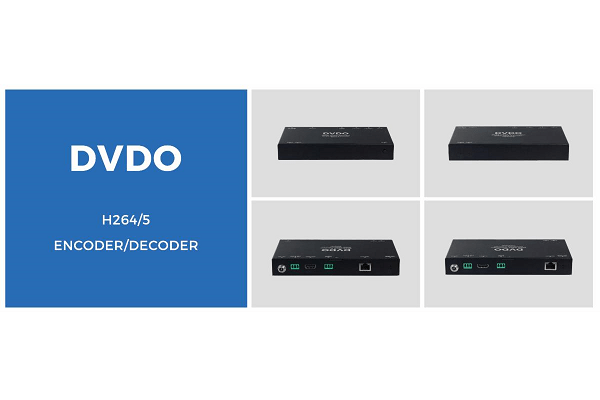 DVDO has introduced the DVDO-H264/5-Encoder and DVDO-H264/5-Decoder to help users convert Full HD 1080p video from any source into high-quality H.264/5 streams over IP for use in video walls, matrices and live broadcasts.
DVDO chief executive Doug Fealtman says the new solutions can turn any high-definition video into efficient data streams over IP: "With unlimited scalability and versatility customers expect from any DVDO product, these video streams can then be manipulated into video walls and matrices in any configuration, as well as live monitoring and broadcast for diverse visual communication needs."
The DVDO-H264/5-Encoder plugs into any HDMI video source, such as Blu-ray players, PCs, laptops and cameras, converting the video into an H.264/265 stream over IP. An encoder can be paired with a decoder to transmit Full HD 1080p video streams up to 100m via a single Ethernet cable run, along with audio, USB and bidirectional IR/RS232 control.
The transceiver set is also PoC capable, so only one power source is required to operate both the encoder and decoder.
Using an Ethernet switch, a single video stream source can also be distributed to multiple decoders paired to displays, acting as a video splitter for public information display purposes. In addition, using a simple iOS or Android app, multiple sources can be configured in a matrix and routed to multiple displays in a wide range of configurations, simplifying video wall setups.
DVDO's new line of Pro AV infrastructure solutions include commercial-grade cameras, wireless and HDBaseT extenders, splitters, matrices, multiplexers and KVM switches universally support a wide range of sources, displays and audio output devices in any combination.