Chowmain Soft releases the Clipsal C-Bus driver for Control4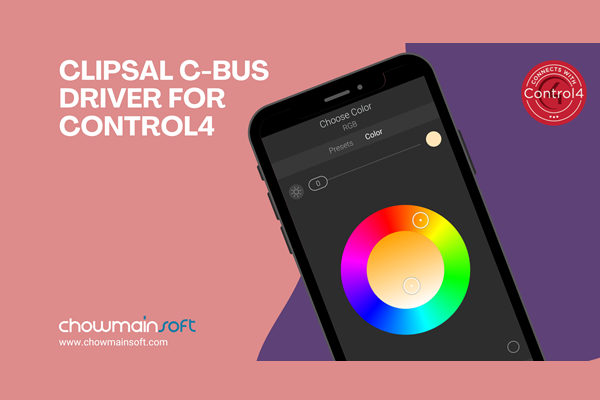 Chowmain Soft has released the Clipsal C-Bus driver for Control4, enabling users to personalise and automate their lighting environments for comfort and energy efficiency.
With exceptional integration capability, the C-Bus effortlessly working with a range of home automation systems, including Control4.
Key features of the driver include auto setup, auto renaming, secondary application monitoring, automatic date and time sync from Control4 controller and an efficient handling of lighting commands which results in a much quicker response time.
Furthermore, the C-Bus offers efficient execution of Control4 Advanced Lighting Scenes which drastically minimises the noticeable popcorn effect, an internal notification of bus power recovery. It also maintains correct interface settings and keeps output group levels in sync.
Included with the C-Bus driver:
Gateway (PC Interface, CNI, or NAC. Note If using a NAC, enable CNI functionality in settings)
CBus Light (Dimmer or Relay)
CBus Blind
CBus Fan
CBus Scene (Trigger support)
CBus DLT (Label changing)
CBus Color (RGB and CCT support)
CBus Motion Sensor
CBus Generic
Boasting exceptional feedback from driver beta testers so far, Clipsal C-Bus driver is available for a 90-day trial or free dealer showroom licence program.
ADVERTISEMENT

ADVERTISEMENT
ADVERTISEMENT

ADVERTISEMENT