ClearOne debuts Versa USB22D Dante adapter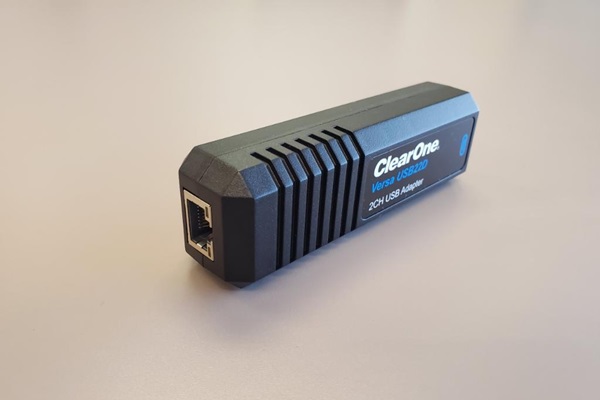 ClearOne has debuted its Versa USB22D Dante adapter, providing integration partners and end-user customers with added flexibility in system connectivity.
Showcased at InfoComm India 2023 in Mumbai from 25 to 27 October, the Versa USB22D connects to any computer to a Dante network with no software installation and can be used with any audio application for playback or capture, making it ideal for conference rooms, classrooms and lecture halls.
"Fast, flexible and reliable connectivity is more important than ever before in today's media-centric world of presentations," ClearOne chief executive officer Derek Graham says.
"The new Versa USB22D adapter makes it easier than ever for our partners to serve their customers with a solution that enables direct connectivity of their computers with any Dante-enabled network."
The Versa USB22D adapter supports two input and two output channels of audio, allowing PCs and mobile devices to play and capture audio with Dante-enabled devices over a standard IP network. Users can automatically discover and configure the new product using Audinate Dante Controller software.
Featuring built-in support for Dante Audio over IP and AES67 RTP transport formats, the adapter also includes cables to connect to a USB-C host port and a USB Type-A host port. Power with the USB port on a computer or with a PoE switch, a separate power supply is not needed.
The USB22D delivers bit-perfect audio reproduction, super-low latency and sample-accurate synchronisation across the entire Dante network. What's more, the Dante Domain Manager-ready adapter works seamlessly with Dante-enabled devices including ClearOne DSP mixers, Wireless Microphones and Beamforming Microphones. It connects any computer to the ClearOne BMA 360D through a Dante network.
ADVERTISEMENT

ADVERTISEMENT
ADVERTISEMENT

ADVERTISEMENT